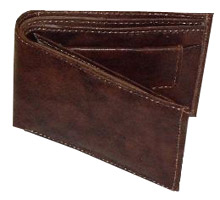 When we step out of the house we make sure that everything is kept properly and whatever we need we carry it with ourselves. The most important thing which we do not forget to carry is our wallet which is extremely crucial for us as we carry our basic needed things in the wallet which are cash, keys, mobile phones etc without which we would not leave the house until and unless kept properly. Thus this speaks about the importance of wallets in our life. If wallets would have not existed then we would had to carry all the things very much loosely in our hands as it would not be kept intact as how it is kept in wallets as there are various compartments made for keeping necessary items according to our preference. Even though wallets are small, tiny accessory but is very useful for keeping cash and other valuable items.
Wallets are of different types and those include leather which are engraved with various design patterns, unique color combinations which is very much attractive and also enhance the finish of these wallets. Wrist wallets are used to carry cash or rupee notes as it is designed in the shape of wrist band. Wallets are categorized as men's and women's wallets in which there are types for men's wallets and those are bi fold wallets which are very general and are used most widely today to keep cash, documents like driving license, identity proof which of these can be easily removed at any point of time and any where. Cot wallet has a unique feature and sleek design which is very fascinating. These wallets have few compartments as compared to bi fold wallet for keeping cash and other documents.
The other types are cheque book wallet suitable for business person and also for corporate sector where people everyday have to make use of official documents as lot of meetings happen so at that point of time cheque book wallet is required. These wallets are used to keep credit and debit cards. Travel wallet play a major role when people fly abroad and when they use travel wallets to keep their passport, tickets, at the point of checking the documents. Wallets are highly used for gifting purpose like birthdays or as a promotional gifting tool with customized logo for corporate sector.
Featured products of Wallets
A wallet, or billfold, is a small, flat case that is used to carry personal items such as cash, credit, identification documents ,photographs, business cards and other paper or laminated cards. Wallets are generally made of leather or fabrics, and th ...

Company Name : Pacific Trends Pvt. Ltd. Click here to view entire product range
Arora gifts pvt. Ltd., a renowned company known for supplying quality promotional and corporate gift items, offers wallets with key chain holders. These come in different colours, side and design and can also be customized as per the client`s need an ...

Company Name : Arora Global Export Company Click here to view entire product range
Products :

Ties & Scarves, Leather Items Like (wallets,bags,etc); Wooden Articles, Promotional Items Like (caps, T-shirts, Key Chains, Pen Sets, Bags,desktop Accessory, Corporate Gifts And Various Novelties.

Contact Person :
Mr. Vikas Nagar
Company Profile :

Ace Creations Is The Manufacturers, Supliers, Exporters & Wholesaler Of Corporate Gift & Novelties Items Such As

Send :
On-Line Trade Inquiry
Click here to view entire Product Range
Products :

Leather And Promotional Goods, Gift Sets, Wallets, T-shirts, Polo Shirts, Caps, Fashion Garments, Pens

Contact Person :
Mr. Atul.shah
Company Profile :

Manufacturers, Supliers, Exporters & Wholesaler Of Corporate Gift & Novelties Items Such As Promotional Goods, Gift Sets, Wallets, T Shirts.

Send :
On-Line Trade Inquiry
Click here to view entire Product Range
Products :

Bags Like Pouches, Handbags, Portfolios, Files, Folders, Wallets, Briefcases

Contact Person :
Sushil Kandoi
Company Profile :

Bags Like Pouches, Handbags, Portfolios, Files, Folders, Wallets, Briefcases Etc.

Send :
On-Line Trade Inquiry
Click here to view entire Product Range
Products :

Products Manufactured By Teja Industries Include Ladies Bags, Travel Bags, Leather Portfolios, Leather Belts, Leather Folders, Leather Pouches, Leather Planners, And Leather Wallets.

Contact Person :
Simi
Company Profile :

Manufacturer Of Leather Products Consisting Of Ladies Bags, Briefcases, Luggage, Wallets, Folios, Belts And Other Accessories.

Send :
On-Line Trade Inquiry
Click here to view entire Product Range
Products :

Pouches, Tote Bags, Knapsacks, Soft Luggage, Eco Friendly Bags, Hands-free Bags, Tool Bags, Lap Top Bags, Small, Medium & Large Travel Bags, Portfolios & Conference Kits, Caps & T-shirts, Promotion Sets & Shopping Bags, Backpacks, Leather Products Like Briefcases, Organizer, Wallets And Many Other Gift Articles.

Contact Person :
Pranav Modi
Company Profile :

Deep Enterprises Is The Manufacturers, Supliers, Exporters & Wholesaler Of Corporate Gift & Novelties Items Such As

Send :
On-Line Trade Inquiry
Click here to view entire Product Range
Products :

Sports Bag,wallets,caps,t-shirts,travel Bags And Conference Folders Etc

Contact Person :
Arunagiri Mudaliar
Company Profile :

Pacific Trends Pvt Ltd Is The Manufacturers, Supliers, Exporters & Wholesaler Of Corporate Gift & Novelties Items Such As

Send :
On-Line Trade Inquiry
Click here to view entire Product Range
Products :

Stationery, Gifts, Premium Products, Key Chains, Folders, Desk Accessories, Wallets, Organizers And Many More Products

Contact Person :
Arun Arora
Company Profile :

Arora Gifts Pvt. Ltd. (in Collaboration With Worldone Inc. Usa) Is A Leading Manufacturers, Supliers, Exporters & Wholesaler Of Stationery, Gifts, And Premium Products.

Send :
On-Line Trade Inquiry
Click here to view entire Product Range
Products :

Corporate Leather Gifts, Promotional Wallets, Corporate Gifts, Promotional Gifts, Corporate Steel Gifts, Executive Planners, Executive Diaries, Wooden Coasters, Corporate Wooden Gifts, Promotional Key Chains

Contact Person :
Aqil Hussain
Company Profile :

Involved In Manufacturing And Exporting Of Corporate Leather Gifts, Promotional Wallets, Corporate Gifts, Promotional Gifts, Corporate Steel Gifts, Executive Planners, Executive Diaries, Wooden Coasters, Corporate Wooden Gifts, Promotional Key Chains.

Send :
On-Line Trade Inquiry
Click here to view entire Product Range
Products :

Corporate Gift Sets, Gents Wallet, Ladies Wallets, Note Pad,a/4 Size Folder, Passport Holders

Contact Person :
Mr. Arun Gopal
Company Profile :

We Offer Different Range Of Promotional Items That Are Used By Big Corporate Houses To Promote Their Business. Complying To The International Quality Standards, We Are Capable Of Delivering Exclusive Items. Our Well Equipped Manufacturing Units And Use Of Innovative Production Techniques Allow Us To Bring Out An Exclusive Look To Our Products.

Send :
On-Line Trade Inquiry
Products :

Leather Belts, Fashionalbe Belts, Wallets, Corporate Gifts, Laptop Bags, Womens Garments, Kids Garments Etc.

Contact Person :
Mr. Mohammad Wasim / Akram
Company Profile :

Established In The Year 1987, We, "shaw & Fashion Enterprises", Are Engaged In Supplying And Trading Excellent Quality Leather Products And Garments. Available In Various Colors And Designs, These Products Are Perfect For Wearing In All Occasions. Furthermore, Our Products, Which Reflect The Trendy And Stylish Pattern Enhances Our Personality. Situated Strategically At The Western Sea Shore Of India, In Mumbai, We Are Easily Connected With All The Other Parts Of The Globe.

Send :
On-Line Trade Inquiry
| Corporate Gifts Home | Corporate Gifts Directory | Corporate Gifts Products |
wallets, leather wallets, mens wallets, ladies leather wallets, corporate gifts, promotional gifts, wallets manufacturers, suppliers, exporters, indian

--------------------------------------------------------------------------------
Website Development and Search Engine Optimization by : Aditya Infotech
Copyright © 2013 Netlink Solutions (India) Ltd. All rights reserved, including the right to reproduce the contents of this website in whole or in part without prior written permission