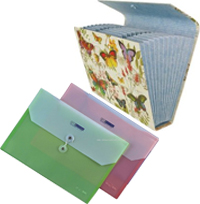 Files and folders are the core of the company's facets which always aims at profits and thus is into expansion of the business. The objectives and goals of the employees or associates are appreciated in the organization. File and folders do play an important role in the work of office aspects as all of the important documents and confidential papers are stored or kept in it. These files and folders thus organize the office work efficiently. Also files and folders are used to keep the papers intact and generally do not loose out easily. Files are folded in half and has a string attached it in the middle of the fold so that when arranged papers are kept in the sequence they do not come out of it giving it a neat and organized look to it.
Folders can be labeled directly with pen or pencil whereas the files cannot be as because the material in which the files are manufactured should not resist the ink of the pen and anything written with pencil is not visible so the use of sketch pen is to made which stays for lone but has to be careful when wet thing is dropped on it the writing part would just vanish away. Today with unique design patterns these files and folders are designed with number of compartments to keep in the stuff as it is required. A stock of files and folders is to be found in companies as they are segregated according to the departments which make the work less by keeping it in an appropriate manner.
These files and folders are available in variety of fashions like expanding file, transparent pp file, paper and handmade file which is generally used by the school children as they design it according to their style, color combination etc. The use of plastic should be made less is the motive of the school children. Also a file organizer is used in the organizations as necessary file accessory for maintaining multiple files. A paper file cover protects the important papers from getting torn out or spoilt.
Featured products of Files And Folders
Organizing papers is like organizing life. So if you wish to segregate papers together, files are the best choice. Files have been a necessary requirement since the time papers were used for documentation. ...

Company Name : TRIO
Products :

Diaries, Table Calendars, Business Organisers, Lever Arch Files, P.p File And Folders , Gift Articles, Office Stationery

Contact Person :
Mr. Manik Ray
Company Profile :

The Company Manufacturing And Importing The Variety Of Stationery Products.

Send :
On-Line Trade Inquiry
Click here to view entire Product Range
Products :

Display Files, File And Magazine Rack, Desktop Organizer, Separators, Notebooks, Report File Cd Cases, Document Files, Ring Binders.

Contact Person :
Amit Gupta/mahesh
Company Profile :

Manufacturer, Suppliers, Exporters And Wholesaler Of Variety Of Office Stationery Items Like Display Files, File And Magazine Rack, Desktop Organizer, Separators, Notebooks, Report File Cd Cases, Document Files, Ring Binders And Many Other Stationery Products Since The Last Nine Years.

Send :
On-Line Trade Inquiry
Click here to view entire Product Range
Products :

Office Stationery And Filling System Like Files And Folders, Expansion Cases, Display Books, , Pp Sheet Protectors, Clip Files, Art Portfolios, Menu Holders, Paper Fasteners, Poly Envelopes, Box Files, Business Card Holders, Moulded Ring Binders Etc.

Company Profile :

A Company Manufacturing A Variety Of Stationery Products Like Files And Folders, Expansion Cases, Display Books, , Pp Sheet Protectors, Clip Files, Art Portfolios, Menu Holders, Paper Fasteners, Poly Envelopes, Box Files, Business Card Holders, Moulded Ring Binders And Many More Products.

Send :
On-Line Trade Inquiry
Click here to view entire Product Range
Products :

Bags Like Pouches, Handbags, Portfolios, Files, Folders, Wallets, Briefcases

Contact Person :
Sushil Kandoi
Company Profile :

Bags Like Pouches, Handbags, Portfolios, Files, Folders, Wallets, Briefcases Etc.

Send :
On-Line Trade Inquiry
Click here to view entire Product Range
Products :

Exclusive Office & School Stationery Like Files, Folders And Many More Products.

Contact Person :
Mr. Parekh
Company Profile :

Parth Enterprises Supplies The World Class Stationery Products Made From The Best Raw Materials And Are Designed To Suit Every One, Companies, Individuals And Students.

Send :
On-Line Trade Inquiry
Click here to view entire Product Range
Products :

Ring Binders, Display Books, Clip Files, Box Files, Combination Files, Conference Folders, Business Card Holders, L-folders, Expansion Cases, Document Cases, Utility Boxes, Envelopes, Pen Stands, Acrylic Writing Boards,etc.

Contact Person :
Mr. Ram Kumar Garg
Company Profile :

Bharat Plasticware Has Been Manufacturing Plastic Ware Or Things With The Specialisation. Its Filling System Products Are Designed To Suit The Variety Of Purpose, People & Places.

Send :
On-Line Trade Inquiry
Click here to view entire Product Range
Products :

Office And School Stationery Products Like Metal File Clips, Cd Case, Name Card Holders, Expanding Files, Carrying Cases, Portfolio Bags, Hotel Menu Folders, Visiting Card Albums, P.p. Files & Folders, Display Books, Photo Albums, Strip Files, Conference Folders, Kids Loved Files, Name Card Holders, Name Plates And Display Stands.

Contact Person :
Mr. Dhirendra
Company Profile :

A Company Manufacturing And Supplying A Variety Of Office And School Stationery Products Like Metal File Clips, Cd Case, Name Card Holders, Expanding Files, Carrying Cases, Portfolio Bags, Hotel Menu Folders, Visiting Card Albums, P.p. Files & Folders, Display Books, Photo Albums, Strip Files, Conference Folders, Kids Loved Files, Name Card Holders, Name Plates And Display Stands.

Send :
On-Line Trade Inquiry
Click here to view entire Product Range
Products :

Pen And Card Holder, Watches, Leather Articles, Keychains, Flask, Cups, Desktopaccessory, Files And Folders, Ceramic Mugs, Key Chain, Bags And Many More.

Contact Person :
Mr. Pushkar Guptae
Company Profile :

A Company Marketing And Distributing All Types Of Corporate Gift Items Like Desktop Accessories, Pen And Card Holders, Leather Materials, Flask, Key Chains, Cups, Files And Folders And Many More.

Send :
On-Line Trade Inquiry
Click here to view entire Product Range
Products :

Office Stationery Like Clear Books, Ring Binders, Clip Files, Clear Holders, Polypropylene Clear Files, Envelope Bags, Card Holders, Pen Cases, Zipper Bags, Conference Bags, Expanding Files And Even Shopping Bags, Packaging Boxes & Photo Album

Contact Person :
Mr. Rajesh K. Satra
Company Profile :

Manufacturers Of A Wide Range Of Stationery Products Like P.p Files, Folders, Display Books, Conference Folders, Portfolios Bags, Etc.

Send :
On-Line Trade Inquiry
Click here to view entire Product Range
Products :

Punchless Clip Files, Display Book, Report File, Visiting Card Holder, Deluxe Clip File, Leaver File, Conference Folder, Presentation Folder, Computer File, Patti Files, Cobra Spring File, D-ring File And O-ring File.

Contact Person :
Mr Anil
Company Profile :

Established In The Year 2009, We, Modern Plast, Mh, Are Engaged In Manufacturing A Diverse Range Of Office Stationery Products Which Is Available In A Multitude Of Colors, Sizes And Designs. The Entire Product Range We Offer Includes

Send :
On-Line Trade Inquiry