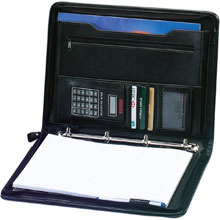 A conference folder today plays an integral part in most of the business organizations. These conference folders are important items and have become necessity for the organizations to help increase the reach of advertising efforts. In an organization where hell lot of meetings, video conferencing meetings and call conferencing meetings take place in such situation a product which is useful to keep all the required documents is needed. The idea behind producing or manufacturing these conference folders are people can take these folders once they reach home. The conference folders are regarded as the business organizational tool and is designed it accordingly. As a tool of the organization these conference folders are the best way to present the company information.
Conferences and seminars are always planned by the company which look forward to promote their product or to expand their business by venturing the markets by capitalizing on the deals. For these seminars, events and conferences these companies go to great lengths to make a good presentation. Conference folders can bring the company to the fore front. Thus this conference folder is a \n important stationery tool also for the organizations. The unique and the best thing about this conference folder is that all the items stay intact and are very easy to remove them whenever and wherever they are needed. Most of the conference folders are catered to keep the things or important documents according to the use and also are used for keeping business cards, visiting cards and other official accessories.
The color preferred for these conference folders are brown, black and grey. These folders come in leather material or dependable material and are used for light weight purpose and daily office use. The other aspects of these folders are that these folders come in executive and master sizes which are occasionally about sleek color, style and design. These folders use high quality and utility which is remarkable. These are suited beast for international travel and are durable with dependable zippers and a leather feel.
Featured products of Conference Folders
Monopoly plastics offers a range of conference folders in different types, size in which you can keep all your important folders and documents. These are easy to carry from one place to another and there is no risk of the documents falling off as it ...

Company Name : Monopoly Plastics Click here to view entire product range
Products :

Sports Bag,wallets,caps,t-shirts,travel Bags And Conference Folders Etc

Contact Person :
Arunagiri Mudaliar
Company Profile :

Pacific Trends Pvt Ltd Is The Manufacturers, Supliers, Exporters & Wholesaler Of Corporate Gift & Novelties Items Such As

Send :
On-Line Trade Inquiry
Click here to view entire Product Range
Products :

Office And School Stationery Products Like Metal File Clips, Cd Case, Name Card Holders, Expanding Files, Carrying Cases, Portfolio Bags, Hotel Menu Folders, Visiting Card Albums, P.p. Files & Folders, Display Books, Photo Albums, Strip Files, Conference Folders, Kids Loved Files, Name Card Holders, Name Plates And Display Stands.

Contact Person :
Mr. Dhirendra
Company Profile :

A Company Manufacturing And Supplying A Variety Of Office And School Stationery Products Like Metal File Clips, Cd Case, Name Card Holders, Expanding Files, Carrying Cases, Portfolio Bags, Hotel Menu Folders, Visiting Card Albums, P.p. Files & Folders, Display Books, Photo Albums, Strip Files, Conference Folders, Kids Loved Files, Name Card Holders, Name Plates And Display Stands.

Send :
On-Line Trade Inquiry
Click here to view entire Product Range
Products :

Ring Binders, Display Books, Clip Files, Box Files, Combination Files, Conference Folders, Business Card Holders, L-folders, Expansion Cases, Document Cases, Utility Boxes, Envelopes, Pen Stands, Acrylic Writing Boards,etc.

Contact Person :
Mr. Ram Kumar Garg
Company Profile :

Bharat Plasticware Has Been Manufacturing Plastic Ware Or Things With The Specialisation. Its Filling System Products Are Designed To Suit The Variety Of Purpose, People & Places.

Send :
On-Line Trade Inquiry
Click here to view entire Product Range
Products :

Plastic Presentation Folder • Plastic Conference Folder • Plastic File Folders • Plastic Clear Bags • Business Card Holders • Cd Holders • Display Books • Note Books Covers • Photo Albums • Garment Boxes • Telephone Indexes • Paper Based File Board

Contact Person :
Mr. Kishorbhai, Hares Patel
Company Profile :

We Are Exporting All Type Of Office Stationery Items Like:

Email is not available
Products :

Plastic Files, Garment Packaging Material, Office Folders, Pvc Stationery, Stationery Covers, Card Holder, Executive Bag, Passport Holder, Cheque\ Book Holder And Conference Folder.

Contact Person :
Mr Chetan
Company Profile :

Located At Bengaluru (karnataka, India), We, "dipika Plastic Industries," Have Become Highly Reputed Manufacturer And Supplier Of Supreme Quality Range Of Packaging & All Corporate Needs Products. In Our Extensive Product Range, We Offer

Send :
On-Line Trade Inquiry
Products :

Leather Goods, Loose Leaf Planner, Conference Folders, Atlas Organizer Riffile, Office Bags & Gift Sets Etc.

Contact Person :
Mr Rajendra B Lotankar
Company Profile :

Manufacturers Of Leather Products

Send :
On-Line Trade Inquiry
Products :

Diaries, Planners And Organizers, Conference Folders,notebooks,desk Accessories Etc

Contact Person :
Vipul R. Vasa
Company Profile :

Viva Global Is The Manufacturers, Supliers, Exporters & Wholesaler Of Corporate Gift & Office Stationery

Send :
On-Line Trade Inquiry
Products :

Ball Pens, Microtip Pens, Pen Sets, Fine Writing-fountain Pens, Pencils, Rulers, Erasers, Markers, Highlighters, Copier And Computer Paper, Writing Pads, More Pads, Not Books, Fan And Speciality Paper Envelopes, Mailing Supplies, Labels, Files And Report Covers, Files And Folders, Binders, Plastic Data Binders, Stamps, Printing Kit, Calculators, And Typewriter Suppliers, Storage Media, Data Cartridges And Tapes, Printer Cartridges And Toner, Printer Ribbon And Typewriting Suppliers, Binding And Lamination Supplies, Presentation Materials, Conference Supplies, Desk Top Accessories, Like Metal Pen Stand, Acylic Pen Stand, Solar Mail Caddy, Omega Letra Tray, Pencil Sharphener, Ict Book Ends.

Contact Person :
Mr. Damjibhai Patel
Company Profile :

Bombay Stationers, Since 1986, Have Been Dealing With All Stationery Products Like

Email is not available
Click here to view entire Product Range
Products :

Wooden Desktop Items, Wooden Clocks, Branded Gift Items, Leather Bags, Trophies & Awards, Brass Gift Items,t Shirts, Conference Folders, Caps, Wall Clocks

Contact Person :
Mr Mahesh K Lohia
Company Profile :

Mfr & Supplier Of Promotional & Gift Items Such As

Send :
On-Line Trade Inquiry
Products :

Executive Bags, Trolley Bags, Traveling Bags, Attaches And Brief Cases, Laptop Bags, School Bags And Duffle Bags, Conference Folder And Bags, Organizer And Diaries, Pen And Pen Sets, Table Tops, Mugs And Coasters, Caps And T-shirts, Executive Gifts, Mobile Covers And Key Chains, Clocks, Mementoes, And Wallets And Cheque Book Folders.

Contact Person :
Mr Imran Siddique
Company Profile :

Mfr Of Promotional & Leather Poducts Such As

Send :
On-Line Trade Inquiry