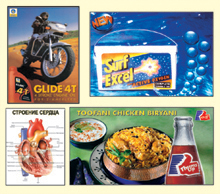 An unique way of advertising, marketing, promoting of a product without any medium which is considered to be an effective tool of communication are posters which not only attracts people but also brings the brand or the product awareness in front of the people. A poster is the other form of the paper which is seen on walls or on flat white board on roads where thousand of people are seen everyday. Thus the strategy is to make people aware of that thing which would be happening soon or would be just a promotional strategy. Today we get to see posters of television celebrities who endorse products, upcoming shows on television, live events or concerts happening thus to make people know about the following items or categories. Also in schools poster competitions happen thus to test the creativity of the children. The motive behind doing so is that posters can have any theme, design, color combination which would attract the people by watching these posters at glance.
The types of posters are legal posters which are used for government purpose. Especially during election posters of various parties are distributes among people to gain vote from us and also the propaganda bill can be considered as a poster. The other type of poster is subject posters which are highly used by advertisers as to promote the product or the brand. In advertising posters the little bit of informative matter is printed with which it becomes easy for people to read and purchase the brand accordingly. Various brands like l'oreal, lakme etc the models or the celebrities are seen endorsing their products with this people get to see their posters stuck on a huge board which is very visible. The other type is informative poster where these posters are displayed to bring awareness about certain issues. Posters of smoking is injurious to health, do not drink and drive etc are stuck on the walls to make people know and also to support the issue.
Very unique and innovative type of posters is energy saving posters which look artistic and are also suggestive. These posters use sarcastic tones and are very much persuasive. These posters are designed to highlight the importance of energy and its conservation.
Featured products of Posters
The 3d pvc thermoformed posters manufactured by supremum exports are unique in its own way. Today when there are a number of advertising posters put up everywhere, it is hard for ones advertising poster to be noticed among the many. But the 3d pvc th ...

Company Name : Supremum Exports Click here to view entire product range
Products :

3d Posters, 3d Pvc Thermoformed Posters, Calendars, Magnetic Stickers, 3d Pvc Keychains, Promotional Gifts.

Contact Person :
Percy Dsouza
Company Profile :

Supremum Exports Is The Manufacturers, Supliers, Exporters & Wholesaler Of Corporate Gift & Novelties Items Such As 3d Posters, 3d Pvc Thermoformed Posters.

Send :
On-Line Trade Inquiry
Click here to view entire Product Range
Products :

Books, Posters Printing, Mono Cartons, Gift Boxes

Contact Person :
Mr. Deepan Jain
Company Profile :

We Are Pleased To Introduce Ourselves As One Of The Leading Manufactures Having Iso:9001-2000 Certification For Our Paper Products Unit. Today We Have A Vast Range Of Packing Materials Like Multi Coloured Duplex Board / Corrugated Cartons, Printed Lables, Display Cards, Posters, Etc. We Have Our Own Packaging Development Laboratory, Quality Control Section And To Keep Up With The Latest Trends, We Have The Facility Of Hot Foil Stamping U.v/spot Uv. Coating And Line Cartons.

Send :
On-Line Trade Inquiry
Click here to view entire Product Range
Products :

Maps, Charts, Gumming Charts, Name Slips, Calenders, Stickers, Posters, Pictures

Company Profile :

Mfrd By Geeta Enterprises

Send :
On-Line Trade Inquiry
Products :

Calendars, Posters, Calendars, Catlogues, Magazines Etc .

Contact Person :
Anil Shah / Vishal Shah
Company Profile :

Anil Vishal Printers Is The Manufacturers, Supliers, Exporters & Wholesaler Of Corporate Gift And Stationeryand Exclusive Calendars Items Such As

Send :
On-Line Trade Inquiry
Click here to view entire Product Range
Products :

Paper Folders, Annual Reports, Danglers Printing, Posters Printing, Flex Banners

Contact Person :
Mr. Vipin Sharma
Company Profile :

Sneha Communication Was Started In 2004 With An Aim To Provide A 360° Communication Solution In The Future. Our Capabilities Have Evolved With The Market And Reflect In The Services That We Provide Today. We Have Also Made Sure To Keep Pace With The Ever Increasing Quality Standards As Well. It Is A Core Group Of People With Quality Experience In Their Respective Fields, Who Have Made It Possible To Gauge And Scale New Challenges With The Variety Of Projects That We Have Done For The Esteemed Companies From All Over The World.

Send :
On-Line Trade Inquiry
Products :

Diary, Id Banners, Calender, Stationery, Posters, Leaflets, Flyers, Boxes, Cards, Foam Banners

Contact Person :
Mr. Trushit Thakkar
Company Profile :

Our Company Established In 1981, Engaged In Offering High Quality Printing Services To Our Clients. The Diligent Team Of Our Company Uses Modern Technology And Stress Upon Providing Timeliness And Cost – Effective Features. We Are Renowned For Offering Complete Solution For Commercial Offset Printing Services.

Send :
On-Line Trade Inquiry
Products :

Id Cards, Visiting Cards, Printed Posters, Stickers, Multi Color Hand Tags, Poster Frames,

Contact Person :
Mr. S. K. Gupta
Company Profile :

We, Utech Creation, With Our Inception In New Delhi At India, Have Been Successfully Established Ourselves As Leading Manufacturers And Suppliers In The Industry. These Qualitative Stationery Products Manufactured Have Their Applications In Educational Institutions, Government Organizations, Work Places And Corporate Offices.

Send :
On-Line Trade Inquiry
Products :

Multi Color Visiting Cards Printing Services, Pamphlets Printing Services, Brochure Printing Services, Posters Printing Services And Letter Heads Printing Services.

Contact Person :
Mr. Venugopal Reddy
Company Profile :

Established In The Year 1974, At Hyderabad (andhra Pradesh, India), We "venu Gopal Printing Press" Are Known As One Of The Trusted Manufacturers, Wholesalers And Suppliers Of Wide Ranging Project Books, Study Material (books) And Record Books.

Send :
On-Line Trade Inquiry
Products :

3d Themrmoformed (pop Up) Posters/calenders,ld Foam /flex Banner,desk Top Novelties,soft Pvc Gift Iteams,gemstone,

Contact Person :
Anthony Dcru
Company Profile :

Manufacturer And Supplier Of Promotional Items

Send :
On-Line Trade Inquiry