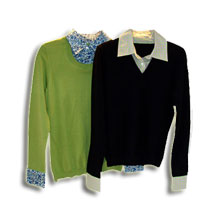 The ancient history of arts and crafts also includes the work of weaving which was largely used by women to stitch or weave woolen garments like caps, hand gloves, sweaters, socks etc which were used for small children thus to protect them from extreme cold. The process of weaving clothes is seen generally by grandmothers and mothers to protect give their daughter a nice woolen attire with a cozy, soft look. These are woolen clothes which are used during winters to get the feel of little bit of warmness protecting form the extreme cold weather. The fabric has lots of creativity and ethnicity involved and also gives fresh appealing look.
Woven fabric is used for weaving rugs, saddle bags which are used for office purpose. Rug is a carpet used for sitting, exercising or meditating. It is to be spread on the floor so that it opens widely and makes large number of people sit on it. Saddle bags is the other type which is attached to the saddle and are used in horse riding where these saddle bags are attached to various sides or positions. Also the uses of traditional rugs are very popular as these are made of cotton and are designed in simple color with contrast border. The thicknesses of these rugs vary accordingly.
Woven bags are very much useful to carry heavy items and also it does not break or gets torn easily because of the stitching part and the weaving done on these bags. These bags are used by women to carry necessary items which are utilized and so does the purpose of carrying these woven bags. In the category of woven bags jute and cotton bags are also very much in use as because these bags are made using high quality material and thus are reusable and eco friendly. Also there are hand woven items which are also used. These woven articles can be used for gifting purpose in the corporate sector which is given to the employees or office associates.
Featured products of Woven
Knitkraft has a variety of super quality casual woven t- shirts meant to suit customers satisfaction the woven t-shirts in different colour with front- button and square neck and is great for wear. The piece is comfortable to wear in any occasion. T ...

Company Name : KNITKRAFT Click here to view entire product range
Products :

Brushed Steel Mugs, Desktops, Coasters, Acrylic Clocks, Wood Desktops, Custom Made Trophies, Woven Logo Ties, Wood Packaging, Leather Bags, Laser Engraving, Clock, Watches Etc.

Contact Person :
Binit Tanna
Company Profile :

B Kreative, The Company With Dynamic Creativity Enhances And Fulfill The Need Of Market And Also Export The Same. Since Long Period, The Company Is Developing Its Idea And Regularly Producing Innovative Products.

Send :
On-Line Trade Inquiry
Click here to view entire Product Range
Products :

Knitted & Woven Garments.art Of Emroidery,sreen Print,digital Printing,

Contact Person :
Sidharth Bothra/rishi Bahl
Company Profile :

Manufacturer Of High Quality Knitted & Woven Garments.art Of Emnroidery,sreen Print,digital Printing,

Send :
On-Line Trade Inquiry
Products :

Non Woven Rice Bags,,pp Non Woven Shopping Bags Manufacturer, Rice Bag Suppliers, Non Woven Bag Manufacturers, Sack Bags Suppliers.

Contact Person :
Mr Manoj Goyal
Company Profile :

We, At Anjananandan Enterprises, Have Earned Good In Industry As Largest

Send :
On-Line Trade Inquiry
Click here to view entire Product Range
Products :

Leather Goods, Non Woven Bags, Stainless Steel Products, Corporate Gifts And Brass Items.

Contact Person :
Mr. Arun Gopal
Company Profile :

Promotion And Marketing Is The Key To Success For All Businesses. We Offer To Our Clients A Wide Range Of Exclusive Promotional Items. Our Range Of Products Include

Send :
On-Line Trade Inquiry
Products :

Knitted, Woven And Organic Garments For Men, Women, Infants And Kids, Girls Tops, Women Sleepwear, Sport Wear Etc.

Contact Person :
Mr. Pal .
Company Profile :

Incorporated In The Year 1989, Daisy (estd 1989) Apparel, Is Eminent Name In The Apparel Industry, Engaged In Manufacturing, Exporting And Supplying Of

Send :
On-Line Trade Inquiry
Products :

Pp Non Woven Bags, Pp Woven Bags, Paper Bags, Jumbo Bags Etc.

Contact Person :
Mr. Nitish Mittal
Company Profile :

We Are Mittal Merchandisers Iso 9001:2008 Certified Company, Leading Manufacturers And Suppliers Of Precision Engineered, Different Kinds Of Construction Products And Bags. Incorporated In The Year 2008, Under The Guidance Of Our Mentors And Guide, We Have Achieved The Topmost Position In This Particular Industry Segment. Our Turnover Has Scaled Up To Millions In A Short Span Of Time.

Send :
On-Line Trade Inquiry
Products :

Clothing Labels & Tags, Printed & Woven Labels And Barcode Stickers, Hang Tag, Button Tag, Key Rings Etc.

Contact Person :
Mr. Raja Mallick
Company Profile :

Established In The Year 2007, "krishna Labels" Is Counted Amongst The Prominent Manufacturers, Merchant Exporters And Traders Of A Broad Range Of

Send :
On-Line Trade Inquiry
Products :

Promotional Advertising Banners, Shopping Bags, Non Woven Shopping Bags, Printed Shopping Bags And Signature Roses.

Contact Person :
Mr. Murugesh Gurumohan
Company Profile :

Suppliers And Exporters Of Promotional Advertising Banners, Shopping Bags, Non Woven Shopping Bags, Printed Shopping Bags And Signature Roses.

Email is not available
Products :

Canvas Bags, Non Woven Bags, Jute Bags, Rexin Bags, Key Ring, Bill Book, Stickers And Visiting Cards.

Contact Person :
Mr. Lokesh Gupta
Company Profile :

Gupta Printers And Packers, Shahdara, Established In The Year 2002 Is Engaged In Offering The Clients A Range Of Products In Bags, Stickers, Labels And Bill Books That Are Known For Quality, Weather Resistance And Durability. These Products Are Manufactured With A View To Satisfy Customers And We Ensure That They Are Developed Qualitatively In Order To Have High Utility Values. Offering Products With Good Features, We Strike A Balance In Services Also By Providing Time Scheduled Deliveries And Customization. High Grade Materials Are Used In These Products That Give Them Strength And Durability. The Printing That We Undertake Are Appreciated For The Effects, Resolution And Clarity. Our Labels Are Used In Several Industries For Labeling Their Products. We Offer

Send :
On-Line Trade Inquiry
Click here to view entire Product Range
Products :

Housekeeping Products, Stationery Items, Woven Sacks, Paper Bags And Bopp Tapes. These Products Are Used For Housekeeping, Cleaning And Stationery Purposes.

Contact Person :
Mr. Dinesh Fabwani
Company Profile :

Established In The Year 2000, We, Amrita Stationery, Have Become One Of The Preeminent Wholesalers Of A Range Of Cleaning Material, Stationery And Office Supplies. The Various Products Supplied By Us Include

Send :
On-Line Trade Inquiry
Click here to view entire Product Range