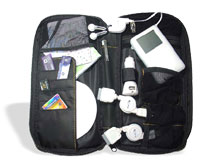 A travel kit should be on the top of your most essential travel accessories list. Traditionally it was only used for carrying toilet articles, but now the travel kit list has widened. What you include in the travel kit list mostly depends on who is travelling and where. For example, a travel kit for men is completely differs from a travel kit packed for kids or women. The most common standard items in all these kits are sunscreens, mosquito repellents, an extra pair of contact lenses (for adults), duct tape, copies of original passport and other such important documents, flashlights, digital thermometer and the most important- first aid kit. These may seem frivolous, but in case of an emergency these essential items in your travel kit list are quite handy and can be a lifesaver, especially medicines when you`re in a foreign location and the medicines available there may or may not suit your requirements.
There is a huge availability of travel kits online in different colors, sizes, etc as per your requirements. A usb travel kit is relatively new in the market but its popularity is growing quickly. If you don`t wish to carry additional luggage in the form of mouse or cables a usb travel kit is your answer. These kits are very different from normal travelling kits and include a number of ubs tools, retractable earphone cable, card reader, etc that one can use while travelling when there are no plugs around. A must for the techno geeks!
These travel kits are also great promotional gift ideas; it will be used only when people travel, but its high utility level will constantly impress the person and you will be fondly remembered each time it is used by them.
Products :

Pouches, Tote Bags, Knapsacks, Soft Luggage, Eco Friendly Bags, Hands-free Bags, Tool Bags, Lap Top Bags, Small, Medium & Large Travel Bags, Portfolios & Conference Kits, Caps & T-shirts, Promotion Sets & Shopping Bags, Backpacks, Leather Products Like Briefcases, Organizer, Wallets And Many Other Gift Articles.

Contact Person :
Pranav Modi
Company Profile :

Deep Enterprises Is The Manufacturers, Supliers, Exporters & Wholesaler Of Corporate Gift & Novelties Items Such As

Send :
On-Line Trade Inquiry
Click here to view entire Product Range
Products :

Gift Articles, Stationery Sets, Writing Instruments, Photo Frames, Candles, Wall Clocks, Corporate Gifts, Key Chains, Travelling Kits, Pen Ballpen Sets, Ball Pens, Pvc/pp Files, Folders, Staplers, Pens Ballpens, Refills

Contact Person :
Mr.haresh Vasani
Company Profile :

Merchant Export House, Gift Articles, Stationery Sets, Writing Instruments, Photo Frames, Candles, Wall Clocks, Corporate Gifts, Key Chains, Travelling Kits, Pen Ballpen Sets, Ball Pens, Pvc/pp Files, Folders, Staplers, Pens Ballpens, Refills

Email is not available
Products :

Laptop Bags, Wheeler Bags, Duffle Bags, Trolley Bags, Medical Rep Bags, Travel Kits, Leather Wallets

Company Profile :

Nihar Are The Manufacturer Of Travel And Lifestyle Accessories

Send :
On-Line Trade Inquiry