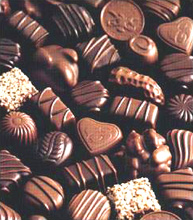 Bonbon afters
the scrumptious brown, auburn colour of chocolates is definitely a fatal temptation for all who are in love with this bonbon dessert. Fine chocolates give mild pleasure and works as a mild excitant. A chocoholic will grab a bar of chocolate or start his day with a cup of hot cocoa.
chocolatiers prepare a variety of gourmet chocolate bars like dark chocolate, milk chocolate, fruit and nuts chocolate, flavoured chocolate and many more. Chocolates are used as flavours in a lot of recipes like cakes, coffee, mousse, muffins, brownies, cookies, pies, ice creams, milkshakes and puddings. Liquid chocolate is also used to make chocolate drink and also used as toppings on a lot of desserts.
chocolate gift baskets are gifted to loved ones, especially on valentine day and their birthdays since chocolates stimulate mild romantic emotions. During convocations, felicitations and celebrations in an enterprise or a corporate organization, chocolate gifts form an integral part.
Products :

Chocolates

Contact Person :
Ms. Pallavi Ved
Company Profile :

Established In The Year, 2009, Velvet Fine Chocolates, Have Etched A Remarkable Name For Themselves In The Area Of Manufacturing, Supplying And Exporting Handmade Chocolates, Chocolate Gift Packs And Chocolates Lollipops.

Send :
On-Line Trade Inquiry
Click here to view entire Product Range
Products :

Dairy Products Including Chocolates

Company Profile :

Amul Is An Indian Dairy Cooperative, Brand Managed By Cooperative Body, The Gujarat Co-operative Milk Marketing Federation Ltd. (gcmmf), Which Is The Largest Food Products Marketing Organization Of India.

Send :
On-Line Trade Inquiry
Click here to view entire Product Range
Products :

Chocolates

Contact Person :
Mr Sanjay/ms Brinda/ms Aarti
Company Profile :

Pure Sin Chocolates, A Company That Started Selling Handmade Chocolates In 1993, Has In Many Ways, Over The Years Elevated The Selling Of Chocolates Into An Art, Thereby Justifiably Earning The Affection And Loyalty Of Their Several Customers.

Send :
On-Line Trade Inquiry
Click here to view entire Product Range
Products :

World Class Chocolates, Brownies & Fudges Etc.

Contact Person :
Mr Amarjjit Kohli
Company Profile :

Mfr Of

Send :
On-Line Trade Inquiry
Products :

Chocolates, Whole Almonds, Almond Rocks , Cashew Nuts, Hazel Nuts, Pistachio, Walnut

Contact Person :
Mr. Maneck Malhotra
Company Profile :

Choco-swiss, The First Company To Manufacture And Market Assorted Designer Chocolates In India, Has Been Pleasing The Taste Buds Of The Chocolate Lovers In The Country For Over Two Decades Now.

Send :
On-Line Trade Inquiry
Click here to view entire Product Range
Products :

Caps, T-shirts, Sweat Shirt, Ties, Bags, Chocolates, Candels, Clocks, Mugs, Momentos, Pens, Trophy, Usb

Contact Person :
Srikanth Acharya
Company Profile :

We Are A Company That Deals With A Range Of Products Specifically Suited To Cater To Corporate Gifting, Promotional And Branding Requirements. We Have Crafted Corporate Gifting Solutions For All Price Ranges, Orders Sizes, For All Kind Of Timelines And A Very Large Set Of Product Categories.

Send :
On-Line Trade Inquiry
Products :

Chocolates, Chocolate Hampers

Company Profile :

Patchi, A Renowned Company Manufacturing And Supplying Quality Chocolates In Different Scrumptious Flavours Offers Different Decorated Chocolate Hampers For Corporates Which Can Be Customised As Per The Needs And Preference Of The Customer

Send :
On-Line Trade Inquiry