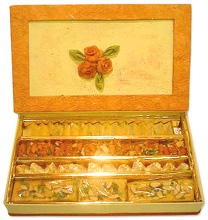 The moment we eat ant thing spicy or our tongue gets burnt we quickly put sugar in our mouth so that the sweetness of the sugar melts easily and gels up thus giving us a relief. Sweets thus reminds us being health conscious and to control our taste. Sweets when are kept in shop look so yummy and beautiful that the person even if he is calorie conscious would go and have it. Sweets do not have limitation as these sweets are made of pure clarified butter which is good or health but what make people worry about apart from this ingredient?? it is the sugar, dry fruits, added color, silver foil etc. Sweets are the symbol of celebration and are also considered as religious practice as when we enter temple we are offered sweet which is commonly known as blessing from the almighty.
Mithais is commonly known in hindi and is known as sweets itself. Sweets are prepared on various occasions like festivals like ganesh festival, diwali, christmas etc. Since festivals bring joy and happiness sweets cherish the memories of happiness which is enjoyed by the people. Sweets bare made of various varieties and these are dry fruits like almonds, cashew nuts, raisins, pistachios, avocados etc which are very rich and nutritious for health. Sweets like butter sand which made from the base of paneer are very famous. In sweets like barfies, jalebis, gulab jamuns, pedhas are very famous in the category of indian sweets. Marshmallows, ice creams and chocolates are regarded as sweet in western countries as they don't have the concept of mithais over there.
Especially during occasion like weddings, anniversary parties sweets preferred are gulab jamun, halwa, jalebi etc which is also known as deserts which is to have after dinner or lunch. Sweets are always fed to the people who have excelled in their academic careers or in the organizations to appreciate heir hard work and also to celebrate the happiness together. Sweets are always offered first to almighty when the person has excelled in his field. Sweets can also be used for gifting purpose on the occasion like diwali and also in the corporate sector sweets are given to the employees to celebrate the season and the purpose.