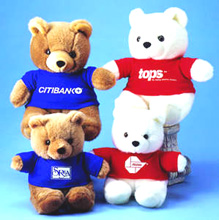 A child's favorite playing tool is always a toy. May it be of plastic of electronic the whole day he would spend his time playing. A very much friendly and much of interaction is carried on with the toy by a child. A child considers a toy his best friend with which he can keep on talking. Toys can also become a necessity of a child whenever he sleeps, eats or play. Kids always like to keep their pet besides them whenever they take nap so that they feel cozy and comfortable. A toy can be termed as an object with which the child's development starts taking place. Soft toys a unique but popular gift item which is used by small kids to youngster as these soft toys are an item to communicate and also too remembered when gifted during various occasion.
Soft toy is a tool to communicate its softness for emotions or for message written on it. Soft toy is made using cloth, cotton, various fabric materials etc which not only makes them soft, spongy but also very attractive as these soft toys are very much fascinating and attractive for small children. Soft toys are gifted on the occasion of valentine's day, birthdays etc. Soft toy is one thing which the person uses it for many years because of its durability and is long lasting feature. Soft toys look beautiful and elegant when they are placed in the idle place to enhance the décor of the room.
Soft toys are also known as stuffed toys as there can be varieties of the stuffed material which can be beads, cloth, cotton or decorative items. Soft toys come in various types and these are animals like rabbit, elephant, dog, cat etc. Characters like mickey mouse, donald duck, pooh etc. Also these soft toys are available in fictional characters or story characters. Soft toys can also be used as a gifting tool for romantic dates and those are known as pebble toys. Most of the women prefer to keep soft toy in their bedrooms as it gives a beautiful look and enhances the décor of the house as it is used for decoration purpose.
Featured products of Soft Toys
Soft toys are conclusively gifted to infants and kids, though they are cherished by the youth, too. A glance at a soft toy can easily bring a smile on one`s face. Soft toys have an extremely cute and delightful appearance. ...

Company Name : Vardhaman I.Q. Toys Mfg. Co.
Products :

T-shirts, Bags, Gift Items, Caps,soft Toys, Umbrella Etc.

Contact Person :
Mr. Sanjay Chamaria
Company Profile :

Unique Concepts Is The Manufaturer And Exporter Of Promotional Products

Email is not available
Products :

Promotional Products, Keychains, Soft Toys, Mugs, Tshirts, Caps Etc.

Contact Person :
Mr.rahul Sharma
Company Profile :

Stl Is The Manufacturer And Exporter Of Promotional Products

Send :
On-Line Trade Inquiry
Products :

Acrylic Gifts (pen Stands, Paper Weights, Dispensers, Coasters) Advertising Caps (headwear, Hats, Bandanas) Badges, Emblems And Medals, Collectibles, Leather Articles (bags/folders/wallets/belts/desktop Articles), Pens, Photo Frames, Portfolio Bags, Traveling Bags, Soft Toys, Time Pieces, Umbrellas, Wooden Gifts, Wrist Watches

Company Profile :

Manufacturer Of Corporate Gifts

Send :
On-Line Trade Inquiry
Products :

Soft Toys

Contact Person :
Dr. Ranjana Mehta
Company Profile :

Manufacturer Of Toys For Kids

Send :
On-Line Trade Inquiry
| Corporate Gifts Home | Corporate Gifts Directory | Corporate Gifts Products |
soft toy, customised soft toys, soft toys, baby soft toys, corporate gifts, occasional gifts, soft, toys manufacturers, suppliers, exporters, indian

--------------------------------------------------------------------------------
Website Development and Search Engine Optimization by : Aditya Infotech
Copyright © 2013 Netlink Solutions (India) Ltd. All rights reserved, including the right to reproduce the contents of this website in whole or in part without prior written permission