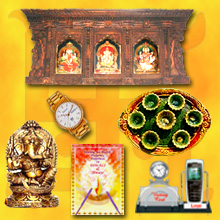 The season of joy, happiness and lights everywhere around thus talk about the traditions and culture of our country. The season of diwali is celebrated to express happiness and welcome the new one forgetting all our past memories which were not happening at all. People from all around the world come together to share and mix up with this happiness. Diwali is considered to be prosperous and of showing gratitude to the almighty with wisdom and wealth which thus signifies a new beginning of life for the people. Diwali is celebrated widely and also diwali gifts which are presented to thousands of people.
Diwali gifts are categorized into following categories and these are jewelry set, flower hampers to mix dry fruits and form sweets to diwali greetings. Jewelry set are given on very rare occasion but also are presented in some organization to women as the real beauty of speaks when she wears jewelry. Boxes of dry fruits are very common gifts given to people in the organization with various decorations and properly packed so that it does not fall or come out of the box. Presenting of sweets especially in the festive season is a great way to highlight the mode of happiness. Gifts are always considered as a role which shows respect towards the officials in the organization, appreciating the performance of the employees and also an effort of making the move for friendship in the companies or business organizations.
Gifting of diwali diya or candles which has beautiful fragrance, unique feature and elegant look which attracts people of its enchanting appeal. Crackers would be very much idle for those people who like to burst crackers during diwali as it is regarded as custom of bursting of cracker which makes loud noise. Also chocolate hampers with red rose would be a unique gift to be presented for diwali which would be appreciated by employees of the organization.
Featured products of Diwali Gifts
Diwali is an occasion to splurge and indulge. It is the time to build relationships with employees, business partners and clients by pampering them a little .Selection of corporate diwali gifts must be apt and accurate which would enhance the festiva ...

Company Name : ADVENT GIFTS Click here to view entire product range
Products :

Diwali Corporate Gifts, Traditional Gifts, Poojan Boxes Etc.

Contact Person :
Mr. Deepak Arora
Company Profile :

Spiritual Solutions, Is One Of The Distinguished Manufacturers And Suppliers Of A Wide Range Of Ritual Products. Our Range Is Widely Appreciated For Its Features Such As Appealing Designs, Purity And Durability.

Send :
On-Line Trade Inquiry
Products :

Bags, Giveaways, Chocolates, Dry Fruits, Gift Hampers, Diyas, Candles, Gold Plated, Silver Plated, Diwali Gifts, Folders, Mementos & Corporate Gifts Etc.

Contact Person :
Mr Dinsh Bafna
Company Profile :

Mfrs Of

Send :
On-Line Trade Inquiry
Products :

Corporate Gifts, Promotional Gifts, Diwali Gifts, Birthday Gifts, Anniversary Gifts, Photo Frame, Name Plates,

Company Profile :

Panchatatva Is The Manifestation Of Life`s Core Elements. Earth, Sky, Water, Fire And Ether. Panchtatva, Rightfully Then, Is Inspired By Life, By Its Colours, By Its Myriad Shapes, By Its Surprising Patterns, By Its Vivid Designs.

Send :
On-Line Trade Inquiry
Click here to view entire Product Range
Products :

Key Chains, Key Rings, Pen Stand, Mobile Stand, New Year Diaries, Table Tops, Diwali Gifts

Contact Person :
Mr S K Khanna
Company Profile :

Mfr & Supplier Of Promotional Items & Corporate Gifts

Send :
On-Line Trade Inquiry
Products :

Customized Chocolates, Wedding Chocolates, Sugar Free Chocolates, Diwali Gifts Etc.

Contact Person :
Mrs. Kanchan Batra
Company Profile :

Established In The Year 2004, We Chocolate Land , Are Engaged In Processing And Exporting Of Pure Range Of Cocoa Powder, Handmade Chocolate And Chocolate Paste.our Chocolates Are Made Form The Best Quality Cocoa Beans That Are Procured From Locations Where These Are Found In Abundant. Further, We Also Offer Compound Chocolate Bar, Butterscotch Nuts, Chocolate Nuts, Sugar Free Chocolate, Flavor Paste, Flavor Slab, Kasuri Methi, Grinded Cocoa Husk, Natural Guar Gum And Other Flavor Slab.

Send :
On-Line Trade Inquiry
Click here to view entire Product Range
Products :

Corporate Gifts, Handicrafts, Lepon Work, Name Plates And Festival, Rakshabandhan, Seasonal Diwali Articles, Trosseau Packing, Wall Frames

Contact Person :
Ms. Trupti Shah
Company Profile :

Manufacture Of Handicrafts And Corporate Gifts

Email is not available
Products :

Event Management, Corporate Gift Items, Ethnic Corporate Gifts, Exotic Marble Fruit Bowls, Trophy, Wooden Corporate Gifts, Gift Items, Signages, New Year Gift, Diwali Gift Items, Christmas Gift Items, Hoarding, Kiosk Unipole, Road Show, Conference, Promotional Activity, Flex Banner, Board Vinyl, Trophies, Memontos, Leather Products Etc.

Contact Person :
Mr. Amit Bhandari
Company Profile :

To Fulfill The Requirements For Gift Items For Corporate Award Ceremony, Product Launch Diwali, Christmas, New Year Or Any Other Occasions, Sambhav Signages Was Established In The Year 1998. We, As The Renowned Advertiser And Corporate Gift Manufacturer, Offering A Wide Range Of Products Such As Corporate Gift Items, Ethnic Corporate Gifts, Exotic Marble Fruit Bowls, Wooden Corporate Gifts, Antique Finish Wooden Figurine, Etc.....

Email is not available
Products :

Bags, Bar Accessories., Brassware,calender, Clocks, Conference Accessories, Corporate Gifts, Diary,diwali Gifts, Electronics, House Holds,leather Gifts, New Year Gifts, Pharma Gifts, Promotional Caps,promotional Gifts, Stainless Steel,gifts,table Tops,trophies And Ntoes, Wallets, Wooden Gifts

Contact Person :
Mr. B. K. Taneja
Company Profile :

Vanguard Advertisers Is The Exporter And Supplier Of Promtional And Gifting Products

Send :
On-Line Trade Inquiry
Products :

Napkin Rings, Christmas Decorations, Nautical Gifts, Fashion Jewelry, Brass Handicrafts, Table Linen Accessories, Smoking Accessories, Fire Tools, Home Decoratives, Diwali Gifts, Corporate Gifts, Epns Wares, Table Wares, Aluminium Wares And Table Place Cards, Hookah, Candle Holders, Antique Reproduction, Trophy & Awards, Bath Accessories, Candles, Home Furnishing, Bar Accessories, Garden Accessories, Clocks And Wedding Gifts.

Contact Person :
Mr. Mohammad Azeem
Company Profile :

Our Mission Is To Improve The Quality Of Our Products And Maximize Our Client`s Satisfaction. Our Main Focus Is On Offering Outstanding Products To Our Customers And Sticking To Timely Delivery Schedules. Our Range Of Decorative Products Include

Send :
On-Line Trade Inquiry
Products :

Corporate Gifts India, Gifting Items, Laser Marked Cross Pens, Laser Marked Gift Items, Pad Printed Gift Items, Brand Promotion Gifts, Gifts And Novelties, Branded Gift Items, Cross Pens, Victorinox Knives, Osram Torches, Printed And Imported Balloons, Personalised Gift Item, Indian Diwali Gifts, New Year Gifts

Company Profile :

Manufacaturers & Suppliers Of Corporate Gifts.

Send :
On-Line Trade Inquiry
Click here to view entire Product Range
| Corporate Gifts Home | Corporate Gifts Directory | Corporate Gifts Products |
diwali gifts, diwali gift hampers, diwali gift ideas, diwali gifts baskets, diwali candles, corporate gifts, manufacturers, suppliers, exporters, indian

--------------------------------------------------------------------------------
Website Development and Search Engine Optimization by : Aditya Infotech
Copyright © 2013 Netlink Solutions (India) Ltd. All rights reserved, including the right to reproduce the contents of this website in whole or in part without prior written permission