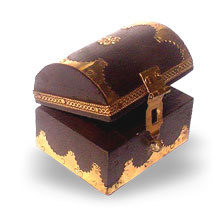 Jewelry a term which is not only beautiful but also looks classy and is very much appealing and attractive is too kept in a proper and safe place where it is stored for years and on. For keeping this jewelry beautiful and lovely jewelry boxes are designed to store it in perfect manner. Jewelry boxes come in different sizes, shapes, colors and patterns and vary according to the type of the jewelry. For keeping necklaces are to keep in bigger boxes which are more spacious and which would keep this item intact and not clumsy. Earrings are to keep in compact boxes which would occupy less space and would have rods attached to it as earrings might get mixed up with each other. Bracelets and bangles would have medium sized boxes with the rods attached to it as to keep the bangles in the rod so that they do not fall or slide on each other after they are kept in the box.
Jewelry boxes are of various types and these are wooden boxes, leather boxes, glass boxes, gem studded boxes etc which in all has a different quality and appealing look to these boxes. These boxes have style and have sophisticated look. These jewelry boxes have always enjoyed colorful history as because of the color combinations, color shades and various color designs which are involved in making these boxes. Wooden jewelry boxes are made from high quality material and thus look attractive when presented or gifted to people. The elegant appeal and enchanting look attracts most of the people. Glass jewelry boxes are known for its attractive look, shinny and glazy texture and a soft touch of these boxes which talks about the extraordinary feature.
The other type of boxes which are used for craft purpose by children is cookie tin jewelry boxes which is designed on a tin with spray painting, color painting in an attractive way which looks very classy and has a perfect finish. These jewelry boxes are gifted for special occasions like valentine's day, weddings and anniversaries and also can be used as a gifting tool in the corporate sector.