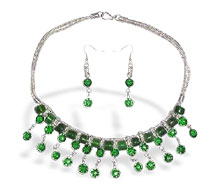 The trendsetter and today's fashion era is booming up as new styles, patterns and unique designs have emerging out and people are adapting those style statements. Fashion industry has gained importance from years and now and also has been ruling the entire reign. Today also fashion jewelry exists as youngster go for purchasing of fashion jewelry. Fashion jewelry has a stunning collection of various items like earrings, bracelets etc. Women always wear fashion jewelry matching with their attire which looks gorgeous and beautiful. The intricate design patterns and perfect finish looks trendy which is why most of the college students buy fashion jewelry.
Accessory required by the fashion conscious people is jewelry. These fashion jewelries are made using high quality material and also are available in beautiful color combinations. It entails the combination of fashion and beauty. The common ones are necklaces which is oldest accessory in the jewelry category which is worn by most of the women today and earlier also. These necklaces come in wide variety of sizes, shapes, color etc. Rings make a great accessory for birthstone which has a unique beauty.
Earrings are available in array of styles and pieces and also experiments unique color combination which looks stunning. These fashion accessories are much cheaper and are light weight which enables a comfort to carry anywhere at any point of time. Fashion jewelry goes well with costume jewelry as the accessories match up with the attires or costumes. Also fashion holds a paramount importance in the history of indian context. Fashion accessories made of exemplary designs and precious stones which thus captivates the attention of the people. The following are the items which are types of necklaces bone necklace which is available in different design and style. It thus reveals the blend of contemporary and ethnic design. Brass necklace avail contemporary and formal ravishing designs.
Products :

Beaded Photo Frames, Jewellery Box, Beaded Fashion Bags, Lamp Shades, X-mas Hangings & Ornaments, Gifts & Home Furnishing Items Like Cushions & Table Runners, Curtains Tie Backs, Tassels, Beads, Beaded Belts, Beaded Notebooks & Albums And Many Such Items.

Contact Person :
Mr. Nitin Nagpal
Company Profile :

Manufacturer, Supplier And Exporter Of Spacious Handicraft Items Such As Photo Frames, Costume Fashion Jewelry, Fashion Bags, Lamp Shades, T-lite Holders, X-mas Ornaments, Christmas Decoration Items, Wooden Boxes, Gifts & Home Furnishing Items Like Cushions & Table Runners.

Send :
On-Line Trade Inquiry
Click here to view entire Product Range
Products :

Gold Jewellery-necklace, Bangles, Earrings, Rings, Pendant, Fashion Jewellery, Fine Jewellery, Plain Gol

Contact Person :
Mr. Vinod Mohandas Tejwani
Company Profile :

Products Manufacturing And Supplying Of D ... Contact Mr N R Lakshman, Ramesh Dubey 9820198306

Send :
On-Line Trade Inquiry
Products :

Fashion Accessory, Jewellery

Contact Person :
Hitesh Kataria
Company Profile :

Carbon Was Incepted And Launched In India As A True Fashion Accessory Brand In 1996. We Are Alimited Company With Expertise In Design And Marketing. We Believe In Offering All Our Associates And The Professional Team A Rewarding Opportunity To Partner With One Of The Fastest Growing Categories And An Emerging Fashion Brand. An Association With The Lakme Fashion Week Is Like Home Coming For A Fashion Brand On A Superlative Fashion Platform.

Send :
On-Line Trade Inquiry
Click here to view entire Product Range
Products :

Ladies Bags, Jewelry And Beach Wear, Fashion Bags, Promotional Bags, Shopping Bags, Fashion Jewellery,

Contact Person :
Rohheesh Chawla
Company Profile :

Roshan Minar International Is A Prominent Name In The Global Market Engaged In Manufacturing, Supplying And Exporting Women`s Fashion Accessories That Consists Of

Send :
On-Line Trade Inquiry
Products :

Bags, Belts, Fashion Jewellery, Imitation Jewellery, Scarves,

Contact Person :
Mr. Sacchin Kapoor
Company Profile :

Incorporated In 1996, Grace Fashion Accessories Is A Partnership Firm. We Are One Of The Leading Manufacturers, Suppliers And Exporters Of Fashion Jewelry. Our 24kt Gold Plated And Rhodium Jewelry Are Crafted To Perfection By Our Team Of Skilled Artisans. With Efficiency And Specialization In Manufacturing Of Customized Jewelry We Have Been Able To Create A Niche In The Market.

Send :
On-Line Trade Inquiry
Products :

Fashion Jewellery, Artificial Jewellery, Imitation Jewellery, Handicraft Jewellery

Contact Person :
Mr. Ranjeet Kumar Verman
Company Profile :

Starline Manufactures Of Jewellry

Send :
On-Line Trade Inquiry
Products :

Decorative Gel Candles, Paraffin Wax Candles, Custom Scented Candles, Terracotta Pottery, Terracotta Fashion Jewellery, Terracotta Decorative Items, Terracotta Corporate Gifts, Leather Corporate Gifts, Corporate Gifts, Decorative Dry Flowers

Contact Person :
Mr. S. R. /ms. Sudeshna Sabhar
Company Profile :

Manufacturer And Exporter Of Gel Candles, Paraffin Wax Candles, Scented Candles, Terracotta Pottery, Terracotta Jewellery, Terracotta Decorative, Corporate Gifts, Decorative Dry Flowers Etc.

Email is not available
Products :

Fashion Jewellery Etc.

Contact Person :
Mr. Velmurugan B. S.
Company Profile :

Established In The Year 1987, We, "grinko Chips And Exports India Pvt. Ltd.," Are One Of The Leading Names Engaged In

Send :
On-Line Trade Inquiry
Products :

Glass Bead Jewellery, Glass Smoking Pipe, Glass Bubblers, Fashion Bangles, Fashion Bracelets, Fashion Earrings, Fashion Pendants, Fashion Necklace Sets

Contact Person :
Mr Santosh Sharma
Company Profile :

Arts & Craft India, Firozabad Is The Manufacturers, Supliers, Exporters & Wholesaler Of Corporate Gift & Novelties And Fashion Jewellery Items Such As

Send :
On-Line Trade Inquiry
Click here to view entire Product Range
Products :

Ladies Leather Bag, Fancy Leather Bags, Fashion Leather Wallets, Summer Collection Bags, Fall Winter Collection Bags, Fashion Ladies Belts, Fancy Leather Belts, Mens Belts, Beaded Necklaces, Bracelets, Arafat Scarfs, Artificial Jewellery

Contact Person :
Mr. Jasjeet S. Makhija
Company Profile :

Manufacturer & Exporter Of Fashion Accessories

Send :
On-Line Trade Inquiry