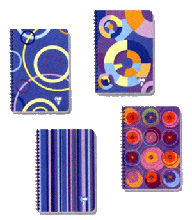 In this era of competitive world the importance of paper and products is very much realized by the people and thus has started using handmade products to bring the use of paper made from wood pulp. Today paper stationery is used in schools, offices, industries etc. If paper would not have existed than everything in the world would stop as because half of the nation runs of paper production. Paper stationeries are designed emphatically to provide organization with identity. The following are the things which are included in the paper stationery visiting cards, notepads, and memo pads, envelopes to official letters. In organizations official letters, envelopes, documentation work is in huge amount hence the paper is vastly used in great amount.
For school going kids these are the following items which are included in the paper stationery drawing books, exercise books, scrap books, essay books etc which are very essential for them. Schools, colleges run exclusively on paper stationery as they have examinations, writing competitions happening. So for these things paper is a necessity. The other aspect of the stationery includes handmade paper stationery which exhibits true artistic excellence and perfect finish and most of the people are opting for the use of handmade paper stationery as it can be reused.
In today's technology advanced world paper stationery as well as computer paper stationery also plays an important role for this technology driven world as most of the documents, letters are paper product. In computing world a printer is complete without paper; scanner is incomplete without paper which is a requirement for this category. Paper stationery has an artistic blend and utility. Today varieties of papers are available which marble paper are, drawing paper, chart paper, design paper etc which can be used for various purposes. Also in the corporate sector for signing deals and contracts it is the paper which is used where associates signs and agrees to the terms and conditions of the contract.
Featured products of Paper Stationery
Sundaram multi pap ltd., a company known for supplying quality paper stationery products offers a variety of 6 subject spiral books in 300 pages in master pack of 24 pieces. These are suitable for students in school and college and cost rs.62 . ...

Company Name : Sundaram Multi Pap Ltd. Click here to view entire product range
A/5 winner college books in soft bound and other normal range are offered by sundaram multi pap ltd., in 180 pages, in the pack of 240 pcs. And 168 pieces at rs. 23 and rs.25 respectively. These are ideal for students in college. ...

Company Name : Sundaram Multi Pap Ltd. Click here to view entire product range
Nepro trading corporation offers different types of business organiser which are used for daily plans and meetings by many corporates and managers in the company. This can also be made with the logo of the company or can be customised as per client`s ...

Company Name : NEPRO TRADING CORPN. Click here to view entire product range
Diagram books in soft and hard bound are supplied by sundaram multi pap ltd., in a master pack of 300 pcs. To 480 pcs. For soft bound and 240 pcs to 360 pcs. For hard bound. These come in 72 and 144 pages and cost. Rs.12 to 20 for soft bound and 1 ...

Company Name : Sundaram Multi Pap Ltd. Click here to view entire product range
A wide variety of diaries are made available by nepro trading corporation a company known for supplying quality stationery products. These are available in different sizes and types and can also be cusrtomised as per the client`s requirement. ...

Company Name : NEPRO TRADING CORPN. Click here to view entire product range
A wide range of graph books are supplied by sundaram multi pap ltd., in 28, 56, 28, 56 and 96 pages. It comes in two type i.E. 1/4 graph book and jumbo graph book. It`s price ranges between 5 - 20 rupees and comes in a master pack of. 288 pcs, 432 pc ...

Company Name : Sundaram Multi Pap Ltd. Click here to view entire product range
Holograms have a wide area of application and have found a niche market in security printing, certificates, cheques, driving license, stationery, brand authentication, etc. Wide range of these hologram stickers is made available by mark labels, a com ...

Company Name : Mark Labels Click here to view entire product range
Mr. Crazy original long books in 57 gsm high bright white paper are offered by sundaram multi pap ltd., a company known for supplying quality paper stationery products. These come in soft bound and hard bound type. It is available in a master pack of ...

Company Name : Sundaram Multi Pap Ltd. Click here to view entire product range
Sundaram multi pap ltd., a company who manufactures paper stationery products presents good quality original t.K.Cartridge drawing books. This series teaches how to think, conceive and organize. It provides step-by-step instructive assignments with e ...

Company Name : Sundaram Multi Pap Ltd. Click here to view entire product range
Mark labels ac company known for supplying quality self adhesives and stickers offers wide range of round corner plain labels in different size and shapes. These products can also be customized as per the specifications and need of the buyer. ...

Company Name : Mark Labels Click here to view entire product range
A wide variety of round corner red border labels are offered by mark labels a company known for supplying quality stickers and self adhesives. These labels are high tack adhesives, which sticks anywhere and is available in various different sizes. Th ...

Company Name : Mark Labels Click here to view entire product range
A variety of scrap books in different designs and size are offered by sundaram multi pap ltd., a company known for supplying quality paper stationery products. This thirty-two pages books comes in a master carton of 288 pcs and cost around 26 per pie ...

Company Name : Sundaram Multi Pap Ltd. Click here to view entire product range
Mark labels, a company known to supply quality self-adhesives and stickers provides wide ranges of symbolic signs sticker in different shapes, symbols and sizes. These can be used for various promotional purposes and are customized as per the choice ...

Company Name : Mark Labels Click here to view entire product range
Products :

Stationery Items, Files, Lever Arch Files, Clip Files, Write-on Self Adhesive Notes, Photo Albums, Erasers, Scissors, Invisible Tapes, Folders, Glue Sticks, Correction Products, Cutters, Clips, Paper Pins, Photo Albums Etc.

Contact Person :
Mr. Manoj Lodaya
Company Profile :

Corporate Stationery Manufacturer, Suppliers, Exporters And Wholesaler Of Stationery Items For Corporates.

Send :
On-Line Trade Inquiry
Click here to view entire Product Range
Products :

Office Stationery And Filling System Like Files And Folders, Expansion Cases, Display Books, , Pp Sheet Protectors, Clip Files, Art Portfolios, Menu Holders, Paper Fasteners, Poly Envelopes, Box Files, Business Card Holders, Moulded Ring Binders Etc.

Company Profile :

A Company Manufacturing A Variety Of Stationery Products Like Files And Folders, Expansion Cases, Display Books, , Pp Sheet Protectors, Clip Files, Art Portfolios, Menu Holders, Paper Fasteners, Poly Envelopes, Box Files, Business Card Holders, Moulded Ring Binders And Many More Products.

Send :
On-Line Trade Inquiry
Click here to view entire Product Range
Products :

Paper Stationery, Long Books, Exercise Books, Drawing Books, Graph Books, Scrap Books

Contact Person :
Amrut Shah
Company Profile :

A Company Manufacturing And Supplying A Variety Of Paper Stationery Products Like Long Books, Exercise Books, Drawing Books, Graph Books, Scrap Books And Many Other Variety Of Books In Different Sizes, Shapes And Design.

Send :
On-Line Trade Inquiry
Click here to view entire Product Range
Products :

Printer Cartridges, Paper Staplers, Cross Pens, Scientific Calculator,writing Pens, Printed Office Stationery, Faber Castell

Contact Person :
Mr. Ravi Shankar/ Mr Vasanth
Company Profile :

Established In The Year 1990, We Ravi Agencies, Bengaluru Are One Of The Prominent Suppliers , Wholesalers, Retailers, And Traders Of A Wide Range Of Stationery Items. Our Range Of These Products Is Durable, User Friendly And Cost Effective. Apart From Offering Superior Quality Products, We Also Undertake Contact Manufacturing, Such As Buyer Label And Design Service As Per The Requirement Of The Clients.

Send :
On-Line Trade Inquiry
Products :

Fibre Yarn, Fine Paper Products, Lab Testing Equipments, Office Stationery, Corrugated Packaging Materials, Garments Accessories, Etc.

Contact Person :
Mr. Sumit Daga
Company Profile :

Sumit Sales Company Is A Delhi Based Trusted Firm That Is Engaged In The Supplying Of Various Products. The Variety Of Products That We Provide Is

Send :
On-Line Trade Inquiry
Products :

Paper Weight, Mobile Holder, Poster Holder, Key Chains, Stationery Items, Figure Stencils

Contact Person :
Mr. B. P. Birdi
Company Profile :

Incepted In The Year 1980, Shankar Plastics Is One Of The Proficient Manufacturers And Suppliers Of Diverse Range Of Acrylic Products Such As Designer Mobile Holders, Cosmetics Display Racks, Acrylic Keychains, Watch Displays, Jewelry Displays Etc. We Have Gained Wide Acclamation For Salient Attributes Like Dimension Accuracy, Excellent Finishing, Vibrant Colors, Latest Designs And Many More. We Use Superior Quality Raw Material Such As Clay, Acrylic And Many More In The Fabrication Of Our Wide Assortment.

Send :
On-Line Trade Inquiry
Products :

Bags - Handmade Paper, Paintings, Bags (paper), Boxes - Decorative & Jewellery, Corporate Gifts, Photo Frame, Picture Frames,wooden Table Top Items, Stationery - Gifts Made From Handmade Paper And Promotional Gifts In Handmade Paper.

Contact Person :
Mr. Parag Ladiwala
Company Profile :

Anushka Is The Manufacturers, Supliers, Exporters & Wholesaler Of Corporate Gift & Novelties Items Such As

Send :
On-Line Trade Inquiry
Click here to view entire Product Range
Products :

Board Stands, File Folders, Magnifying Glasses, Office Paper Trays, Office Staplers, Paper Sheets, Promotional Products, School Stationery, Spiral Pads, Staple Removers

Contact Person :
Mr. Hardik Vasa
Company Profile :

Manufacturer And Supplier Of Stationery Products, Board Stands, File Folders, Spiral Pads, Paper Sheets, School Stationeries, Office Paper Trays, Magnifying Glasses, Office Staplers, Staple Removers And Promotional Products.

Send :
On-Line Trade Inquiry
Products :

Architectural Glasses, Kids Luggage, Laptop Bags, Paper Stationery, Calender, Travel Accessories

Contact Person :
Mr. Kaaoostubh Patel
Company Profile :

We - Karan League Are One Of The Leading Merchant Traders Engaged In Exporting A Diverse Range Of Products Through Our Marketing And Distribution Networks. Over The Years, We Have Successfully Carved A Niche For Ourselves In The International Market With Our Superior Quality Products. We Provide Industrial Lab Chemicals, Laboratory Pharmaceutical Chemical, Fmcg Good And Consumer Durable Goods.

Send :
On-Line Trade Inquiry