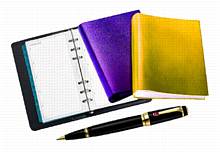 Virtually an erudite gifting!
Writing instruments known as the earliest form of writing tools which thus helps in learning and writing has formed a different picture altogether. Pens, pencils, sketch pens, these are the three basic writing instruments which are today used widely by students, business, professional sketchers, artists and common man and utilizes it to the fullest. Writing instruments are widely used by students in the schools or college. Pens and pencils are widely used as because these two items are necessary for schools and colleges.
In the organizations these writing instruments play an integral part as in business or in the offices daily lot of paper work is carried on without using these instruments the work is incomplete. Pens and pencils play a major role when it comes to the aspect of writing instruments. Pens are used for writing, putting down thoughts, ideas, imagination, creativity in the form of writing and pencils are used for drawing or sketching. These pencils are used to put down ones creativity, imagination which reflects in the drawing. Also with these pencils there are color pencils and sketch pens which is also regarded as the writing instruments.
In all these writing instruments play a significant role thus to make a mark on its importance and also are used in the corporate sector. All of these items can be presented as ideal gifts which would become part and parcel with our life. The feature is the main core which categorizes all these items. Pens come along with refills, pencils come along with eraser and sharpener, and color pencils come along with drawing paper. In this way these writing instruments are categorized and the unique features are the ink of the pen is long lasting and cannot be erased until and unless erased by an ink eraser. The writing of the pencil can be rubbed off easily and can be used for another purpose the paper on which it is written can be rubbed off. The color pencils have permanent mark which stays for long on the drawing paper.
Featured products of Writing Instruments
Our range of writing ball pens are available in different styles, colors, executive look and plain patterns. We use qualitative lead and are made from metal. Further, these are light in weight, which can serve the purpose of corporate gift items. Ava ...

Company Name : ANAND INTERNATIONAL Click here to view entire product range
Products :

Writing Instruments, Pencils,colour Pencils, Stencils, Sharpeners, Eraser, Cutter,etc.

Contact Person :
Mr.rajkumar
Company Profile :

Aarti Writing Products Pvt.ltd. Is Manufacturers, Supliers, Exporters & Wholesaler Of Writing Instrument Has Come Up With The Excellent Variety Of Sharpener Designed To Shave Off The Pencils Smoothly To Make It Pointed For Trouble-free Writing. Its High Quality Blade Provides Effecient Functioning & Utility.

Send :
On-Line Trade Inquiry
Click here to view entire Product Range
Products :

Writing Instruments Like Ball Pens, Roller Pens In Different Sizes And Shapes.

Company Profile :

Puppet Pens Products Are Manufacturers Of A Wide Range Of Pens In Different Sizes And Shapes. Its Product Having World Class Quality And Extends In The Market In India As Well As In Abroad.

Send :
On-Line Trade Inquiry
Click here to view entire Product Range
Products :

Desk Accessories, Writing Instruments, Leather Accessories, Time Pieces And Other Such Gift Sets.

Contact Person :
Ashish Dewan
Company Profile :

Dewan Exports Is The Manufacturer, Suppliers, Exporters And Wholesaler Of Corporate Gifts Such As

Send :
On-Line Trade Inquiry
Click here to view entire Product Range
Products :

Writing Instruments Like Roller Pens, Ball Pen, Pen Sets, Wooden Gifts And Many More Promotional Items.

Contact Person :
Mr. Dinesh Khakhar
Company Profile :

Amazing Represents State-of-the-art Technology In Pen Manufacturing. The Finest Blend Of Quality, Style And Durability Is The Label Of Our Roller Pens, Ball Pens And Fountain Pens. Niyati Enterprise Was Incorporated In 1995 As Manufacturers And Suppliers Of Roller Pens, Ball Pens And Fountain Pens.

Send :
On-Line Trade Inquiry
Click here to view entire Product Range
Products :

Fashionable Writing Instruments, Ball Pens, Mechanical Pencils

Contact Person :
Mr.nikhil Uchat
Company Profile :

Submarine Brand, Established In 1985, Outshines In The Concept, Design & Manufacture Of Writing Instruments And Gift Articles. Submarine International Fabricates India`s Finest Writing Instruments In Wood, Metal, Granite, Acrylic & Plastic.

Send :
On-Line Trade Inquiry
Click here to view entire Product Range
Products :

Zebra Writing Instruments Like Gel Ink Pens, Ball Point Pens, Pencils, Liquid Ink Roller Ball Pen, Scented Inks, Highlighters, Marker Pens, Refills, Correction Pens And Many Multifunctional Pens.

Contact Person :
Mr. Mahendra K. Choraria
Company Profile :

H.m.international With Its Branded Product Of Zebra India Has Been Manufacturing Pens Or Various Writing Instruments With Soft And High Performance And Adjustable Binder Clip.

Send :
On-Line Trade Inquiry
Click here to view entire Product Range
Products :

Writing Instruments, Timepieces, And Personal Accessories.

Contact Person :
Tushar Chandra
Company Profile :

Harmony Is The Manufacturers, Supliers, Exporters & Wholesaler Of Writing Instruments, Timepieces, And Personal Accessories.

Send :
On-Line Trade Inquiry
Products :

Luxury Writing Instruments And Accessories Etc.

Contact Person :
Mr Rajeev Jain
Company Profile :

Emonte Revolves Around Marketing And Distribution Of

Send :
On-Line Trade Inquiry