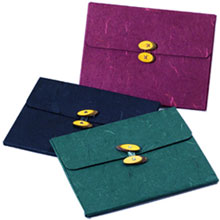 In simple language a portfolio means a folder or a case for carrying loose papers so that the papers don't shuffle or are not misplaced in any manner. These portfolios are used to keep the papers intact. These portfolios are very much used in an organizations or offices where the requirement is more. These portfolios serve for specific purpose and also can be used by the students. There are various types of portfolios which includes.
Documentation portfolios which are aesthetically designed and are very much spacious to meet the requirements of the company associates. These portfolios hold various features which have durability, perfect finish and exclusive designs. As the name suggests these portfolios are used to keep important documents which anybody would not want to loose. All the confidential and official ones can be kept in this portfolio. Also portfolio files are available which are also used to keep loose papers which keep them properly intact. This portfolio file is made of high quality material and is aesthetically designed with durable feature and exclusive design patterns. Also these portfolios have perfect finish.
The other type includes process portfolio which emphasizes more on students to use their skills and knowledge. They are used for documenting students learning process ability. Thus this unique type of portfolio is catered to students specially. The other type includes showcase portfolio which highlights the following features. These portfolios are crated to showcase the best qualities of the person in front of the audience. This type of portfolio is compatible with the audio-visual artifact development.
These portfolios are used in offices because in such organizations daily meetings take place so to keep the record of the agenda or whatever the points being discussed in the meeting at this point of time portfolio is needed it is necessity for office tools.
Featured products of Portfolio
Variety of attractive and big engg & artist portfolio in which you can file all your important paperwork and drawings are offered by monopoly plastics, a company known to supply quality office and school stationery. These come in different sizes, sha ...

Company Name : Monopoly Plastics Click here to view entire product range
To cater to the executive class, teja industries has launched its range of exclusive leather portfolios. These sophisticated leather portfolios are crafted with great care, and by keeping in times with the latest designs. There is a huge demand for ...

Company Name : TEJA INDUSTRIES Click here to view entire product range
Mondial luggages pvt. Ltd. Offers genuine leather portfolio bags, which possess detachable leather shoulder belt with nylon lining for sturdiness. One hand handles with extra padding for comfort. Durable cloth lining is used as insider. Excellent qua ...

Company Name : MONDIAL LUGGAGES PVT.LTD. Click here to view entire product range
Products :

Office And School Stationery Products Like Metal File Clips, Cd Case, Name Card Holders, Expanding Files, Carrying Cases, Portfolio Bags, Hotel Menu Folders, Visiting Card Albums, P.p. Files & Folders, Display Books, Photo Albums, Strip Files, Conference Folders, Kids Loved Files, Name Card Holders, Name Plates And Display Stands.

Contact Person :
Mr. Dhirendra
Company Profile :

A Company Manufacturing And Supplying A Variety Of Office And School Stationery Products Like Metal File Clips, Cd Case, Name Card Holders, Expanding Files, Carrying Cases, Portfolio Bags, Hotel Menu Folders, Visiting Card Albums, P.p. Files & Folders, Display Books, Photo Albums, Strip Files, Conference Folders, Kids Loved Files, Name Card Holders, Name Plates And Display Stands.

Send :
On-Line Trade Inquiry
Click here to view entire Product Range
Products :

Photo Frames, Household Products, Cutlery, Flasks, Thermoware, Crockery, Desktop Accessory, Clocks, Watches, Bags, Office Bags, Conference Bags, Portfolio Bags, Glassware

Company Profile :

Shiv Enterprises, Is A Renowned Supplier Of A Variety Of Promotional Gifts Like Photo Frames, Household Products, Cutlery, Flasks Ashtrays, Thermoware, Crockery, Desktop Accessories, Clock, Watches, Bags, Office Bags, Conference Bags, Portfolio Bags.

Send :
On-Line Trade Inquiry
Click here to view entire Product Range
Products :

Products Manufactured By Teja Industries Include Ladies Bags, Travel Bags, Leather Portfolios, Leather Belts, Leather Folders, Leather Pouches, Leather Planners, And Leather Wallets.

Contact Person :
Simi
Company Profile :

Manufacturer Of Leather Products Consisting Of Ladies Bags, Briefcases, Luggage, Wallets, Folios, Belts And Other Accessories.

Send :
On-Line Trade Inquiry
Click here to view entire Product Range
Products :

Suitcases, Trolleys, Back Packs, Totes, Portfolios, Laptop Cases, Vanity Cases, Hand Bags, Pouches, Haversacks, School Bags, Conference Bags, Office Bags And Many More Promotional Items.

Contact Person :
Mr.nainish Joshi
Company Profile :

Mondial Luggages Is The Manufacturers, Supliers, Exporters & Wholesaler Of Corporate Gift & Novelties Items Such As

Send :
On-Line Trade Inquiry
Click here to view entire Product Range
Products :

Pouches, Tote Bags, Knapsacks, Soft Luggage, Eco Friendly Bags, Hands-free Bags, Tool Bags, Lap Top Bags, Small, Medium & Large Travel Bags, Portfolios & Conference Kits, Caps & T-shirts, Promotion Sets & Shopping Bags, Backpacks, Leather Products Like Briefcases, Organizer, Wallets And Many Other Gift Articles.

Contact Person :
Pranav Modi
Company Profile :

Deep Enterprises Is The Manufacturers, Supliers, Exporters & Wholesaler Of Corporate Gift & Novelties Items Such As

Send :
On-Line Trade Inquiry
Click here to view entire Product Range
Products :

Office Stationery And Filling System Like Files And Folders, Expansion Cases, Display Books, , Pp Sheet Protectors, Clip Files, Art Portfolios, Menu Holders, Paper Fasteners, Poly Envelopes, Box Files, Business Card Holders, Moulded Ring Binders Etc.

Company Profile :

A Company Manufacturing A Variety Of Stationery Products Like Files And Folders, Expansion Cases, Display Books, , Pp Sheet Protectors, Clip Files, Art Portfolios, Menu Holders, Paper Fasteners, Poly Envelopes, Box Files, Business Card Holders, Moulded Ring Binders And Many More Products.

Send :
On-Line Trade Inquiry
Click here to view entire Product Range
Products :

Bags Like Pouches, Handbags, Portfolios, Files, Folders, Wallets, Briefcases

Contact Person :
Sushil Kandoi
Company Profile :

Bags Like Pouches, Handbags, Portfolios, Files, Folders, Wallets, Briefcases Etc.

Send :
On-Line Trade Inquiry
Click here to view entire Product Range
Products :

Sketch Pens, Water Colors, Crayons, Paint Brushes, Color Pallets, Different Geometrical Devices, Writing Instruments Like Pencils, Markers, Erasers, Staplers And Stapler Pins In Our Product Portfolio.

Contact Person :
Mr. Ramesh Kumar Gupta
Company Profile :

Stationery Being One Of The Volumes Oriented Industries, We Have Always Been Focused To Make Its Presence Felt By Major Players Like Hindustan Pencils, Faber Castel, Kores, Camlin, Omega, Etc. These Stationery Items Are Outstanding Not Only In Terms Of Designs But Also For Its Strength And Versatile Utility. Our Vision And Efforts Have Resulted In Bringing Huge Volumes From Different Products Such As

Email is not available
Products :

Watches, Table Clocks, Brass Pen Holders, Brass Watches, Leather Portfolios

Contact Person :
Mr. Dhiraj Widge
Company Profile :

Manufacturers Of Corporate Watches, Table Clocks, Brass Pen Holders, Brass Watches, Leather Portfolios Etc

Email is not available
Products :

Acrylic Gifts (pen Stands, Paper Weights, Dispensers, Coasters) Advertising Caps (headwear, Hats, Bandanas) Badges, Emblems And Medals, Collectibles, Leather Articles (bags/folders/wallets/belts/desktop Articles), Pens, Photo Frames, Portfolio Bags, Traveling Bags, Soft Toys, Time Pieces, Umbrellas, Wooden Gifts, Wrist Watches

Company Profile :

Manufacturer Of Corporate Gifts

Send :
On-Line Trade Inquiry