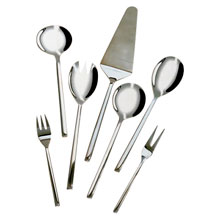 Early morning breakfast makes a good day ahead which gives the person energy to carry on his hectic schedule ahead. The way of having breakfast also has an informal way or a formal way. Decades back when the reign of british government evolved during that time itself this way of having breakfast in a very formal proper started gaining importance. The items used at that time were knives, spoons, splicer, fork etc and the term given to these items is cutlery where all the items related to breakfast, lunch and dinner are kept. These cutlery items have perfect blend of performance and are light weight. These items are useful to carry anywhere at any pint of time. These items are specially used for serving, eating and preparing purpose. The term has generated or has come to existence from western world.
The main piece of cutlery is knife as it is used for the purpose of cutting, preparing and serving the food on the table. Today knife is used for cutting vegetables and fruits, also to open the tight container lid etc. Knife has a sharp line which tends to cut the solid material into two parts. Carving knife is used for carving and slicing of meat which otherwise a normal knife would not be useful. The other items are fork which is used for eating items which hard and are in solid state. Fork is used for having omelets, pasta, macaroni etc all these items are hard one which can be only cut with a sharp tools. Forks and knifes compliment each other and are used specially at the breakfast table. Spoons are used for serving, preparing and eating. This spoon serves for both purpose solid as well as for liquid state. Spoons are used for having soups, rice, gravy vegetables etc.
Slicers are used to slice the jam or the butter on the bread. It has a flat strip which enables these products to apply it on the bread easily. People generally make use of these items during breakfast as bread butter is meant for breakfast purpose.
Featured products of Cutlery
A vast range of cutlery in stainless steel like fork, spoons, serving spoons etc under the fantasy brand is made available by crystal international, a company known for supplying quality household items since last 30 years. These suit every kitchen d ...

Company Name : CRYSTAL INTERNATIONAL Click here to view entire product range
Exquisite partly gold plated stainless steel cutlery are presented by crystal international for that elegant dinner you have ever had. These can be used during prestigious parties or can be gifted to that precious client who is fond of eating. These ...

Company Name : CRYSTAL INTERNATIONAL Click here to view entire product range
The goldware cutlery that is supplied by shiv enterprises is imported from spain. This goldware cutlery consists of a various forks, spoons and knives used while fine dinning. These goldware cutlery items are crafted with utmost perfection to derive ...

Company Name : Shiv Enterprises Click here to view entire product range
A range of loose cutlery items, like spoons, knives, forks, serving spoons etc are offered by crystal international a company serving household items sine 1971. These are suitable for personal and office use and come in a variety of design and shape. ...

Company Name : CRYSTAL INTERNATIONAL Click here to view entire product range
High quality stainless steel cutlery range is offered by kabani which are ideal for personal as well as corporate gifts. The entire range of cutlery is available in diversified designs and looks. Also marketed under the brand name is high quality por ...

Company Name : KABANI CROCKERY CENTRE Click here to view entire product range
Sterling silverware cutlery with its exquisite design and polished shine has never failed to fascinate people. This beautiful designer silverware cutlery is imported by shiv enterprises all the way from italy. Available in a variety of silver tea set ...

Company Name : Shiv Enterprises Click here to view entire product range
Products :

Tea Pots, Dishes, Dinner Sets, Cutlery Sets, Trays, Bowls And Other Crockery Sets Etc.

Company Profile :

Renowned Manufacturer And Exporter Of Their Own Brand Of Milford Crockery & Dinner Sets Of Various Bone China, Glass & Melamine Material.

Send :
On-Line Trade Inquiry
Click here to view entire Product Range
Products :

Photo Frames, Household Products, Cutlery, Flasks, Thermoware, Crockery, Desktop Accessory, Clocks, Watches, Bags, Office Bags, Conference Bags, Portfolio Bags, Glassware

Company Profile :

Shiv Enterprises, Is A Renowned Supplier Of A Variety Of Promotional Gifts Like Photo Frames, Household Products, Cutlery, Flasks Ashtrays, Thermoware, Crockery, Desktop Accessories, Clock, Watches, Bags, Office Bags, Conference Bags, Portfolio Bags.

Send :
On-Line Trade Inquiry
Click here to view entire Product Range
Products :

Stainless Steel Kitchenware, Household Appliances, House Hold Utensils, Stainless Steel Cutlery

Contact Person :
Mr. Tekchand Bheda
Company Profile :

Komal Trading Corporation Is A Stainless Steel Kitchenware Manufacturer With A Range Of Products For Household Utensils, Stainless Steel Cutlery And Kitchen Appliances. They Also Could Customize Any Product On The Uses Requirement.

Send :
On-Line Trade Inquiry
Click here to view entire Product Range
Products :

Gift Articles, Hotel Supplies And Kitchenware Equipment, Cutlery, Flask, Key Chain, Promotional Items Etc.

Contact Person :
Mr.ramesh Patel
Company Profile :

Crystal International Is The Manufacturers, Supliers, Exporters & Wholesaler Of Corporate Gifts

Send :
On-Line Trade Inquiry
Click here to view entire Product Range
Products :

Silver Center Piece, Silver Candle Stand, Silver Gift Items,silver Bowls, Silver Pooja Items,silver Dinner Set,silver Momentoes Oxidised Silver Articles,silver Trays, Silver Surahi Set,silver Tea Set,silver Cutlery Set,

Contact Person :
Mr. Navin Patel
Company Profile :

Manufacturer And Supplpier Of Household Iyems

Send :
On-Line Trade Inquiry
Products :

Mugs / Cups, Coasters, Flower Vase, Cutlery, Table Tops, Bar Accessories, Fruit Basket & Tray, Serving Bowls, Office Accessories, Co-branding, Candle Holder, Serving Sets, Water Pitcher, Canister

Contact Person :
Nitin Padia
Company Profile :

The Company Is Specialised In Household Products

Send :
On-Line Trade Inquiry
Products :

Cutlery, Life Style Products, Crockery, Household Products

Contact Person :
Bimal Khurana / Praveen Khurana
Company Profile :

Venus Industries Is The Manufacturers, Supliers, Exporters & Wholesaler Of Cutlery And Life Style Products

Send :
On-Line Trade Inquiry
Products :

Electronic Gas Lighters, Kitchen Knives, Tableware,kitchenwares Cutlery

Contact Person :
Milind Kanade
Company Profile :

Crystal Cookwares Is The Manufacturers, Supliers, Exporters & Wholesaler Of Corporate Gifts

Send :
On-Line Trade Inquiry
Products :

Toys, Gifts, Bags, Perfumes, Watches, Apparels And Accessories, Crockery And Cutlery,gifts And Stationeries-perfumes, Office Stationery, Awards & Trophies,

Contact Person :
Mr. Prithvi Jain
Company Profile :

M.m Gifts And Toys, Established In The Year 2000 Is An Upcoming Industry With A Vision To Make A Difference, By Producing The Most Attractive Products, Built With Skill And Artistic Creativity. We Manufacture, Trade And Supply A Range Of

Send :
On-Line Trade Inquiry
Products :

Utensils,flask,cutlery Etc

Contact Person :
Prayas Sanganeria
Company Profile :

Prime Housewares Ltd Is The Manufacturers, Supliers, Exporters & Wholesaler Of Corporate Gift And House Hold Items Such As

Send :
On-Line Trade Inquiry