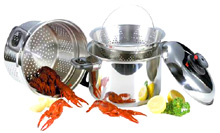 The charm of the kitchen looks more beautiful when all the required utensils are placed in a proper order and proper sequence. As kitchen is the most integral aspect of the house it should be kept properly intact with all the necessities so that it would add beauty to the décor of the house. Utensils are necessity as we eat, drink in it. Without utensils the meaning of food is incomplete. Utensils play a vital role in changing the entire satire of the house as well as its look. Utensils are handheld and are used for serving, preparing, eating purpose. These items are said to be valuable as they complete or fill the kitchen with essential things.
Utensils include frying pan, roti maker, spoons, bowls, plates, glasses, vessels of stainless steel, pressure cooker. These entire items make kitchen complete and all the food items are made daily using these items itself. A frying pan is used for making parathas, roti etc. These type of items need a very flat surface where it can be cooked properly. Vessel known as kadhai used for fried items or for frying items. Glasses used for drinking water, juices or some other beverages. Spoons, bowls are the two items which are used together for serving purpose. A bowl can be used for serving soups, dal or any other liquid item or even salad. With the help of the spoon the food items are served. Bowls and spoon are of several types and those are plastic, stainless steel etc. Today out of these most widely used are stainless steel as no damage can happen to steel bowls or spoons.
There are varieties of utensils available which are restaurants utensils, chef's utensils which are very much different from the two. Restaurants usually have utensils made of glass and plastic as and when the guest visits their restaurants they serve it using these utensils as to impress the guest. Chef's utensils are made of plastic which are easy for carrying and pouring. Restaurants do make use of stainless steel. These utensils can be gifted on occasions of weddings and anniversaries and also ion the corporate sector.
Featured products of Utensils
Products :

Stainless Steel Utensils, Bar Ware, Kitchen Ware, Pet Ware, Flower Vases, Stainless Steel Flower Vases, Stainless Steel Cutlery, Stainless Steel Cutlery Set And Handicrafts, Leather Bags And Accessories Etc.

Contact Person :
Mr. Devendra Tyagi
Company Profile :

Incepted In The Year 2008, We Bhagirathi Exports Pvt. Ltd Are One Of The Leading Names Engaged In Manufacturing And Exporting Of

Send :
On-Line Trade Inquiry
Click here to view entire Product Range
Products :

Utensils,flask,cutlery Etc

Contact Person :
Prayas Sanganeria
Company Profile :

Prime Housewares Ltd Is The Manufacturers, Supliers, Exporters & Wholesaler Of Corporate Gift And House Hold Items Such As

Send :
On-Line Trade Inquiry
Products :

Stainless Steel Utensils.

Contact Person :
Nilesh Pasad
Company Profile :

Manufacturer And Exporter Of Household Steel Products

Send :
On-Line Trade Inquiry