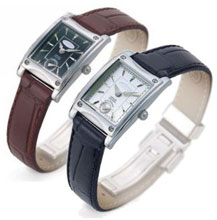 Today's fashion industry has changed the scenario and also has done bit of make over for women who has now started wearing watch in her hand to keep a track of her schedules and also to follow a daily routine at house. Being a women she has to manage her office as well as her house so to plan a proper schedule she needs the help of time which a watch would satisfy her need. Watch look pretty good on a women's hand she wears it. The sleek and slim belts of the hands suit her hands adding a glory and charming effect to the watch. The famous brands which women are seen wearing are titan, titan's fast track, sonata, timex etc which have slim pieces which suit women.
Titan's fast track is ruling around the market as it is available in varieties of colors shapes and sizes according to the preference of the women. Titan's raga brand has bee widely used as it was endorsed by famous film celebrity .It also has the classy and rich look which is very attractive and enchanting. It makes women buy these watches because these are designed very beautifully and look good on a woman's hand. It gives a sparkling effect and leaves an impact on the audience who rush to buy these branded watch.
The types of gold chain watches look beautiful with its shiny and glossy effect. These watches are made of high quality material and also are available in all ranges of prices. The other type includes automatic ladies watch which has automated key and it does not stop as compared with others. Other watches run on battery but automatic watch does not run on battery as it is known as self winding or mechanical watch where the mainspring is wound automatically with natural motion. Style and fashion are the two main aspects on which ladies watches are designed. Modern women wear watches which suit them and preferably wear branded watch and other women who are not so modern wear watches according to their choices and usually do not go for brand.