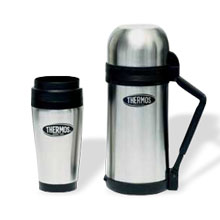 To quench a thirst we need water or any other liquid thing which would satisfy our thrust. When we travel we make sure that we carry a small bottle filled with water to drink it whenever we are thirsty. A vessel used to keep water which not only make it cool but also has large amount of capacity is known as flask. Flask is a necessary accessory with the travel luggage. These flasks liquids keep hot liquids hot and cool liquids cool it is very much consistent and also the water doesn't come out of it as it come from the bottles. These flasks have a air tight top which does not aloe water to come out. The other names for these flasks are thermoses which are generally used for small children and for the patients who are admitted in the hospital.
The main type of flask is a hip flask which is used to carry beverages especially alcohol. As the name suggest hip flasks generally fit into the pockets of the people as they are that much tiny but also at the same time has huge capacity to carry the alcohol. The size and the shape are comparatively equal. These hip flasks are made of metal because of its durability factor and generally are in silver. The designs of the flasks are very much attractive and people buy these hip flasks to consume alcohol which is the main reason which is a wanted liquid. Flasks are made of glass, stainless steel, metal and other materials out of which stainless steel flasks are very much used. Liquids like tea, coffee, juice, water or any other beverage would fit into these flasks.
Glass flask can be used for decorative purpose as when these are not handled with proper care it might break due to negligence. The shiny look and beautiful appeal of these flasks attracts most of the people. These flasks are light weight and are used to carry any where at any point of time. It can be idle gift which can be presented to people on the various occasions like weddings, felicitations and competitions.
Featured products of Flasks
Shiv enterprises supplies flasks that are often used in office canteens to keep liquids warm. These flasks are available in a spectrum of colour and designs to suit the office décor. Many corporate clients often customise these flasks by imprinting t ...

Company Name : Shiv Enterprises Click here to view entire product range
Products :

Photo Frames, Household Products, Cutlery, Flasks, Thermoware, Crockery, Desktop Accessory, Clocks, Watches, Bags, Office Bags, Conference Bags, Portfolio Bags, Glassware

Company Profile :

Shiv Enterprises, Is A Renowned Supplier Of A Variety Of Promotional Gifts Like Photo Frames, Household Products, Cutlery, Flasks Ashtrays, Thermoware, Crockery, Desktop Accessories, Clock, Watches, Bags, Office Bags, Conference Bags, Portfolio Bags.

Send :
On-Line Trade Inquiry
Click here to view entire Product Range
Products :

Insulated Plastic Water Bottles, Steel Sports Bottles, Gifts, Novelties, Pet Jars, Vaccum Flasks, Plastic Household Items Etc.

Contact Person :
Mr P Murarka, Mr R Vijay Vargia
Company Profile :

Mfr Of

Send :
On-Line Trade Inquiry
Products :

Stainless Steel Thermoware, Stainless Steel Clocks, Digital Safes, Innovative Products & Corporate Gifts Like Coffee Pots, Monitor Shelf, Stainless Steel Flasks, Cash Box.

Contact Person :
Sachin R. Mehta
Company Profile :

Importer Of Gifts & Novelty Products

Send :
On-Line Trade Inquiry
Products :

Flasks, Cassroles, Tiffin Boxes, Hardanodised & Non Stick Kitchenware Etc.

Contact Person :
Mr Suresh Nimbalkar, Mr C Shankar
Company Profile :

Deals In

Send :
On-Line Trade Inquiry
| Corporate Gifts Home | Corporate Gifts Directory | Corporate Gifts Products |
stainless steel flasks, antique hip flask, flasks, thermo flask, liquor flasks, hip flask, corporate gifts, manufacturers, suppliers, exporters, indian

--------------------------------------------------------------------------------
Website Development and Search Engine Optimization by : Aditya Infotech
Copyright © 2013 Netlink Solutions (India) Ltd. All rights reserved, including the right to reproduce the contents of this website in whole or in part without prior written permission