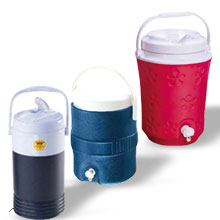 A thermos foodie?
Thermoware was primarily used for maintaining the temperature of foodstuff. But now they are a necessary household product accessory for the ones who travel and want to serve food retaining the same taste, nourishment and temperature.
Thermoware are used to store a range of foodstuffs. Storage hot pots are used for storing hot food, made with insulated serving. Vacuum flasks are used for storing beverages. Ice flasks and food flasks are big containers which also accommodate stainless steel bowls and plates. Beverage jugs are big water storage containers with easy dispenser. Thermos containers are available in a variety of colours, sizes and elegant designs. Thermoware is usually made of plastic and an insulated material inside, to maintain the temperature.
Thermos flasks are usually given away as gifts especially on weddings, felicitations and promotions. In corporations, thermoware are engraved with company's name and logo and presented as bonus gifts during festive occasions and anniversaries.
Featured products of Thermoware
Products :

Photo Frames, Household Products, Cutlery, Flasks, Thermoware, Crockery, Desktop Accessory, Clocks, Watches, Bags, Office Bags, Conference Bags, Portfolio Bags, Glassware

Company Profile :

Shiv Enterprises, Is A Renowned Supplier Of A Variety Of Promotional Gifts Like Photo Frames, Household Products, Cutlery, Flasks Ashtrays, Thermoware, Crockery, Desktop Accessories, Clock, Watches, Bags, Office Bags, Conference Bags, Portfolio Bags.

Send :
On-Line Trade Inquiry
Click here to view entire Product Range
Products :

Prince Manufacturers A Number Of Plastic Products Ranging From Houseware, Kitchenware, Thermoware, Furniture Etc.

Contact Person :
Mr. Ajay Sanghi
Company Profile :

A Leading Manufacturer And Exporter Of High Quality Plastic Houseware, Thermoware, And Furniture.

Send :
On-Line Trade Inquiry
Click here to view entire Product Range
Products :

Thermoware, Plastoware, Stationery, Home Products, Flask, Promotional Items, Ceramic Mugs, Coasters, Gift Novelties,casserole, Stock Containers

Contact Person :
Rajeev Batra
Company Profile :

Asian Plastoware Pvt Ltd Is The Manufacturers, Supliers, Exporters & Wholesaler Of Plastic Insulated Ware And Corporate Gift & Novelties Items Such As

Send :
On-Line Trade Inquiry
Click here to view entire Product Range
Products :

Stainless Steel Thermoware, Stainless Steel Clocks, Digital Safes, Innovative Products & Corporate Gifts Like Coffee Pots, Monitor Shelf, Stainless Steel Flasks, Cash Box.

Contact Person :
Sachin R. Mehta
Company Profile :

Importer Of Gifts & Novelty Products

Send :
On-Line Trade Inquiry
Products :

Plastic Lunch Boxes, Plastic Pencil Boxes, Kids Novelty, Thermoware & Household Products, Plastic Pet Jars And Bottles, Bowls, Brush Stands, Multipurpose Dispensers, Mugs, Container Sets, Snack Packs, Baby Sippers, Gift Sets, Partition Plates And Baskets.

Contact Person :
Mr. Dhiren Shah
Company Profile :

We "dhiren Polymers" Are One Of The Eminent Manufacturers And Exporters Of

Send :
On-Line Trade Inquiry
Products :

Thermoware, Serve Bowls, Table Pen Holders, Multipurpose Boxes

Contact Person :
Mr. Shaik Ibrahim
Company Profile :

Manufacturer Of

Email is not available