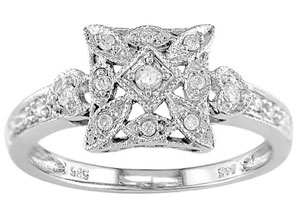 A unique beauty and a blend of excellent appeal as well as the beauty thus talks about only one thing which is very very precious for all people is diamond. Diamond always speaks a story of being an authentic piece as well as is very sensitive. Diamond is one such thing which requires proper attention and also needs to be handled properly. The exquisite and enchanting appeal attracts the most to the people which make them buy this diamond. An exciting a fascinating piece of jewelry which every woman would want to have is diamond. Diamonds have their own quality, class, austerity and style. Diamond jewelry comes for necklace, earrings, rings, bracelet etc. Diamonds are often regarded as symbols of love and thus gifting diamonds proclaims commitments and love.
A shiny, glazy and lustrous is diamond and so is available in pure white color which goes well with the beauty of the diamond. Diamond jewelry is one step above fashion statements and accessories. Its feature starts glazing and shining especially when it worn at night during parties or for reception. Black diamonds and precious colored stones look beautiful with when worn. Diamond jewelry has been divided in two types which is silver diamond jewelry, platinum and gold diamond jewelry. Silver diamond jewelry has a coating of silver color which looks marvelous and also has an appealing effect to it. Every minute piece of diamond is worth and is very much precious. Gold diamond jewelry has a coating of gold which again has an aesthetic appeal and has glossy effect as shimmer color is also added to it.
Diamond is and always has been precious and prestigious ornaments which one can't let go it. Since it has money value attached with it anybody cannot afford to loose it. Diamond is in very much popular ornament today and is in demand. It is considered as the most expensive jewelry item as it has price oriented to it. The skill of craftsman comes when a fine diamond cut reflects and absorbs the maximum amount of the light.
Products :

Precious And Semi Precoious Gem Stones, Gemstone Necklaces, Gold And Diamond Gemstone Jewellery Etc.

Company Profile :

Backed By Excellent Craftsmanship And Creative Team Of Designers, Bello Jewels Is One Of The Leading Manufacturers And Exporters Of Precious And Semi Precious Gemstones, Gemstone Necklaces, Gold And Diamond Gemstone Jewelry And 925 Sterling Silver Gemstone Jewelry. Our Beautiful Jewelry Collection Is Inspired By A Legacy Of Rich Indian Tradition And Craftsmanship, Which Is Brilliantly Showcased In Each Piece.

Send :
On-Line Trade Inquiry
Click here to view entire Product Range
Products :

Diamond Jewellery, Silver Jewellery, Gold & Silver Coins, Gift Currency, Gold Jewellery

Contact Person :
Rajendra Mathrani / Dinesh Parmar
Company Profile :

We Are The Only Completely Integrated Diamond And Jewellery Manufacturer And Retailer In The Country. We Have A Strong Presence At Every Level Of The Diamond Business, Right From Sourcing Diamonds At Competitive Prices From Dtc As Sight Holders To Retailing Our Products Through A Vast Network Of Self Owned And Franchised Stores. We Are The Pioneers Of Branded Jewellery In India And Have Several Established Brands In Our Arsenal To Tap The Continuously Growing Branded Jewellery Market. The List Includes Well-know And Well Established Brands.

Send :
On-Line Trade Inquiry
Products :

Diamond Jewellery

Contact Person :
Roopesh Ojha
Company Profile :

Adora, In Spanish, Means Glory. To Us, It Simply Means 'adornment' – Adornment Of Every Moment, Occasion And Phase Of Life, Through All Its Ups And Downs. Adora Diamond Jewellery Is Themed On Love…. And Celebration Of Life.

Send :
On-Line Trade Inquiry
Click here to view entire Product Range
Products :

Jewellery, Real Diamond Jewellery

Contact Person :
Mr. Sameer Gosar
Company Profile :

Adora, In Spanish, Means Glory. To Us, It Simply Means 'adornment' – Adornment Of Every Moment, Occasion And Phase Of Life, Through All Its Ups And Downs. Adora Diamond Jewellery Is Themed On Love…. And Celebration Of Life.

Send :
On-Line Trade Inquiry
Click here to view entire Product Range
Products :

Diamond Jewellery

Company Profile :

D.n. Jewels Is The Manufactruer Of Diamond Jewellry

Send :
On-Line Trade Inquiry
Products :

24k Gold Plated Leaf, Real Diamonds, Gold Jewellery, Kk Nair Buffer, Soft Pvc Keychainslastic Iteams, Torches, Photo Frames, Gold Photo Frames

Contact Person :
Jayesh / Kamal
Company Profile :

Suppliers Of Corporate Gift Items.

Send :
On-Line Trade Inquiry
Products :

Diamonds (rough Diamonds, Polished Diamonds, Fancy Shaped Diamonds, Fancy Colours Diamonds), Studded Jewellery (bracelets, Earrings, Gemstone

Contact Person :
Mr. Shripal Shah
Company Profile :

A Leading Golden Star Trading House Recognized By The Government Of India That Offers Public A Unique Choice In The Business Of Importing Rough Diamonds, Manufacturing And Exporting Superior Quality Cut And Polished Diamonds.

Send :
On-Line Trade Inquiry