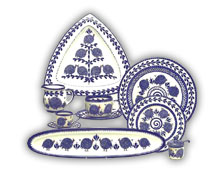 A fine set laid on the dinning table would not only attract but also enhance its beauty. Every family today has dinner on the dinning table as to spend quality time with each of the members. The food items are served in various bowls, plates, spoons, glasses etc which adds elegance to the dinning table. All these items placed on the dinning table is called as crockery set which includes various items like ice cream bowls, juice set, vegetable chopper etc which are very light weight and are easy to carry from one place to another. All the crockery items are made form high quality material. Crockery plays an important role at the dinning table. These crockery items soothe the mind of the person by bringing light and color to the dinning table.
It is to be placed beautifully so as to attract the attention of the guest and also with taste. These crockery items conserve very little amount of space in the kitchen. These crockery items can be used for formal as well as for informal (causal) use. These items are easy to clean, also it has that potential of once being used and can also be used to reheat the food items. Also the leftovers can be easily placed form one to another and can be used for microwave purpose. The most common type of crockery set come in ceramic. Ceramic is made of clay and makes the item durable. The types which fall under ceramics are earthenware, stoneware and porcelain. Out of these ceramic crockery types the most expensive one is the porcelain as it is made of a very strong stone. This type adds beauty and elegance to the products and thus gives an appealing and aesthetic look to the product.
The other type of category is bone china as it looks very beautiful and has a gorgeous appearance. Bone china is regarded as the most fragile type in the crockery category. The unique one is stone ware as it goes in microwave, dishwasher, oven etc. This type graces the kitchen wares and very much long lasting. The most common types are glass and stainless steel which are used daily to serve the purpose.
Featured products of Crockery
Kabani offers domestic crockery includes collection of mugs, cup & saucers, coffee sets, tea sets and dinner sets. The entire range is available with elegant designs in numerous shapes and sizes. The crockery is made of fine bone china matching the i ...

Company Name : KABANI CROCKERY CENTRE Click here to view entire product range
Harisons can execute customer requirements of cutlery sets made of china glasses that comprise of rice spoons, soup spoon, bowls, plates etc. To occupy as centre of attraction in many dining tables of hotels and big corporate offices. The product is ...

Company Name : HARISONS EXPORTS Click here to view entire product range
Crockery sets include a lot of items, like plates, spoons, kettles, cups and saucers, soup bowls, serving bowls etc. These crockery sets also come in a various designs ranging from floral to multi coloured and lined patterns. This is precisely why cr ...

Company Name : Shiv Enterprises Click here to view entire product range
Products :

Photo Frames, Household Products, Cutlery, Flasks, Thermoware, Crockery, Desktop Accessory, Clocks, Watches, Bags, Office Bags, Conference Bags, Portfolio Bags, Glassware

Company Profile :

Shiv Enterprises, Is A Renowned Supplier Of A Variety Of Promotional Gifts Like Photo Frames, Household Products, Cutlery, Flasks Ashtrays, Thermoware, Crockery, Desktop Accessories, Clock, Watches, Bags, Office Bags, Conference Bags, Portfolio Bags.

Send :
On-Line Trade Inquiry
Click here to view entire Product Range
Products :

Tea Pots, Dishes, Dinner Sets, Cutlery Sets, Trays, Bowls And Other Crockery Sets Etc.

Company Profile :

Renowned Manufacturer And Exporter Of Their Own Brand Of Milford Crockery & Dinner Sets Of Various Bone China, Glass & Melamine Material.

Send :
On-Line Trade Inquiry
Click here to view entire Product Range
Products :

Crockery, Porcelain Crockery, Hotel Ware, Glassware, Tableware, Ceramic Mugs, Wooden Gifts, Utensil And Crystal.

Contact Person :
Mr. Dhiren Kabani
Company Profile :

Kabani Crockery Centre Is Exporter, Distributor And Reseller Of Crockery, Glassware And Enamelware Products

Send :
On-Line Trade Inquiry
Click here to view entire Product Range
Products :

Clocks,watches,crockery,chocolates,electronics,stationery

Company Profile :

Supplier And Wholesaler Of Corporate Gifts Such As

Send :
On-Line Trade Inquiry
Products :

Crockery.coffee Mugs , Tea Mugs

Contact Person :
Mr. Abhishek Agarwal
Company Profile :

Anurag Crockeries Is The Manufacturers, Supliers, Exporters & Wholesaler Of Fine Quality Bone China Mugs, Corporate Gift & Novelties Items Such As

Send :
On-Line Trade Inquiry
Click here to view entire Product Range
Products :

Crockery, Toys Products Supplying, Toys, Games, Home Appliances, Ladies Garments, Gents Garments, Imitation Jewellery, Mobiles Etc

Contact Person :
Mr Namrata C Dhabalia
Company Profile :

Blue Square Inc.is The Manufacturers, Supliers, Exporters & Wholesaler Of Corporate Gift & Novelties Items Such As

Send :
On-Line Trade Inquiry
Click here to view entire Product Range
Products :

Home Furnishigs, Cutlery And Crockery, Home Decor Etc.

Contact Person :
Mr Harish Sharma
Company Profile :

Lifestyle International (p) Ltd, Part Of The Prestigious Dubai Based Landmark Group, Started Its Operations In India With The Launch Of The First Lifestyle Store In Chennai In 1999. In Little Over A Decade's Time, Lifestyle Has Established Itself Amongst The Leading Retail Companies In India. Positioned As A Youthful, Stylish And A Vibrant Brand, Lifestyle Offers Its Customers Not Just The Ease Of Shopping But Also An Enjoyable Shopping Experience. Each Lifestyle Store Brings Together Five Concepts Under One Roof – Apparel, Footwear, Children's Wear & Toys, Furniture & Home Furnishings, Personal Grooming - Offering A Convenience Of A One-stop Shop And A Wide Choice Of National & International Brands.

Send :
On-Line Trade Inquiry
Products :

Desktop Accessory, Fine Stationery, Leather Items, Crockery, Appliances,

Contact Person :
Mr. Vikram Shah
Company Profile :

The Company Offer Corporate Gifts

Send :
On-Line Trade Inquiry
Products :

Pharma, Travel Bags, T-shirts, Caps, Watches, Desktops, Crockery

Company Profile :

Manufacturer, Supplier Of Corporate Gifts Such As Pharma, Travel Bags, Caps.

Send :
On-Line Trade Inquiry