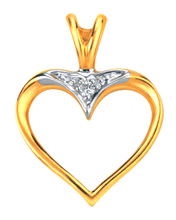 An artistic, exclusive piece which every woman wants to wear it which not only blows up her charm but also adds quality to that piece. Thus this piece is known as jewelry which every woman would like to wear and feels on top of the world. Gifting a jewelry item would make women happy and thus by seeing it her happiness come all the way out of it. Jewelry is a thing which can be worn in hands, neck, ears etc. A piece which looks beautiful and elegant adds more of attractiveness when it is worn by woman. Jewelry reflects today's trends and thus makes an excellent fashion accessory. Jewelry available in different size, shape, design patterns and also in unique color combinations. Jewelry can be termed as a personal adornment which manifests itself as necklace, rings, bracelets, earrings, brooches etc. It is a symbol of showing wealth and prosperity. The two main aspects of jewelry are diamond, silver and gold without which the name is very much incomplete as these three names strikes us quickly when the name jewelry is uttered.
Jewelry in india has a lot to say about it as it is considered to be the part of traditions, culture or any other occasion. For weddings and festivals people wear jewelry to mark its elegant beauty and attractive nature on to the other people. Women during weddings and festivals wear necklace, earrings, bracelets, rings etc which look out marvelous when its beauty is diversified. There are varieties of jewelry which includes beaded jewelry which has altogether a unique style and the way in which these jewelries are placed. Beads come in various types of sizes, shapes, colors etc which makes work easier for women. Beaded jewelry is made and designed very creatively and thus reflects the style.
The other type of jewelry is pearl jewelry which has the lust and also very shiny appeal which indeed attract people. People cannot atop admiring pearls because of its beauty and soft touch. Pearls are available in various types and these are white pearl, black pearl and grey pearl. Pearl always looks fascinating and enchanting as it comes with a set of necklace, earrings and bracelets. The other type is kundan jewelry as kundan is very much patronized by the royals and people are opting to buy kundan jewelry these days. Jewelry can be gifted on various occasions like weddings, anniversaries, and birthdays and also in the corporate sector as a personalized gift.
Featured products of Jewellery
Jewelery make wonderful fashion accessories, reflecting today`s trends. With wide range of styles to choose from, be sure to find something to suit every outfit and mood. ...

Company Name : Milan Impex
Jewellery itself is an attractive product, which if given in an attractive box values more. Plastotech offers such jewellery boxes in different designs, shapes, colours and style suiting individual requirement. It is made up of different type like bo ...

Company Name : Plastotech Click here to view entire product range
Products :

Table Clocks, Pen Holder Clocks, Gold Plated Trophies, Table Top Wares, Key Chains, Visiting Card Holders, Paper Cutters, Pen Holders, Desktop Jewellery, Ashtrays,etc.

Contact Person :
Thakur Madnani
Company Profile :

Pooja Gift Corporation Is The Manufacturers, Supliers, Exporters & Wholesaler Of Corporate Gift & Novelties Items Such As Table Clocks, Pen Holder Clocks

Send :
On-Line Trade Inquiry
Click here to view entire Product Range
Products :

Beaded Photo Frames, Jewellery Box, Beaded Fashion Bags, Lamp Shades, X-mas Hangings & Ornaments, Gifts & Home Furnishing Items Like Cushions & Table Runners, Curtains Tie Backs, Tassels, Beads, Beaded Belts, Beaded Notebooks & Albums And Many Such Items.

Contact Person :
Mr. Nitin Nagpal
Company Profile :

Manufacturer, Supplier And Exporter Of Spacious Handicraft Items Such As Photo Frames, Costume Fashion Jewelry, Fashion Bags, Lamp Shades, T-lite Holders, X-mas Ornaments, Christmas Decoration Items, Wooden Boxes, Gifts & Home Furnishing Items Like Cushions & Table Runners.

Send :
On-Line Trade Inquiry
Click here to view entire Product Range
Products :

Plastic Pen And Gift Boxes, Watch Boxes, Jewellery Boxes And Other Plastic Packaging Products.

Contact Person :
Mr. Sahajid
Company Profile :

Plastotech, A Partnership Firm Since 1986 Offers Its Exclusive Plastic Pen And Gift Boxes Watch Boxes, Jewellery Boxes And Other Plastic Packaging Products In Regular And Premium Ranges.

Send :
On-Line Trade Inquiry
Click here to view entire Product Range
Products :

Antique Reproduction, Boxes-decorative & Jewellery, Decorative Objects, Wooden Masks, Idols, Birds, Master Pieces, Animals, Figurines, Wall Panels, Woodcrafts, Bed Side Tables, Chairs, Dining Tables, Occasional Tables, Armoires, Beds, Console Tables, Divans And Many More Accessories.

Contact Person :
Thiagarajan
Company Profile :

Manufacturers & Exporters Of Wood Based Handicrafts Like Antique Reproduction, Boxes-decorative & Jewellery, Decorative Objects, Wooden Masks, Idols, Birds, Master Pieces, Animals, Figurines, Wall Panels, Woodcrafts, Bed Side Tables, Chairs, Dining Tables, Occasional Tables, Armoires, Beds, Console Tables

Send :
On-Line Trade Inquiry
Click here to view entire Product Range
Products :

Fashion Jewellery, Hi Fashion Readymade Garments & Madeups And Handmade Decorative Items.hand Bags, Round Handed Bags, Footwears, Home Furnishing Products, Decorative Items.

Contact Person :
Mrs. Rinku Baheti
Company Profile :

Established In The Year 2003, "bani Thani" Has Etched A Resounding Name For Itself In The Domain Of Manufacturing, Supplying And Exporting Varied Kinds Of

Send :
On-Line Trade Inquiry
Products :

Home Furnishings, Jewellery Items, Leather Items, Napkin Rings, Tassels, Christmas Ornaments,etc.

Contact Person :
Mr. Dilip Patwa
Company Profile :

The Company Is A Store House Of Art & Design Offering A Widest Range Of Beaded & Jewellery Items In Distinct Style & Design.

Send :
On-Line Trade Inquiry
Products :

Table Top, Gifts Items, Vases, Coaster, Boxes, Marble Gift, Jewellery Box, Pen Box, Candle Stand, Astray, Photo Frame, Statues And Trays.

Contact Person :
Mr. Vimal Kishore
Company Profile :

Shri Balaji Cottage Industries", Engaged In Offering Wide Range Of Marble Gift Items That Include

Send :
On-Line Trade Inquiry
Products :

Jewellery Boxes,ring Boxes, Bangle Boxes,set Boxes,earring Boxes,necklace Boxes,pendant And Half Set Boxes,box Series,

Contact Person :
Mr. Siddharth Khaitan
Company Profile :

We Manufacture Boxes For Rings, Pendants, Earrings, Bangles, Half Sets, Chains, Full Sets. Besides This We Have Also Developed Boxes For Cuff Links, Pens, Exclusive Shaving Razors & Watches.

Send :
On-Line Trade Inquiry
Products :

Precious And Semi Precoious Gem Stones, Gemstone Necklaces, Gold And Diamond Gemstone Jewellery Etc.

Company Profile :

Backed By Excellent Craftsmanship And Creative Team Of Designers, Bello Jewels Is One Of The Leading Manufacturers And Exporters Of Precious And Semi Precious Gemstones, Gemstone Necklaces, Gold And Diamond Gemstone Jewelry And 925 Sterling Silver Gemstone Jewelry. Our Beautiful Jewelry Collection Is Inspired By A Legacy Of Rich Indian Tradition And Craftsmanship, Which Is Brilliantly Showcased In Each Piece.

Send :
On-Line Trade Inquiry
Click here to view entire Product Range
Products :

Diamonds (rough Diamonds, Polished Diamonds, Fancy Shaped Diamonds, Fancy Colours Diamonds), Studded Jewellery (bracelets, Earrings, Gemstone

Contact Person :
Mr. Shripal Shah
Company Profile :

A Leading Golden Star Trading House Recognized By The Government Of India That Offers Public A Unique Choice In The Business Of Importing Rough Diamonds, Manufacturing And Exporting Superior Quality Cut And Polished Diamonds.

Send :
On-Line Trade Inquiry