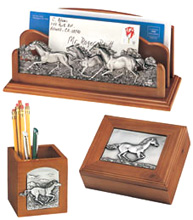 Facilitate routine!
Desktop items are meant to compliment the handy desktop accessory. The requirement of desktop accessory is a necessity for office as well as for the corporate sector. A table top with desktop accessory and provisions regularizes assignments. At work stations it becomes a routine to use these desktop items. An achievement is worth of appreciating and celebrating and is also to commemorate with gifts. Business gifts are ideal ones to present it to the employees or the company associates. These gifts are presented to appreciate the performance of the employees. These desktop accessories are very much used as a gifting tool for various corporate events and as well as promotional tool.
There are various desktop accessories which include table clock, business cards, computer monitors, calculators and pen stands which can be referred as table top items. Table clocks are adorned with kundan work designed especially for office work and also add charm to the house décor. These table clocks accentuate the sense and the importance of the company. These table clocks are available in different size, shape, color and are very much at cost effective prices. The decorative table clocks follow perfect finish and are known for elegant design and look.
The other one is desktop holders which come in wide variety out of which the one is crystal desktop holder is composed with photo. It also has a watch embedded on the piece which looks attractive and is quite apt for the corporate or office theme. Diaries do play a very crucial role as it helps in jotting down all the day to day activities, important appointments, work schedules, abroad meeting plans and more on. It is the base for all the organization as well as it acts like a common bridge between two associates to carry on with their further proceedings.
Products :

Trophies & Awards , Mementos, Plaques, Salvards, Cups, Crystal / Glass And Granite Premiums, Wooden Items, Fibre Glass Items, Acrylic Products, Laser Engravings, Liquor / Pharmaceutical Giveaways, Promotional & Merchandising Items, 3 Dimensional Logos & Miniatures, Desktop Clocks, Personal Accessories, Ganeshas & Other Idols, Fengshui Items, Candle Stands & Wrought Iron Items, Handicrafts & And Digital Printing On Any Substance.

Contact Person :
Mr. Prashant V. Kalbag
Company Profile :

Creative Awards & Rewards Is The Manufacturers, Supliers, Exporters & Wholesaler Of Corporate Gift & Novelties

Send :
On-Line Trade Inquiry
Click here to view entire Product Range
Products :

Corporate Gifts, Household Products, Candles Stands, Candle Scones, Wooden Gifts, Bowls, Desktop Accessories, Gift Novelties, El Display Panels

Contact Person :
Dinesh
Company Profile :

A Company Manufacturing And Supplying Excellent Range Of Corporategifts Like Corporate Gifts, Household Products, Candles Stands, Candle Scones, Wooden Gifts, Desktop Accessories, Gift Novelties Etc

Send :
On-Line Trade Inquiry
Click here to view entire Product Range
Products :

T-shirts, Desktop Accessories, Wooden Keychains, Scales And Other Novelties In Personalised Designs.

Contact Person :
Mr. Ketan Parekh
Company Profile :

Shreenath Digital Concepts Is A Well Known Name When It Comes To Personalised Gifts & Novelties. The Company Specializes In Printing Personalised Messages On Various Surfaces, Especially Ceramics And Different Crockery.

Send :
On-Line Trade Inquiry
Click here to view entire Product Range
Products :

Perfumed Candles, Deodrant, Room Fresheners, To A Spectrum Of Highly Skilled Metal Statues, Jharokas, Desktop Picture Frames Etc.

Company Profile :

V. V Deepa Pvt. Ltd. Supplies A Variety Of Products Varying From Perfumed Candles, Deodrant, Room Fresheners, To A Spectrum Of Highly Skilled Metal Statues, Jharokas, Desktop Picture Frames Etc.

Send :
On-Line Trade Inquiry
Click here to view entire Product Range
Products :

Trophy, Desktop Items, Watches, Clock

Contact Person :
Mr. Santosh Kamble
Company Profile :

Bizcraft Corporate Communication Is Involved In Importing Consumer As Well As Industrial Products In India. It Is A Leading Manufacturer, Wholesaler, And Distributors Of Premium Corporate Gifts.

Send :
On-Line Trade Inquiry
Click here to view entire Product Range
Products :

22-karat Gold Platted Trophies, Desktop Watches, Pen Holders, Pocket Watches, Visiting Card Holders. Wooden Desktop,mobile Stand

Contact Person :
Dilipbhai / Karan Chandwani
Company Profile :

Regal Times Is The Manufacturers, Supliers, Exporters & Wholesaler Of Corporate Gift & Novelties Items Such As Hot Selling Range Of Visiting Card Holders

Send :
On-Line Trade Inquiry
Click here to view entire Product Range
Products :

Jewellery Box, Wooden And Paper Box, Desktop Items, Personalised Caps And T-shirts, Leather Products, Wood And Paper Packaging, Clocks, Photo Frames, Calendars, Canvas Art, Candle

Contact Person :
Sunil Mehra
Company Profile :

Korpbiz Pvt. Ltd. Is A Corporate Gift Manufacturers And Wholesalers.

Send :
On-Line Trade Inquiry
Click here to view entire Product Range
Products :

Trophies, Mementos, Certificates, Frames, Conference Materials, Promotional Products, Laser Engraved Products, Plaques, Writing Instrument, Desktop Items, Keychains

Contact Person :
Mr. Nitin Doshi
Company Profile :

Premium Overseas Is Direct Importer Of Various Gift Articles As Well As Specializes In Customized Gifts, Brand Reminders & Promotional Products.

Send :
On-Line Trade Inquiry
Click here to view entire Product Range
| Corporate Gifts Home | Corporate Gifts Directory | Corporate Gifts Products |
desktop accesssories, table top accessories, clock, pen stands, business card holders, paper weight, executive note pads, corporate gifts, promotional tool, manufacturers, suppliers, exporters, indian

--------------------------------------------------------------------------------
Website Development and Search Engine Optimization by : Aditya Infotech
Copyright © 2013 Netlink Solutions (India) Ltd. All rights reserved, including the right to reproduce the contents of this website in whole or in part without prior written permission