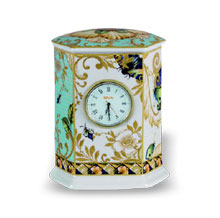 Timepiece - an impression lasts lifetime.
Timepieces cater to style and design and these watches are functional, durable, and lovely. Timepiece features a rectangular face with many other geometric shapes around the outside as there would be around one hundred brilliant white diamonds surrounding a mother of pearl face which explore the variety of brand. The dark colors used in these time pieces stands out to be exciting and attractive. The classic elegance and few more features thus talks about the item and its qualities. Timepieces seriously are a great way for a woman's to display off her sense of fashion and sort and have gained an everlasting place on a lady's arm which thus gives a vibe of classy standards. Now a days even women's video game arm timepieces are available in the market.
These timepieces represent the quality of punctuality, sense os sincerity and which has a touch of determination this item adorns the décor of the house, workstation or of a particular room. These timepieces are considered as a rare artisan quality, the production of which reached toward new dimensions in watch making as these two are related. All of these timepieces made are designed with a case, and on the left side of it a crown symbol can be found, a very unique element which looks very attractive. Classic yet very powerful, the distinctive symbol of these timepieces is the brand statement. This timepiece or also called as watch is extremely convenient to wear even though the size is really oversized as it is adjustable. Crystals and some precious metals are merged beautifully with rubber and some steel details, challenging past design standards in the world of watch making so that it turns out to be an elegant piece to be ever manufactured.
Designer timepieces today are making headways in the fashion world in the past several years and would continue to dominate as it emerges out with various unique and innovative designs, patterns and color combinations.
Featured products of Timepieces
Products :

Coffee Mug, Lap-top Carry-ware, Mouse Pads, Timepieces, Wooden Products, Pharmagifts, Garments, Awards, Momentos, Plaques, Button Badges, Lucites Etc.

Contact Person :
Mr. Rohit Chhabria
Company Profile :

Surfin Gifts & Premiums Is The Manufacturers, Supliers, Exporters & Wholesaler Of Corporate Gift & Novelties

Send :
On-Line Trade Inquiry
Click here to view entire Product Range
Products :

Office Accessories, Electronic Accessories, Lifestyle Products, Promotional Gifts, Timepieces, Plaques & Trophies And Many More

Contact Person :
Gayathri Venugopalan
Company Profile :

Oceanbed Is The Manufacturers, Supliers, Exporters & Wholesaler Of Corporate Gift & Novelties Items S

Send :
On-Line Trade Inquiry
Products :

Watches,clocks,timepieces,clock Movement,miniature Fit Up Flask Etc.

Contact Person :
Mr. Narendrabhai
Company Profile :

A.z.parekh Is The Manufacturers, Supliers, Exporters & Wholesaler Of Corporate Gift & Novelties And Also In Household Items Such As

Send :
On-Line Trade Inquiry
Click here to view entire Product Range
Products :

Writing Instruments As In Ball Point Pen, Fountain Pen, Roller Pen, Pen Stand, Watch Stand, Timepieces In Metal Wood, Acrylic, Promtional Gifts

Contact Person :
Piyush
Company Profile :

This Unique Collection Of Stone Pens, Takes One Right Back To The Stone Ages With The Use Of Natural Stone Scooped Right Out Of Nature From The Heart Of India. The Pen Body Is Made Out Of Guarara (indian Name) / Pyrophillite (scientific Name) Adorned With Stainless Steel/brass Trimmings Of 23 Carat Gold Or Chrome Coating In Microns. The Pen Works On A Unique Dual-twist Mechanism (making It Easy For Either Handed Person) And Comes With A Matching Stone Box Which Also Is The Pen Holder.

Send :
On-Line Trade Inquiry
Products :

Writing Instruments, Timepieces, And Personal Accessories.

Contact Person :
Tushar Chandra
Company Profile :

Harmony Is The Manufacturers, Supliers, Exporters & Wholesaler Of Writing Instruments, Timepieces, And Personal Accessories.

Send :
On-Line Trade Inquiry