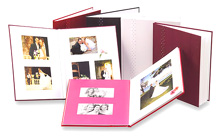 Lush foliage, colorful corporate celebration or peagentry- photo albums, the right choice.
Keeps the photos in tact, reminds and injects life into the photos inside. Adds charm and much needed philip to all type of celebration. A perfect companion to the journalists, photographers and connoisseurs of art and craft. A wooden photo frame that exhibits the artistic tendency of the artists suits to all type of dιcor. Come with different sizes and shapes that include handmade photo album, wedding photo albums, fabric photo album, wooden photo album and many designer photo albums. Personalised photograph albums makes a complete and perfect gift for all type occasions including marriage, birthday or anniversaries.
a customised photo albums with company logo is the proper promotional tool that can be gifted to the company associates and employees as corporate gift for appreciating their work.
Featured products of Photo Albums
Products :

Stationery Like Display Books, Ring Binders, Clip Files, Business Card Holders, Presentation Folders & Report Covers, Expansion Cases, Photo Albums, Envelopes, Transparent Bags, Clear Holders & Cd Holders

Contact Person :
Mr. Subudhsen Gupta
Company Profile :

Mehta Hwa Is The Manufaturer And Supplier Of Stationery Products

Send :
On-Line Trade Inquiry
Click here to view entire Product Range
Products :

Office And School Stationery Products Like Metal File Clips, Cd Case, Name Card Holders, Expanding Files, Carrying Cases, Portfolio Bags, Hotel Menu Folders, Visiting Card Albums, P.p. Files & Folders, Display Books, Photo Albums, Strip Files, Conference Folders, Kids Loved Files, Name Card Holders, Name Plates And Display Stands.

Contact Person :
Mr. Dhirendra
Company Profile :

A Company Manufacturing And Supplying A Variety Of Office And School Stationery Products Like Metal File Clips, Cd Case, Name Card Holders, Expanding Files, Carrying Cases, Portfolio Bags, Hotel Menu Folders, Visiting Card Albums, P.p. Files & Folders, Display Books, Photo Albums, Strip Files, Conference Folders, Kids Loved Files, Name Card Holders, Name Plates And Display Stands.

Send :
On-Line Trade Inquiry
Click here to view entire Product Range
Products :

Beaded Photo Frames, Jewellery Box, Beaded Fashion Bags, Lamp Shades, X-mas Hangings & Ornaments, Gifts & Home Furnishing Items Like Cushions & Table Runners, Curtains Tie Backs, Tassels, Beads, Beaded Belts, Beaded Notebooks & Albums And Many Such Items.

Contact Person :
Mr. Nitin Nagpal
Company Profile :

Manufacturer, Supplier And Exporter Of Spacious Handicraft Items Such As Photo Frames, Costume Fashion Jewelry, Fashion Bags, Lamp Shades, T-lite Holders, X-mas Ornaments, Christmas Decoration Items, Wooden Boxes, Gifts & Home Furnishing Items Like Cushions & Table Runners.

Send :
On-Line Trade Inquiry
Click here to view entire Product Range
Products :

Stationery Items, Files, Lever Arch Files, Clip Files, Write-on Self Adhesive Notes, Photo Albums, Erasers, Scissors, Invisible Tapes, Folders, Glue Sticks, Correction Products, Cutters, Clips, Paper Pins, Photo Albums Etc.

Contact Person :
Mr. Manoj Lodaya
Company Profile :

Corporate Stationery Manufacturer, Suppliers, Exporters And Wholesaler Of Stationery Items For Corporates.

Send :
On-Line Trade Inquiry
Click here to view entire Product Range
Products :

Report Covers, Clip Files, Ring Binders, Display Books, Expanding Files, Document Cases, Cheque Book Holders, Name Card Holders, Envelopes, Patti & Flat Files, Meeting Folders, Separators & Holders, Photo Albums

Company Profile :

Manufacturer Of Office Supplies

Send :
On-Line Trade Inquiry
Products :

Paper Albums, Paper Bags, Paper Photo Frames, Paper Greeting Cards, Paper Gift Boxes, Decorative Lanterns And Various Others.

Contact Person :
Mr. Shailendra Modi
Company Profile :

Akshar Handicrafts A Partnership Firm Established In The Year 2010 Deals With The Manufacture, Wholesale And Export Of A Number Of Paper Products Such As Decorative Paper Products And Stationary Items. Our Offerings Include

Send :
On-Line Trade Inquiry
Click here to view entire Product Range
Products :

Leather Photo Albums, Leather Bags, Notebook Covers, Paper Stationery

Contact Person :
Mr. Saddik Khan
Company Profile :

We Are Known For Bringing Various Artistic Innovations In Our Products So As To Make Them Suitable To The Requirements Of Our Clients. Our Offerings Are Known For The Aesthetic And Cultural Touch Of Rajasthan Thus Making Available Better And Quality And Contemporary Solutions To A Number Of Art Lovers. We Make Use Of Quality Raw Materials For The Fabrication Of These Hand Made Art Pieces. The Presence Of Alluring, Aesthetic And Contemporary Designs Of Our Products Has Widened The Scope Of Our Business Thereby Helping Us To Serve To A Wide Base Clientele. With The Result Our Corporate Empire Is Progressively Developing And We Have Succeeded In Conquering And Capturing New And Potential Markets.

Send :
On-Line Trade Inquiry
Products :

Handmade Paper Stationery, Handmade Paper Lampshades, Handmade Paper Photo Albums, Journals, Velve Paper, Screen Printed Paper

Contact Person :
Mr Manager
Company Profile :

A.l. Paper House Was Established More Than 400 Years Ago. Our Ancestors Were Also Awarded By Emperors, Kings During That Period.

Send :
On-Line Trade Inquiry
Click here to view entire Product Range
Products :

Plastic Presentation Folder • Plastic Conference Folder • Plastic File Folders • Plastic Clear Bags • Business Card Holders • Cd Holders • Display Books • Note Books Covers • Photo Albums • Garment Boxes • Telephone Indexes • Paper Based File Board

Contact Person :
Mr. Kishorbhai, Hares Patel
Company Profile :

We Are Exporting All Type Of Office Stationery Items Like:

Email is not available
Products :

Bond Papers, Silk Papers, Mottled Papers, Batik Papers, Leatherette Papers, Banana Papers, Printed Papers, Colour Cards, Mottled Cards, File Covers, File Boards, Note Books, Letter Sets, Photo Albums, Giftboxes, Folders, Visiting & Greeting Cards

Contact Person :
B. V. Rao
Company Profile :

Suppliers Of Stationery Products.

Send :
On-Line Trade Inquiry
| Corporate Gifts Home | Corporate Gifts Directory | Corporate Gifts Products |
photo albums, wedding photo albums, photograph abums, corporate gift, photo, albums manufacturers, suppliers, exporters, india, indian

--------------------------------------------------------------------------------
Website Development and Search Engine Optimization by : Aditya Infotech
Copyright © 2013 Netlink Solutions (India) Ltd. All rights reserved, including the right to reproduce the contents of this website in whole or in part without prior written permission