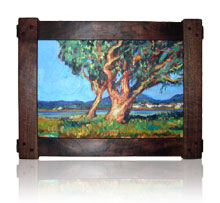 The best memory to have is photographs with our friends, relatives, cousins, and beloved ones thus makes us cry or get tears in our eyes when we look back at these memories when once clicked or enjoyed. Thus the concept of photos or images thus talks the meaning of happiness and joy. The famous quote "the picture speaks a thousand words" further explains the meaning. Thus to capture all our memories we need to keep in a proper place where it stays all the time in front of our eyes and it can be done only when we have a photo frame or picture frame. These frames thus speak about the skills of artisans who have designed such unique and marvelous piece to store all the images or pictures. Decorative picture frames look elegant and beautiful when they are place on the table which enhances the décor of the room. Thus these decorative picture frames attract many people because of its enchanting look and appeal.
There are varieties of picture frames and these are glass picture frame which is know because of its beauty. The shiny look attracts the most and gloss, soft, smooth texture is breath taking which fascinates people and thus people buy glass picture frames because of its features which it showcases. A picture or photo frame is very unique and excellent which guarantees long and ever lasting beautiful, priceless and enchanting moments. Glass frames also have the type called as crystal frames which add glory and charm to the décor of the house. A picture frame in simple language is a container or a flat board of photograph or painting which designed to add a beauty to the house and also to enhance it. Picture frames can be of personalities, paintings etc. The painting of mona lisa thus constitute to a picture frame.
Today glass picture frames still being in demand, the entire market and most of the people are opting for digital picture frame which look classy and gives a feel of modern behavior and technical aspect. The word digital itself implies the next step of computerized level. Thus these photo picture frames makes an ideal gift for various occasion like birthdays, parties, anniversaries and also in the corporate sector which is given to the employees and associates.
Featured products of Photo Frames
Products :

Beaded Photo Frames, Jewellery Box, Beaded Fashion Bags, Lamp Shades, X-mas Hangings & Ornaments, Gifts & Home Furnishing Items Like Cushions & Table Runners, Curtains Tie Backs, Tassels, Beads, Beaded Belts, Beaded Notebooks & Albums And Many Such Items.

Contact Person :
Mr. Nitin Nagpal
Company Profile :

Manufacturer, Supplier And Exporter Of Spacious Handicraft Items Such As Photo Frames, Costume Fashion Jewelry, Fashion Bags, Lamp Shades, T-lite Holders, X-mas Ornaments, Christmas Decoration Items, Wooden Boxes, Gifts & Home Furnishing Items Like Cushions & Table Runners.

Send :
On-Line Trade Inquiry
Click here to view entire Product Range
Products :

Desktop Items, House Hold Products,personal Utilities , Photo Frames Serving Trays * Stain Glass * Table Lamp

Contact Person :
Mr. Deepak Lulla
Company Profile :

Advent Gifts Is The Manufacturers, Supliers, Exporters & Wholesaler Of Corporate Gift & Novelties Items Such As

Send :
On-Line Trade Inquiry
Click here to view entire Product Range
Products :

Stationery Sets, Coasters, Photo Frames, Trays, Clocks, Desktop Accessory, Gifts And Many Other Products.

Contact Person :
Mr. Imrahan
Company Profile :

A Company Manufacturer, Suppliers, Exporters And Wholesaler Of Wooden Gift Items Like Stationery Sets, Coasters, Photo Frames, Trays And Many Other Products.

Send :
On-Line Trade Inquiry
Click here to view entire Product Range
Products :

Photo Frames, Household Products, Cutlery, Flasks, Thermoware, Crockery, Desktop Accessory, Clocks, Watches, Bags, Office Bags, Conference Bags, Portfolio Bags, Glassware

Company Profile :

Shiv Enterprises, Is A Renowned Supplier Of A Variety Of Promotional Gifts Like Photo Frames, Household Products, Cutlery, Flasks Ashtrays, Thermoware, Crockery, Desktop Accessories, Clock, Watches, Bags, Office Bags, Conference Bags, Portfolio Bags.

Send :
On-Line Trade Inquiry
Click here to view entire Product Range
Products :

Ballpens, Bmi Chart, Pregnancy Chart, Computer Accessories, Height Measuring Tape, Keychains, Magnifying Glass Torch, Lamp, Massagers, Mobile Holders With Clock, Without Clock, Paper Slip Box, Paperclips, Paperweights, Penstands, Pen Holders, Photoframes, Pocket Mirror, Shell Shape Mirror, Shell Shape Soap Dish, Portable Fan, Handy Fan, Serving Trays, Table Accessories, Table Calendar, Table Clocks, Wall Clocks, Tea Coasters, Telephone Stands, Torches, Visiting Card Holders, Writing Pads Etc.

Contact Person :
Sharad Shah
Company Profile :

Manufacturers Of Corporate Gifts And Promotional Items.

Send :
On-Line Trade Inquiry
Click here to view entire Product Range
Products :

Time Pieces, Vases, Photoframes, Idols

Company Profile :

Frazer & Haws Is Specialised In Corporate Gifts

Send :
On-Line Trade Inquiry
Products :

Photo Frames

Contact Person :
Kunal
Company Profile :

We Are Specialise In Custom Made Phot Frames, As Per Individual Requitements.

Email is not available
Click here to view entire Product Range
Products :

Arts & Crafts,figurine, Paintings, Candle Holders, Photoframes, Wall Hanging

Contact Person :
Mr. Harneet Singh Arora
Company Profile :

Rayman Is The Manufacturer And Exporter Of Handicrafts

Send :
On-Line Trade Inquiry