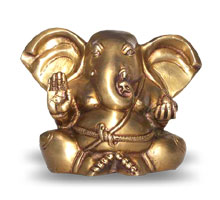 Creative molds
The prevailing trends of the markets and the creative minds of the professionals thus have been able to put forth the unique collection of brass wares. The quality of brass used in making of these items thus leads to an impeccable collection of brassware. Brassware enhances the home décor with the various brass items which are brass crafts, figures and metals. These brassware's are known for being elegant and sophisticated. It is made brass wares are made using grade brass which ahs impeccable range and thus has an instant way of enhancing the look of home.
Brassware is derived from metal brass which is an alloy of copper and zinc. Brass is the symbol of enriched history of art and culture. The skills and quality of craftsmanship as portrayed through brassware's. These were not only meant for decorations but also for the usability. Carving on a brassware is easy as copper and zinc hold it stiffly and there is not much trouble of getting molded. Thus the antique style brass wares are treated as the finest manifests of art and creativity. Brassware can be used a decorative accessory as because the beauty of these brass wares multiply according to its colors and designs which are embedded in it. The other brassware which is known as ornamental brassware is used for ornamental purpose. The various types of ornaments are available in market today which is made up of gold, silver etc. The effect of the brass fabric is given to the ornaments to look polished and fresh.
Religious brass statue are greatest testimony for the hindu religion sculpted in a very apt manner as to meet the holy demands of the people. These brass statues enhance the beauty of a particular room décor as and where they are kept. The significance of the color and the real idealistic approach thus brings across the feeling of holiness in the minds of the people. They are available in different designs, shapes, pattern and various colors.
Featured products of Brassware
Ornamental brassware describes brassware that serves an ornamental purpose. Brassware products are recognized for its superlative range of artware, furniture, figures, candlestands, hardware, antiques, giftwares, decoratives and collectible ...

Company Name : AJUNI PRODUCTS INC. Click here to view entire product range
Products :

Bags, Bar Accessories., Brassware,calender, Clocks, Conference Accessories, Corporate Gifts, Diary,diwali Gifts, Electronics, House Holds,leather Gifts, New Year Gifts, Pharma Gifts, Promotional Caps,promotional Gifts, Stainless Steel,gifts,table Tops,trophies And Ntoes, Wallets, Wooden Gifts

Contact Person :
Mr. B. K. Taneja
Company Profile :

Vanguard Advertisers Is The Exporter And Supplier Of Promtional And Gifting Products

Send :
On-Line Trade Inquiry
Products :

Corporate Gifts And Awards, Decorative Banisters, Designer Brassware, Hand Crafted Metal Works Etc.

Contact Person :
Mr. Sampathappasamy
Company Profile :

We Have Been Gaining Experience From Last More Then 21 Years As To Provide Complete Range Of Excellent Quality Metal And Brass Handicrafts, Handicraft Items And Project Services Throughout The Globe. These Are Widely Demanded Due To Style Art Such As Contemporary, Post Modern, Modern, Ethnic, Classical And Eclectic.

Send :
On-Line Trade Inquiry
Click here to view entire Product Range
Products :

Shirt, Briefs, Jute Bags, Jute Shopping Bags, Knitted Items, Manhole Covers And Frames, Brassware, Soaps (bar/ Liquid Powder), Hessian Cloth, Gents And Ladies Bags And Other Jute Handicrafts And Gift Items, Book, Color Pen, Sports Accessories

Contact Person :
Mr. Arun Kumar Choudhury
Company Profile :

Established In The Year 1997, At Kolkata, India, We " Films & Printers India Private Limited", Are One Of The Leading Manufacturers Of Corrugated Boxes, Multi-coloured Printed Carton Boxes And Other Such Products. Since 2001, We Have Been Manufacturing Jute Bags As Well. Apart From This, We Also Export Consumer & Engineering Products That Have Found Their Usage In A Variety Of Applications, Both Domestic As Well As Commercial. Our Extensive Range Encompasses

Send :
On-Line Trade Inquiry
Products :

Candels, Photo Frame, Brassware, Badges And Medals,award & Trophies,momentos,key Rings, Jewellery Boxes, Flower Vase

Company Profile :

We Deals In Variety Of Indian Handicrafts, Corporate Gifts & Novelities, Awards & Torphioes, Household Decorative Products, Fashion Accessories, Candle Sconces, Lanterna And Many More Products.

Send :
On-Line Trade Inquiry