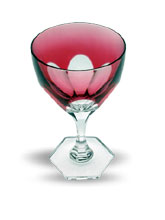 The shiny, glazy and very attractive look thus suit only one item which is a 'glass'. Glassy has glossy, soft and very smooth texture and also available in various colors. The feel and the look of this item is very much delightful and enchanting. Glassware comes in various types and these are drinking vessels, tableware such as dishes and table glass items like flower vases etc. Another type of glassware is art glassware which is used exclusively to decorate the house. A most important thing in the kitchen is glassware without which it looks incomplete and doesn't give that powerful impact through which people get attracted.
Glass items like glasses, bowls are utilized for various purposes for decorating tableware which looks very fascinating when glass items are kept on the table. The appeal thus is very attractive and beautiful. Glassware is if different types and these are barware which is used for beer mugs and pitchers where beer when poured properly fit into the glass. Crystal very common form used for iced tea, juice and water which is a daily necessity for people. The other one is stemware which is used for champagne and wine glasses.
Also today cocktail glasses, crystal glasses are very much in demand and are very popular because of their elegance and the beauty which attracts people. Also coffee mugs are widely used by youngsters and people who fill the coffee very properly. Drinking glasses which are used daily for drinking purpose which also gives a relief for people and satisfaction of quenching the thirst, as it is very much attractive and beautiful for its appearance. Wine glasses and shot glasses come in one category as wine glasses are used for filling wine as there are varieties of wine as white wine, red win which look very interesting when poured in the glass as the shiny, soft and smooth texture gels and mixes up and turn out with an exciting combination. Shot glasses are used for taking a sip of alcohol like tequila shot or vodka. These glassware items can be used for gifting purpose in corporate sector for employees or office associates or executives.
Featured products of Glassware
People always use exquisite glassware on various celebrated occasions. At shiv enterprises one can find a variety of such beautifully designed exquisite glassware. This exquisite glassware looks so beautiful they would leave anyone spellbound. From v ...

Company Name : Shiv Enterprises Click here to view entire product range
Diamond crystal offers a variety of glassware items like liquor glass, printed glass, goblet etc that are available in different shapes, designs and size. These ranges of glassware are suitable for home and offices and can be also used for gifting pu ...

Company Name : DIAMOND CRYSTAL PVT. LTD. Click here to view entire product range
Products :

Crockery, Porcelain Crockery, Hotel Ware, Glassware, Tableware, Ceramic Mugs, Wooden Gifts, Utensil And Crystal.

Contact Person :
Mr. Dhiren Kabani
Company Profile :

Kabani Crockery Centre Is Exporter, Distributor And Reseller Of Crockery, Glassware And Enamelware Products

Send :
On-Line Trade Inquiry
Click here to view entire Product Range
Products :

Diamond Crystal Glassware (30 % Lead Handcrafted), Dinner Sets, Glass, Clocks, Vases, Export Quality Tables, Decanters, Lamps, Bar Accessories

Contact Person :
K.b.jalnawalla
Company Profile :

Diamond Crystal Pvt. Ltd. Are Manufacturers Of A Wide Range Of Diamond Crystal Glassware (30 % Lead Handcrafted), Dinner Sets, Glass, Clocks, Vases, Export Quality Tables, Decanters, Lamps, Bar Accessories Etc. In Awe Inspiring Finish.

Send :
On-Line Trade Inquiry
Click here to view entire Product Range
Products :

Photo Frames, Household Products, Cutlery, Flasks, Thermoware, Crockery, Desktop Accessory, Clocks, Watches, Bags, Office Bags, Conference Bags, Portfolio Bags, Glassware

Company Profile :

Shiv Enterprises, Is A Renowned Supplier Of A Variety Of Promotional Gifts Like Photo Frames, Household Products, Cutlery, Flasks Ashtrays, Thermoware, Crockery, Desktop Accessories, Clock, Watches, Bags, Office Bags, Conference Bags, Portfolio Bags.

Send :
On-Line Trade Inquiry
Click here to view entire Product Range
Products :

Bathroomset, Crystalware, Glassware Etc.

Contact Person :
Mr Altuf Shamsi
Company Profile :

Paramount Home Style, Is Among The Top Export Houses In The Country.

Send :
On-Line Trade Inquiry
Products :

Leather Bags, Cufflinks, Glassware, Time Pieces, Gifts Sets Desktop And Office Stationery , Promotional Gifts,writing Instruments , Leather Gifts Etc.

Contact Person :
Shree Torney / Aniket Keluskar
Company Profile :

Aman Corporate Is The Manufacturers, Supliers, Exporters & Wholesaler Of Corporate Gift & Novelties Items Such As

Send :
On-Line Trade Inquiry
Click here to view entire Product Range
Products :

Pens, Caps, T-shirts, Bags, Glassware, Handicrafts, Desktop Accessories, Gifts Novelities

Contact Person :
Jalan A B
Company Profile :

Supplier And Wholesaler Of Corporate Gifts Such As

Send :
On-Line Trade Inquiry
Products :

Electronics, Glassware, Pharma Products, Pendrives, Umbrellas, Clocks Etc.

Contact Person :
Kamal Rajani
Company Profile :

T.m.gifts Is The Manufacturers, Supliers, Exporters & Wholesaler Of Corporate Gift & Novelties Items Such As

Send :
On-Line Trade Inquiry
Products :

World Class And Glassware, Gifts And Novelties,

Contact Person :
Mr Vishal Jain, Mr Raj Jain
Company Profile :

Mega Importer Of

Send :
On-Line Trade Inquiry
Products :

Premium Products, Goldware, Silverware, Glassware, Cookware Sets, Dinner Setsl, Utilities, Electrical Appliances, Desktop Accessories, Photo Frames, Promotional Products.

Company Profile :

Shiv Group Of Compnaies Are The Manufacturers, Supliers, Exporters & Wholesaler Of Corporate Gift & Novelties

Send :
On-Line Trade Inquiry
Products :

Designer Glassware, Clocks, Corner Piees, Oasters, Trays, Boxes, Devotional Items, Candle Bases Etc.

Contact Person :
Mrs Gayatri Chainani, Mr Narendra Kumar
Company Profile :

Shimmer, Based In Mumbai Are One Of The Largest Designer Glassware Manufacturers To Suit Your Lifestyle Needs. A Division Of Elektromag, One Of India`s Premier Engineering Companies Since 1958, Shimmer Provides An Eclectic Variety Of Superstyled Glass Products Developed With An Unparalleled Aesthetic And Creative Vision.

Send :
On-Line Trade Inquiry