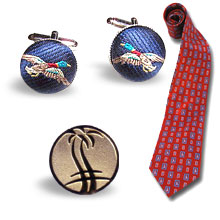 The corporate world talks about being particular, punctual and of following very formal dress code. Organizations and big companies daily have meetings, conferences happening in their offices so the company official or the employees come in formal wear which look apt for the meetings and everything else. A proper formal wear includes shirts, pants, blazers, ties, cufflinks and lapel pins which puts the impression on the other person on which the term body language stands out and thus leaves a very effective impression on the client. Thus here the main aspect ties, cufflinks and lapel pins play important without which the meaning of formal wear is very much incomplete.
Today most and women wear ties. Ties should be chosen which goes well with the attire worn by ladies or gents which leaves impact about the after it is worn and also it gives a look of class, wealth and mannerism. Ties are worn around the neck and usually fit in the gap of shirt cut piece. The other important thing is cufflink which adds a classy look to the attire when it is worn and is used by both men and women. For men who want to fasten the cuff on the shirt and for women who want to fasten the cuff on the blouse. Cufflinks are available in various types which are gold, diamond and silver which looks very attractive and gives a look of class and elegant appeal. Ties and cufflinks are used for occasion like weddings, parties and anniversary parties etc. Cufflinks come in many shapes and sizes. Ties come in variety of colors and are mostly worn by men.
The symbol of achievement and victory thus can be explained more by holding up a tiny thing which is lapel pin which is generally worn on jackets and worn by the people who are awarded like army men. Lapel pins look like an ornament and thus looks very attractive and make people buy these pins. Lapel pins are widely used in corporate areas as it has logos or symbols embroidered on it which marks or adds to a company's confidence and commitments. Personalized lapel pins are used for promotions, advertising and campaigning.
Featured products of Ties, Cufflinks And Lapel Pins
Products :

Polyester, Micro Fibre And Silk Fabrics, Available In Solids, Jacquards And Prints: Classic Motifs, Polka Dots, Geometric Compositions, Plain Two-tone Colors Ties, Tie Sets, Cufflinks, Mufflers, Hats, Scarves, Stoles, T-shirts, Shirts, Caps

Contact Person :
Rakesh Suri, Raghav Suri
Company Profile :

We Introduce Ourselves As The Leading Manufacturers Of *neck-ties & Gifting Items* Catering To Various Companies, Institutions, Hotels, Factories, Government Organizations, Etc.

Send :
On-Line Trade Inquiry
Products :

Glassware, Wallet, Clock, Desk Items, Stationery, Ties & Cufflinks, Keychains, Bags, Mugs, Usb, Umbrella, Candels.

Contact Person :
Lalit Mulchandani
Company Profile :

Best Buys Impex Pvt.ltd.is The Manufacturers, Supliers, Exporters & Wholesaler Of Corporate Gift & Novelties Items Such As

Send :
On-Line Trade Inquiry
Click here to view entire Product Range
Products :

Belts, Ties, Cufflinks, Suit Length Box, Trouser Length, Trolley Bags, Shirts, Trouser Length Box Packs Etc.

Contact Person :
Mr Samir Jain, Mrs Archana Kakade
Company Profile :

Deals In

Send :
On-Line Trade Inquiry
Products :

Corporate Wear, Ties, Cufflinks, Belts, Wallets

Contact Person :
Mr. Sanjiv Khanna
Company Profile :

Manufacturer, Exporter And Supplier Of Corporate Gifts

Send :
On-Line Trade Inquiry
Products :

Ties, Cufflinks,medals, Trophies, Keychains

Contact Person :
Mr. Naresh .
Company Profile :

Manufacturer And Exporter Of Corporate Gifts

Send :
On-Line Trade Inquiry
| Corporate Gifts Home | Corporate Gifts Directory | Corporate Gifts Products |
ties, cufflinks and lapel pins, custom cufflink, custom lapel pins, silver cufflinks, corporate gifts, manufacturers, suppliers, exporters, indian

--------------------------------------------------------------------------------
Website Development and Search Engine Optimization by : Aditya Infotech
Copyright © 2013 Netlink Solutions (India) Ltd. All rights reserved, including the right to reproduce the contents of this website in whole or in part without prior written permission