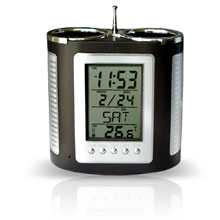 A creatively crafted pen holder, a valuable companion for the study table!
Since from ancient times artisans have been designing various types of pen holders with beautiful carving and mixture of color shades. Indian craftsmen design both traditional and contemporary pen holders that blend well with casual and formal surroundings in today's modernized era. Artistically crafted pen holder act as valuable companions on the study table as there can be various kinds of pens kept in the pen holder. The skilled indian artisans employ various techniques to carve, inlay, veneer or paint the pen holder which thus then comes out with flawless item like this. They are available as either hand-painted or natural pen holders which are often decorated with intricate carvings serving as artistic gift items. These pen holders are used for holding pens and pencils and are available in a medley of sizes, shapes and forms. They are ideally designed to hold numerous sizes of pens and pencils which have become popular these days and serve as perfect items of promotions and corporate gifting tools and are presented to the employee on the corporate events.
There are varieties of pen holders out of which the one is handmade paper pen holders which are made using leather embossed paper which looks alike leather because of its unparalleled texture. These handmade paper pen holders are further designed beautifully to give an elegant look. Pen holders perfectly blend and craft the writing tools as and when they are required and needed. Glass pen holders are stylish and a utilitarian writing accessory useful for students, writers and businessmen. These pen holders are explicitly handcrafted with beautiful designs in white metal which suits the best for office or for home. These pen holders are adorned with excellent design patterns and color combination.
The crystal pen holders are very much unique and attractive as the shinny and glazy look of the holder is breathtaking. The unique design patterns which are carved out beautifully very much appeals the entire look of these pen holders.
Featured products of Pen Holders
A penholder can be a proud addition to your office table. A perfect accessory for the desk, with office supplies. Add style and grace to any desk. Pen holders perfectly blended and crafted, always holds your best writing tools whenever the need, nea ...

Company Name : BHARATIYA PLASTIC PRODUCTS Click here to view entire product range
A creatively crafted pen holder, a valuable companion for the study table! these pen holders are used for holding pens and pencils and are available in a medley of sizes, shapes and forms. They are ideally designed to hold numerous sizes of pens and ...

Company Name : Harsheel Gift Click here to view entire product range
Shreenath digital concepts supplies a host of custom designed pen / mobile holders. These pen / mobile holders come in a spectrum of designs and colours and are digitally customized to imprint the corporate name or logo on them, so that they can be u ...

Company Name : SHREENATH DIGITAL CONCEPTS Click here to view entire product range
A penholder can be a proud addition to your office table. A perfect accessory for the desk, with office supplies. Add style and grace to any desk. Pen holders perfectly blended and crafted, always holds your best writing tools whenever the need, near ...

Company Name : ASIAN PLASTOWARE PVT. LTD. Click here to view entire product range
Products :

Ballpens, Bmi Chart, Pregnancy Chart, Computer Accessories, Height Measuring Tape, Keychains, Magnifying Glass Torch, Lamp, Massagers, Mobile Holders With Clock, Without Clock, Paper Slip Box, Paperclips, Paperweights, Penstands, Pen Holders, Photoframes, Pocket Mirror, Shell Shape Mirror, Shell Shape Soap Dish, Portable Fan, Handy Fan, Serving Trays, Table Accessories, Table Calendar, Table Clocks, Wall Clocks, Tea Coasters, Telephone Stands, Torches, Visiting Card Holders, Writing Pads Etc.

Contact Person :
Sharad Shah
Company Profile :

Manufacturers Of Corporate Gifts And Promotional Items.

Send :
On-Line Trade Inquiry
Click here to view entire Product Range
Products :

Ring Binders, Display Books, Clip Files, Box Files, Combination Files, Conference Folders, Business Card Holders, L-folders, Expansion Cases, Document Cases, Utility Boxes, Envelopes, Pen Stands, Acrylic Writing Boards,etc.

Contact Person :
Mr. Ram Kumar Garg
Company Profile :

Bharat Plasticware Has Been Manufacturing Plastic Ware Or Things With The Specialisation. Its Filling System Products Are Designed To Suit The Variety Of Purpose, People & Places.

Send :
On-Line Trade Inquiry
Click here to view entire Product Range
Products :

22-karat Gold Platted Trophies, Desktop Watches, Pen Holders, Pocket Watches, Visiting Card Holders. Wooden Desktop,mobile Stand

Contact Person :
Dilipbhai / Karan Chandwani
Company Profile :

Regal Times Is The Manufacturers, Supliers, Exporters & Wholesaler Of Corporate Gift & Novelties Items Such As Hot Selling Range Of Visiting Card Holders

Send :
On-Line Trade Inquiry
Click here to view entire Product Range
Products :

Pens , Mouse Pads ,ceramic Pen Holders ,table Top Watches

Contact Person :
Mr Naresh Ahuja
Company Profile :

Bharatiya Plastic Products Is The Manufacturers, Supliers, Exporters & Wholesaler Of Corporate Gift & Novelties Items Such As

Send :
On-Line Trade Inquiry
Click here to view entire Product Range
Products :

Table Clocks, Pen Holder Clocks, Gold Plated Trophies, Table Top Wares, Key Chains, Visiting Card Holders, Paper Cutters, Pen Holders, Desktop Jewellery, Ashtrays,etc.

Contact Person :
Thakur Madnani
Company Profile :

Pooja Gift Corporation Is The Manufacturers, Supliers, Exporters & Wholesaler Of Corporate Gift & Novelties Items Such As Table Clocks, Pen Holder Clocks

Send :
On-Line Trade Inquiry
Click here to view entire Product Range
Products :

Office Stationery Like Clear Books, Ring Binders, Clip Files, Clear Holders, Polypropylene Clear Files, Envelope Bags, Card Holders, Pen Cases, Zipper Bags, Conference Bags, Expanding Files And Even Shopping Bags, Packaging Boxes & Photo Album

Contact Person :
Mr. Rajesh K. Satra
Company Profile :

Manufacturers Of A Wide Range Of Stationery Products Like P.p Files, Folders, Display Books, Conference Folders, Portfolios Bags, Etc.

Send :
On-Line Trade Inquiry
Click here to view entire Product Range
Products :

Keychains, Mouse Pad, Leather Products, Clocks, Pen Stand, Trophies, Polo T-shirts & Caps, Awards, Nylon Bags, Cardholders

Contact Person :
Mr. Hemu Suvarna
Company Profile :

Leading Manufacturer And Exporter Of Corporate Gifts And Promotional Gifts

Send :
On-Line Trade Inquiry
Click here to view entire Product Range
Products :

Premium Miniature Gold Plated Gift Clocks, Gift Sets, Executive Table Top Wares, Paper Cutter, Key Chains, Visiting Card Holders, Pen Holders, Stationery Items, Mobile Stand, Desk Set

Company Profile :

We Have Got A Collection Of Trophies & Mementoes, Plaque, & A Lot More For Corporate People, For Gifting & For Every Occasion, Events And Functions. We Offer You An Exclusive And Tailor-made Articles.

Send :
On-Line Trade Inquiry
Products :

Pen Sets, Desktop Watches, Premium Gifts In Steel, Leather Gifts, Wall Clock, Trophies, Coffee Mugs, Key Chain, Business Card Holders, T Shirts, Caps, Wood Gifts, Handicrafts Etc.

Contact Person :
Mr. Mayur Agarwal
Company Profile :

We, "intellect Automation Systems", Are One Of The Leading Manufacturers, Suppliers, Retailers And Traders Of A Comprehensive Range Ofelectronic Security System, Electrical Product & Corporate Gifts.

Send :
On-Line Trade Inquiry
Products :

Leather Key Cases, Leather Luggage Tags, Leather Executive Bags, Leather Business Organisers, Leather Diary Covers, Leather Folders, Leather Wallets, Leather Passport Covers, Leather Desktop Sets, Leather Card Holders, Leather Pen Cases And Other Leather Accessories.

Contact Person :
Mr. Joseph Cherian
Company Profile :

Established In The Year 1994, Elite International, Mumbai, With Manufacturing Facility Located In Mumbai, Has Been Offering An Impeccable Range Of Leather Goods Including Corporate Promotional Items Such As

Send :
On-Line Trade Inquiry
| Corporate Gifts Home | Corporate Gifts Directory | Corporate Gifts Products |
pen holders, pen stand, promotional pen holders, wooden pen holder, leather pen holder, plastic pen holder, penholder manufacturers, suppliers, exporters, indian

--------------------------------------------------------------------------------
Website Development and Search Engine Optimization by : Aditya Infotech
Copyright © 2013 Netlink Solutions (India) Ltd. All rights reserved, including the right to reproduce the contents of this website in whole or in part without prior written permission