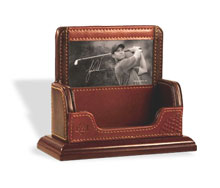 An articulate card pouch, perhaps?
a good business card holder talks about status and artistic sense for colleagues, clients, as well as prospective clients. Carrying a good business card holder would help gain good first impression on probable clients. A business card which has been designed properly with great care and professionalism thus signifies the identity of the person and the authenticity of the company. These card holders are pre- requisite accessory for every executive in the corporate world. The uniqueness of these card holders are that they have segregated compartments for versatile utilities. These card holders give an individualistic appearance and talks about individual's personality. These card holders serve as a gifting tool for the corporate sector with the customized label or the corporate logo which is presented for the appreciation of the employees.
Card holders come in varieties of leather, resin and synthetic fiber. The intricacy and modern designing of these leather business card holders gives a stylish look. These business card holders have a higher utility value as compared to the other card holder like credit card holders. The operation of these card holders are very much simpler as the locks shut and cannot be reopened. These are offered with integral slots for the use chain, clips and nylon holders. These card holders come in variety of shapes, sizes and designs.
Bringing out the business cards from attractive and stylish business card holders makes a good style statement in itself if used in proper way. These business card holders are used for the of purpose of keeping your business cards intact and in a appropriate place which thus makes sense and also proves for you to pay attention to the fine details of business, and follow proper business etiquettes. Apart from serving all of the purposes in terms of building your professional image, carrying a proper card holder for your business cards and serves all the principles of professionalism it also ensures that the shape and texture of your business cards does not get ruined as today carrying of business card has become attend and every organization is making use of it.
Featured products of Card Holders
S.K.Stationery, a company manufacturing and supplying a variety of office stationery products offers business card holders in different sizes, comprising of 120 / 240 business card holder, with different colourful covers. These are ideal too keep all ...

Company Name : S.K.Stationery Click here to view entire product range
A wide range from 120 card capacity to index-separated 500 card organizer are made available by filex systems pvt. Ltd under it`s solo brand for all your stationery purposes. These are also ideal for gifting your business partners and is a must for y ...

Company Name : FILEX SYSTEMS PVT LTD. Click here to view entire product range
Uk polyplast manufactures and supplies a variety of office stationery products fulfilling all your stationery needs. These come in different sizes, designs and colour, which can also be customized as per the buyer`s needs and choice. Apart from this ...

Company Name : UK POLYPLAST PVT. LTD. Click here to view entire product range
Pooja gift corporation has also launched its range of gold and nickel platted cardholders. Used mostly by office executives, these cardholders are designed to personify style. Any person carrying these elegant cardholders is sure to get noticed in an ...

Company Name : POOJA GIFT CORPORATION Click here to view entire product range
Products :

Stationery Like Display Books, Ring Binders, Clip Files, Business Card Holders, Presentation Folders & Report Covers, Expansion Cases, Photo Albums, Envelopes, Transparent Bags, Clear Holders & Cd Holders

Contact Person :
Mr. Subudhsen Gupta
Company Profile :

Mehta Hwa Is The Manufaturer And Supplier Of Stationery Products

Send :
On-Line Trade Inquiry
Click here to view entire Product Range
Products :

Office Stationery, Files & Folders, School Stationery, Pocket Ring Binder, Cabinet Hanging File, Colour Index, Computer Data Binder, Cheque Book Holder, Clear Strip Folder, Business Card Holders.

Company Profile :

A Company Manufacturing And Supplying Useful Stationery Products Like Pocket Ring Binder, Cabinet Hanging File, Colour Index, Computer Data Binder, Cheque Book Holder, Clear Strip Folder, Business Card Holder And Many Other Products.

Send :
On-Line Trade Inquiry
Click here to view entire Product Range
Products :

Office Stationery Like Clear Books, Ring Binders, Clip Files, Clear Holders, Polypropylene Clear Files, Envelope Bags, Card Holders, Pen Cases, Zipper Bags, Conference Bags, Expanding Files And Even Shopping Bags, Packaging Boxes & Photo Album

Contact Person :
Mr. Rajesh K. Satra
Company Profile :

Manufacturers Of A Wide Range Of Stationery Products Like P.p Files, Folders, Display Books, Conference Folders, Portfolios Bags, Etc.

Send :
On-Line Trade Inquiry
Click here to view entire Product Range
Products :

Ballpens, Bmi Chart, Pregnancy Chart, Computer Accessories, Height Measuring Tape, Keychains, Magnifying Glass Torch, Lamp, Massagers, Mobile Holders With Clock, Without Clock, Paper Slip Box, Paperclips, Paperweights, Penstands, Pen Holders, Photoframes, Pocket Mirror, Shell Shape Mirror, Shell Shape Soap Dish, Portable Fan, Handy Fan, Serving Trays, Table Accessories, Table Calendar, Table Clocks, Wall Clocks, Tea Coasters, Telephone Stands, Torches, Visiting Card Holders, Writing Pads Etc.

Contact Person :
Sharad Shah
Company Profile :

Manufacturers Of Corporate Gifts And Promotional Items.

Send :
On-Line Trade Inquiry
Click here to view entire Product Range
Products :

Office Stationery And Filling System Like Files And Folders, Expansion Cases, Display Books, , Pp Sheet Protectors, Clip Files, Art Portfolios, Menu Holders, Paper Fasteners, Poly Envelopes, Box Files, Business Card Holders, Moulded Ring Binders Etc.

Company Profile :

A Company Manufacturing A Variety Of Stationery Products Like Files And Folders, Expansion Cases, Display Books, , Pp Sheet Protectors, Clip Files, Art Portfolios, Menu Holders, Paper Fasteners, Poly Envelopes, Box Files, Business Card Holders, Moulded Ring Binders And Many More Products.

Send :
On-Line Trade Inquiry
Click here to view entire Product Range
Products :

22-karat Gold Platted Trophies, Desktop Watches, Pen Holders, Pocket Watches, Visiting Card Holders. Wooden Desktop,mobile Stand

Contact Person :
Dilipbhai / Karan Chandwani
Company Profile :

Regal Times Is The Manufacturers, Supliers, Exporters & Wholesaler Of Corporate Gift & Novelties Items Such As Hot Selling Range Of Visiting Card Holders

Send :
On-Line Trade Inquiry
Click here to view entire Product Range
Products :

Ring Binders, Display Books, Clip Files, Box Files, Combination Files, Conference Folders, Business Card Holders, L-folders, Expansion Cases, Document Cases, Utility Boxes, Envelopes, Pen Stands, Acrylic Writing Boards,etc.

Contact Person :
Mr. Ram Kumar Garg
Company Profile :

Bharat Plasticware Has Been Manufacturing Plastic Ware Or Things With The Specialisation. Its Filling System Products Are Designed To Suit The Variety Of Purpose, People & Places.

Send :
On-Line Trade Inquiry
Click here to view entire Product Range
Products :

Table Clocks, Pen Holder Clocks, Gold Plated Trophies, Table Top Wares, Key Chains, Visiting Card Holders, Paper Cutters, Pen Holders, Desktop Jewellery, Ashtrays,etc.

Contact Person :
Thakur Madnani
Company Profile :

Pooja Gift Corporation Is The Manufacturers, Supliers, Exporters & Wholesaler Of Corporate Gift & Novelties Items Such As Table Clocks, Pen Holder Clocks

Send :
On-Line Trade Inquiry
Click here to view entire Product Range
Products :

Office And School Stationery Products Like Metal File Clips, Cd Case, Name Card Holders, Expanding Files, Carrying Cases, Portfolio Bags, Hotel Menu Folders, Visiting Card Albums, P.p. Files & Folders, Display Books, Photo Albums, Strip Files, Conference Folders, Kids Loved Files, Name Card Holders, Name Plates And Display Stands.

Contact Person :
Mr. Dhirendra
Company Profile :

A Company Manufacturing And Supplying A Variety Of Office And School Stationery Products Like Metal File Clips, Cd Case, Name Card Holders, Expanding Files, Carrying Cases, Portfolio Bags, Hotel Menu Folders, Visiting Card Albums, P.p. Files & Folders, Display Books, Photo Albums, Strip Files, Conference Folders, Kids Loved Files, Name Card Holders, Name Plates And Display Stands.

Send :
On-Line Trade Inquiry
Click here to view entire Product Range
Products :

Corporate Gift Items,business Gift Items,company Gift Items,office Gift Items, Decorative Table Clocks, Decorative Key Chains, Antique Table Clocks, Customized Key Chains, Paper Cutter, Metal Trophy, Desktop Items, Miniature Clocks, Decorative Clocks, Devotional Clocks, Gift Sets, Mobile Stands, Mobile Phone Stands, Designer Mobile Stands And Visiting Card Holders Etc.

Contact Person :
Mr. Nirav Madnani Ceo / Thakorbhai
Company Profile :

Incepted In The Year 1975, We Pooja Gift Corporation Are Involved In Manufacturing And Supplying Comprehensive Range Of Corporate Gift Items Like

Send :
On-Line Trade Inquiry