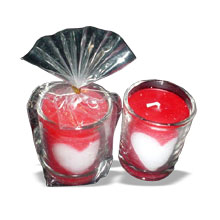 Glowing elegance.
Decorative candles are classic way to create charming atmosphere with a beautiful aroma of the scented candle with it. The colors, styles, designs are mesmerizing. Decorative candles virtually exhibit the ambience and the colorful styles of the scented candles which are also known as decorative candles. Now a day's decorative candles are more specifically used for aromapathy. Specially known as scented candles which come in variety of scents that can soothe and clear the person's mind. Decorative candles make use of citronella essence which a natural oil from citronella plant effective for insects and repellent properties.
The decorative candles are used for festive occasions, parties and weddings. These candles give a classy way to create a charming atmosphere. These decorative candles are manufactures from the finest grade of materials and hence they burn for longer period of time. Also these decorative candles are used in hotels, homes, restaurants, span and gardens as because it is available in plethora of designs and enormous colors. These candles are highly appreciated for their beauty, elegance, fresh and low going aroma which attracts many people as they purchase these candles for some kind of relaxation and maintaining good peace at their respective places.
An array of fragrance and scented pillar candles are used in hotels, showrooms and restaurants. These candles are available in floral and fruity fragrance which not only blows up the home décor but also make the person totally go soothingly in the fragrance. The finest quality of wax and cotton wick provides the candle to burn for long hours. The features of the scented candles are very much simplified as it has a fine finish, good fragrance, elegant look, is very much safe enough when burnt and the most important thing is that it is environment friendly. A simple decorative candle which ahs beach inspired design will surely bring in the feel of the sea at your respective homes. Decorative candles can be presented as a gifting tool for various purposes which include weddings, parties etc and in the corporate sector these are used as promotional and gifting tool.
Featured products of Decorative Candles
Products :

Decorative Candles, Candle Stands, Floating Candles,gel Candles Accessories, Decorative Diyas, Floating Lamps & Creative Items.

Contact Person :
Dilip Nalavde
Company Profile :

Ajinkya Products Is The Manufacturers, Supliers, Exporters & Wholesaler Of Corporate Gift & Novelties Items Such As

Send :
On-Line Trade Inquiry
Click here to view entire Product Range
Products :

Candles ( Decorative And Plain) And Pure Aroma Oils For Burner, Fancy Candles, Container Candles, Floater, T Light Candles, Birthday Candles Etc.

Contact Person :
Ms. Shweta Jain
Company Profile :

Established In The Year 2004, At Delhi, India, We "gomattesh Quality Products", Are Engaged In Manufacturing And Supplying A Wide Range Of

Send :
On-Line Trade Inquiry
Products :

Napkin Rings, Christmas Decorations, Nautical Gifts, Fashion Jewelry, Brass Handicrafts, Table Linen Accessories, Smoking Accessories, Fire Tools, Home Decoratives, Diwali Gifts, Corporate Gifts, Epns Wares, Table Wares, Aluminium Wares And Table Place Cards, Hookah, Candle Holders, Antique Reproduction, Trophy & Awards, Bath Accessories, Candles, Home Furnishing, Bar Accessories, Garden Accessories, Clocks And Wedding Gifts.

Contact Person :
Mr. Mohammad Azeem
Company Profile :

Our Mission Is To Improve The Quality Of Our Products And Maximize Our Client`s Satisfaction. Our Main Focus Is On Offering Outstanding Products To Our Customers And Sticking To Timely Delivery Schedules. Our Range Of Decorative Products Include

Send :
On-Line Trade Inquiry
Products :

Candle Holder,photo Frame,decorative Candles

Contact Person :
Mr Rishi Raj
Company Profile :

Navitas International Is The Manufacturers, Supliers, Exporters & Wholesaler Of Gift & Novelties Items Such

Send :
On-Line Trade Inquiry
Products :

Fragrance Perfumes,air Fresheners,perfumed Candles,religious Figurines,decorative Items,traditional Handicrafts,festival Gifts & Accessories

Contact Person :
Ms. K Varadan
Company Profile :

V.v.deepa Are The Manufacture Of Fragrance Concentrates

Send :
On-Line Trade Inquiry
Products :

Decorative Gel Candles, Paraffin Wax Candles, Custom Scented Candles, Terracotta Pottery, Terracotta Fashion Jewellery, Terracotta Decorative Items, Terracotta Corporate Gifts, Leather Corporate Gifts, Corporate Gifts, Decorative Dry Flowers

Contact Person :
Mr. S. R. /ms. Sudeshna Sabhar
Company Profile :

Manufacturer And Exporter Of Gel Candles, Paraffin Wax Candles, Scented Candles, Terracotta Pottery, Terracotta Jewellery, Terracotta Decorative, Corporate Gifts, Decorative Dry Flowers Etc.

Email is not available
Products :

Candle Holder,photo Frame,decorative Candles

Contact Person :
Rishi Raj
Company Profile :

Navitas International Is The Manufacturers, Supliers, Exporters & Wholesaler Of Gift & Novelties Items Such As

Send :
On-Line Trade Inquiry
Products :

Beeswax Candles, Handicraft Wall Hanging, Handcrafted Wax Candles, Decorative Hurricane Lamps, Handmade Wax Candles, Decorative Handicrafts, Terracotta Diyas, Decorative Wall Hangings And Chakra Candles.

Contact Person :
Mr M M Kamra
Company Profile :

Manufacturing

Email is not available