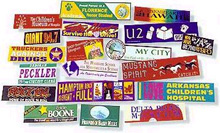 Sticker a type of paper piece or plastic or an adhesive which is sticky on side and which is used to paste it on the wall, on the books or on the files or folders. These stickers usually come in different size and shape. Generally stickers are seen on the lunch boxes of school going children. Also these stickers are used when for object which requires identification with a word or an idea. These stickers are mostly used as a powerful tool for advertising, promotion and marketing. There are different types of stickers which are bumper stickers which are used for demonstration of political or ideological cause.
In business organization stickers play crucial role as they are designed according to the business nature. Also for vehicles where the identification mark is required. For a person who is learning driving the sticker used would be off the letter l since l denotes learner. Also the other type includes religious stickers which have different and unique design. These are refrained from using any other mark other than that of the religious one. These stickers are printed from vinyl material to save it from water, heat and wind. These stickers have following features which are weather resistant, durable graphic and high quality material. These stickers are even printed on t-shirts or shits are long lasting.
The other type is the custom stickers which are considered as all time great stickers. These stickers have worthwhile designs. These stickers retain the color impression of cmyk. As according to the fashion these stickers are booming and are making its mark in the markets by producing varieties which are custom bumper stickers, custom round stickers and custom travel stickers. Wall stickers are very much attractive to children's as they are very much fascinating with attractive colors and eye catchy effects. These wall stickers are not only meant for wall purpose but also for bedroom and house decoration purpose. People usually go for wall stickers because it not only enhance the décor of the room but also makes room more beautiful and customized.
Featured products of Stickers
Holograms have a wide area of application and have found a niche market in security printing, certificates, cheques, driving license, stationery, brand authentication, etc. Wide range of these hologram stickers is made available by mark labels, a com ...

Company Name : Mark Labels Click here to view entire product range
The trend of using magnetic stickers as promotional items is soon gaining momentum today. One can see such magnetic stickers at various shops where they are put on a fridge or on coolers. The big advantage with these promotional magnetic stickers is ...

Company Name : Supremum Exports Click here to view entire product range
Products :

3d Posters, 3d Pvc Thermoformed Posters, Calendars, Magnetic Stickers, 3d Pvc Keychains, Promotional Gifts.

Contact Person :
Percy Dsouza
Company Profile :

Supremum Exports Is The Manufacturers, Supliers, Exporters & Wholesaler Of Corporate Gift & Novelties Items Such As 3d Posters, 3d Pvc Thermoformed Posters.

Send :
On-Line Trade Inquiry
Click here to view entire Product Range
Products :

Writing Pads, Scribblers, Paper Plates, Paper Tubes, Stickers, Samples Folders, Cartons Paper And Boards Of Other Day To Day Stationary And Paper Items.

Contact Person :
Mr. Dushyant Zalani
Company Profile :

Founded By The Visionary Mr. Dhanji Natha Zalani In The Year Of 1950, The Company Zalani Paper Mart Initiated The Business Of Buying Packaging Waste In All Forms, Shapes And Sizes.

Send :
On-Line Trade Inquiry
Click here to view entire Product Range
Products :

Computer Labels, Round Corner Red Border Labels, Hologram Stickers, Stamping Foil Labels, Bar Code Labels, Round Corner Plain Labels, Gun Labels Stationery Products

Contact Person :
Hitesh Jain
Company Profile :

Mark Labels Are The Manufaturer And Supplier Of Labels

Send :
On-Line Trade Inquiry
Click here to view entire Product Range
Products :

Maps, Charts, Gumming Charts, Name Slips, Calenders, Stickers, Posters, Pictures

Company Profile :

Mfrd By Geeta Enterprises

Send :
On-Line Trade Inquiry
Products :

Visiting Cards, Letterheads, Envelope Covers, Writing/scribling Pads, Folders, Identity Cards, Doom Laminated Stickers.

Contact Person :
Mr. Ravi Varma J.
Company Profile :

Our Organization Established In The Year 1995, In The Name Of "chitra Graphics", In The Year 2009 Name Of Our Organization Changed To "hoysala Graphics". Now We Are One Of The Renowned Organizations Involved In Printing And Supplying A Wide Range Of Printed Office Stationery Products Like

Send :
On-Line Trade Inquiry
Products :

Brochures, Letter Heads, Magazines, Vising Cards, Paper Bags, Labels And Stickers Etc.

Contact Person :
Mr. Mahinder Kharbanda
Company Profile :

Founded In The Year 1995, We, Ellgee Enterprises Have An Well-established Setup In Delhi. Ours Is A Client Centric Organization And We Endeavor To Provide Our Clients With High Quality Range Of Products. Our Range Of Products Include

Send :
On-Line Trade Inquiry
Products :

Hang Tags, Labels, Brochures, Catalogs, Bar Code Tags, Leaflets, Computer Labels, Foil Stickers, Pvc Stickers, Bar Code Labels, Letterheads, Synthetic Stickers And Adhesive Label Etc.

Contact Person :
Mr. Rahim Khan
Company Profile :

Manufacturer And Exporter Of

Email is not available
Products :

Stationery Printing, Paper Bags, Book Printing, Stickers, Labels, Paper Stationery Products.

Contact Person :
Mr. Shambhu Bhai Patel / Mr. Mitesh Patel
Company Profile :

Uma Offset Is Offering High-quality Print Services In Multi-color Printing Jobs Like

Send :
On-Line Trade Inquiry
Products :

Wedding Cards, Files Folders, Stickers, Tags, Labels, Books, Magazines, Brochures,

Contact Person :
Mr. Sarvesh Jain
Company Profile :

Established In The Year 1971, 'siddhi Vinayak Creations' Is A Business Enterprise Engaged In The Field Of Manufacturing And Supplying Printing Products. Apart From Manufacturing, We Also Render Designing Services For These Products. We Are Viewed As A Highly Trusted Entity In The Domain. Our Defined Organizational Goals Keep Us Focused And Pave A Path Of Success For Us.

Send :
On-Line Trade Inquiry
Products :

Round Batch, Mug Printing, Clips, Lanyards, Stickers, Display Books, Computer Stationery,

Contact Person :
Mr. Sachin Paranjape / Anand Deshmukh
Company Profile :

Established In The Year 1975, We, "pavan Plastics", Have Been Involved In The Field Of Manufacturing And Supplying A Comprehensive Range Of Plastic Stationery Products. Developed Using Excellent Quality Material, These Stationery Products Are Highly Sought After In Educational Institutions, Colleges, Schools And Offices. These Products Are Highly Praised In The Industry For Their Crack Resistance, Smooth Finish, Elegant & Attractive Looks.

Send :
On-Line Trade Inquiry