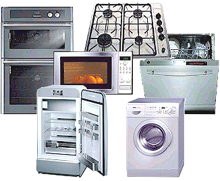 Mechanisms for your convenience
Home appliances are made to speed up household work, and these allow daily chores to be handled efficiently as well as easily. Appliances allow homemakers the independence of multiple chores with efficient management of time. Home appliances are a necessity of every household, and people are known to love quality branded house appliances.
A smart list of kitchen appliances generally includes a wide range of products, washing machines, refrigerators, irons, ovens, mixers, toasters, water purifiers, geysers, and more. These appliances are available in many colors to suit a variety of interiors, styles, and sizes, and are considered great gifts. These are often given away as gifts in malls and department stores during brand promotion activities such as competitions, contests, and launches, and on personal family occasions like weddings, household appliances are considered special.
In the corporate world, the activity of felicitating employees with corporate logo engraved household gadgets increases employee loyalty. These are also much wanted during festive occasions as bonuses.
Featured products of Appliances
Camex offers a wide variety of home appliances like cd holder, electric iron, electric kettle, vacuum cleaner etc. These entire home appliances are made in international design that have elegant looks. They are available in attractive shapes and feat ...

Company Name : CAMEX TRADE-LINK P. LTD. Click here to view entire product range
Products :

Kitchen Appliances, Pressure Cookers, Kadais, Non - Stick Cookware, Mixer, Grinders

Contact Person :
G. Radhakrishnan
Company Profile :

Ttk Prestige Ltd Is The Manufacturers, Supliers, Exporters & Wholesaler Of Corporate Gift & Novelties Items Such As Kitchen Appliances, Pressure Cooker

Send :
On-Line Trade Inquiry
Click here to view entire Product Range
Products :

Home Appliances, Lpg, Refillable Candles With Chimney, Gas, Butane, Gas Lamp, Etc.

Contact Person :
Mr. Vijay Ladha
Company Profile :

The Reputed And Only Company Manufacturing And Supplying Refillable Butane Candles In India.

Send :
On-Line Trade Inquiry
Click here to view entire Product Range
Products :

Tawa, Concave Tawa, Kadhai, Fry Pan, Sauce Pan, Server And Other Appliances, Household Products, Premium Gifts Etc.

Contact Person :
Mr. I.c. Shah
Company Profile :

Manufacturing And Exporting Non-stick Cookware Products In Overseas. Also Offers A Superior Quality Range Of Teflon Extra -coated Non-stick Cookware.

Send :
On-Line Trade Inquiry
Click here to view entire Product Range
Products :

Home Appliances, Household Products

Contact Person :
G. Dasgupta
Company Profile :

Manufacturer, Suppliers, Exporters And Wholesaler Of Appliances & Household Products.

Email is not available
Click here to view entire Product Range
Products :

Electrical Home Appliances Like Portable Blenders, Juice Mixer, Grill Toaster, Iron And Many Other Products.

Contact Person :
Hitesh Doshi
Company Profile :

A Company Manufacturer, Suppliers, Exporters And Wholesaler Of Portable Blenders, Juice Mixer, Grill Toaster, Iron And Many Other Products.

Send :
On-Line Trade Inquiry
Click here to view entire Product Range
Products :

Stainless Steel Kitchenware, Household Appliances, House Hold Utensils, Stainless Steel Cutlery

Contact Person :
Mr. Tekchand Bheda
Company Profile :

Komal Trading Corporation Is A Stainless Steel Kitchenware Manufacturer With A Range Of Products For Household Utensils, Stainless Steel Cutlery And Kitchen Appliances. They Also Could Customize Any Product On The Uses Requirement.

Send :
On-Line Trade Inquiry
Click here to view entire Product Range
Products :

Xbox, Mobile Phones And Its Accessories, Kitchen Appliances Like Oven, Sandwich Maker, Induction Cooker, Etc.

Contact Person :
Mr Ankush Thakur
Company Profile :

North American Mercantile (india) Private Limited Is Manufacturers Of Kitchen Appliances And Distributor Of Smart Phones And Accessories.

Send :
On-Line Trade Inquiry
Click here to view entire Product Range
Products :

Digital & Quartz Wall Clocks, Time-pieces, Calculators, Telephones, Home Appliances, Educational Toys, Compact Fluorescent Lamps (cfl) And Many More Products.

Contact Person :
Mr. Ashish Chitalia
Company Profile :

World`s Largest Clock Manufacturer. The Only Whic Is Iso-9001-2000 Certified Company. The Only Manufacturer In India To Manufacturer Caclculator & Educational Toy. India`s Largest Timepiece Manufacturer. Brand Leader Of Telephone. India`s Largest Exporter Of Wall Clock (exported To More Than 45 Contries All Over The World). Winning The Esc Award For The Highest Export In The Field Of Elctronics By The Ministry Of Communication & Information Technology (gove. Of India) For Consecutive 10 Years.

Send :
On-Line Trade Inquiry
Click here to view entire Product Range
Products :

Gifts & Promotional Accessories, Hotel Supplies, Engineering Supplies, Kitchen Appliances

Contact Person :
Mr. Ramesh Moliya
Company Profile :

International Trading And Manufacturering Resident Company Headed By Professionals And Well Experienced Team.

Email is not available
Products :

Appliances, Electronic And Domestic Products Like Toasters,irons,vaccum Cleaners, Choppers, Shavers,dryers, Coffee Maker, Hair Straightner, Hair Crimper

Contact Person :
Mr.rajeev Shukla
Company Profile :

The Company Is Into Manufacturing Of House Hold Products

Send :
On-Line Trade Inquiry