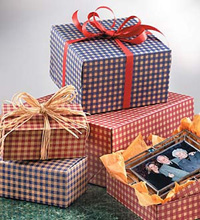 Growing age of the people makes them more wise and intelligent. Thus this philosophy today everybody accepts but everybody wants to once again enjoy their childhood which is left back since form many year and now. Childhood is the biggest and the greatest memory which the person would want to enjoy now and then. From the day a person is born at that same moment his memories are saved. As he becomes elder he lands back on the same date on which he was born and thus the term is known as birthday. Birthdays are celebrated to make the people happy and make realize of their growing age. A mixed feeling of joy, happiness, and attraction thus happens when one's birthday is celebrated.
As birthdays come so are the gifts. Especially small children are very much excited about their birthdays as they also have an attraction and eager to know what their friends have bought for them. Birthday gifts come in categories which ranges from a toddler to a youngster and then elder ones. Birthday gifts include soft toys, chocolate boxes, dresses, jewelry sets, cosmetic sets, bags etc for youngsters. For small kid's games, video games, dresses, fancy toys like singing bird, talking robot, chirping sparrow etc. The elder one would always go for gift items which are subtle and makes them feel comfortable in whatever has been presented to them which includes shawl, stole, books of famous personality, perfumes, jewelry, radio sets, mobile phones these gift item suit them considering heir age and their choices.
Usually when the word birthday is uttered it reminds us only one thing which is cake, chocolates and gifts. Gifting of a watch would add the relevant importance so that the person would remember the time and the date very well the last he enjoyed and the person can always look at the watch rewind back few minutes of his life for those enjoyable memories. Birthday baskets are the other unique gift item which would love by everyone. A birthday basket is a filled with lot many items which is a symbol of thoughtfulness thus gifting this item would really please the person.
Products :

Corporate Gifts, Promotional Gifts, Diwali Gifts, Birthday Gifts, Anniversary Gifts, Photo Frame, Name Plates,

Company Profile :

Panchatatva Is The Manifestation Of Life`s Core Elements. Earth, Sky, Water, Fire And Ether. Panchtatva, Rightfully Then, Is Inspired By Life, By Its Colours, By Its Myriad Shapes, By Its Surprising Patterns, By Its Vivid Designs.

Send :
On-Line Trade Inquiry
Click here to view entire Product Range