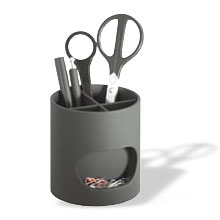 An elegant pen stand is an inscription of your psyche.
Pen and pencil stand is a necessity for desktop accessory as today people still require pen and pencil to jot down important things especially using medium of communication which is mobile phone or tele phone. In this fast t moving world which is now becoming advanced and modernized the appearance of pen and pencil still would not go as it is useful for small children as well who make effective use of these items. Usually in commercial areas lot of paper work happens every now and then for which the desktop pen and pencil holder is frequently used. Pen and pencil holders are used as gifting tool as it stand out to be smart and thus gives a professional look are customized with corporate name and logo of the company used for acclaiming employees and also is used as promotional tool.
These holders are found in varieties like wood, acrylic, paper, plastics and others. Wooden pencil stands are made using high quality wood and come in various designs, patterns, sizes and shape. The charm and the beauty of this wooden pencil holders comes out when it is kept on the table top and adjusted it accordingly. Pen and pencil stands are made out of glass and are beautifully designed with red and white crystal stones. These holders are durable and have splendid look and thus are used for office purpose effectively.
A pen stand is an item of utility as it is used to store pens, pencils or other small stationary items. A pen stand can be spherical, hexagonal, rectangular, pentagonal or octagonal in shape but designs in an appropriate leaving space to keep things inside it. Pen stands has also become items of decoration as they can be designed manually and also for the craft purpose for small children. The varieties in which these pen stands are made of ceramic, glass, cardboard, wood, metal or enameled metal. A pen stand usually has a mouth of the same width as the base to keep as many pen, pencils at a time. Pen stands can be created by using gem stone painting or they can even be made by hand using cardboard paper, marble paper and unique ways can be used to design these pen stands which can look graceful and beautiful.
Featured products of Pen And Pencil Stands
Pen and pencil stands are necessary accessory to complete the décor of your desktop. Usually in commercial areas where a lot of paper work happens every now and then, a desk pen holder is frequently in demand. A pen stand is available in different va ...

Company Name : BHAGABATI UDYOG Click here to view entire product range
A pen and pencil holder does imply of holding pens and pencils. Although a box or a bag can also hold pencils and pens, a pen and pencil holder usually refers to a cylinder-shaped container in which the writing instruments are placed upright. ...

Company Name : AYRTON AGENCIES PVT. LTD. Click here to view entire product range
Products :

Ties & Scarves, Leather Items Like (wallets,bags,etc); Wooden Articles, Promotional Items Like (caps, T-shirts, Key Chains, Pen Sets, Bags,desktop Accessory, Corporate Gifts And Various Novelties.

Contact Person :
Mr. Vikas Nagar
Company Profile :

Ace Creations Is The Manufacturers, Supliers, Exporters & Wholesaler Of Corporate Gift & Novelties Items Such As

Send :
On-Line Trade Inquiry
Click here to view entire Product Range
Products :

Trophies , Table Clock , Pen Stand, Luxurious Itemsstationery Items, Mobile Stands, Desksets & A Lot More , For Gifting & For Every Occasion. The Products Are Crafted From Solid & Virgin Brass, With 22 Carat Gold Plated & Japanese Movement 2030.

Contact Person :
Mr. Raja Hinduja
Company Profile :

We Have A Wide Range Of Products Which Is Evident From Our Website. We Have Got A Collection Of Trophies, Stationery Items, Mobile Stands, Desksets & A Lot More For Corporate People, For Gifting & For Every Occasion. Our Products Are Crafted From Solid & Virgin Brass, With 22 Carat Gold Plated & Japanese Movement 2030.

Send :
On-Line Trade Inquiry
Click here to view entire Product Range
Products :

Ball Pens, Gel Ink Pens, Free Ink Pens, Fountain Pens, Refills, Nibs, Packaging And Many More Items.

Contact Person :
Rajeec Jain
Company Profile :

Jineshwar Is The Manufacturers, Supliers, Exporters & Wholesaler Of Corporate Gift & Novelties Items Such As Pen, Ball Pen, Writting Instruments.

Send :
On-Line Trade Inquiry
Click here to view entire Product Range
Products :

Writing Instruments Like Ball Pens, Roller Pens In Different Sizes And Shapes.

Company Profile :

Puppet Pens Products Are Manufacturers Of A Wide Range Of Pens In Different Sizes And Shapes. Its Product Having World Class Quality And Extends In The Market In India As Well As In Abroad.

Send :
On-Line Trade Inquiry
Click here to view entire Product Range
Products :

Desktop Watches, Gold Played Watches, Acrylic Brass Clocks, Brass Alarm Clocks, Brass Products, Brass Table Clocks, Crystal Clocks, Crystal Products, Exclusive Gifts Sets, Packaging, Wrist Watches, Pen Stand, Desktop Stationery ,etc.

Contact Person :
Mr. Mohit Gupta
Company Profile :

Polo Gifts Is In The Business Of Manufacturing Watches & Clocks Since More Than Last 3 Decades. The Vast Experience Is Reflected In The Designs, Which Amalgamate Craftsmanship Of Classical Era With The Contemporary.

Send :
On-Line Trade Inquiry
Click here to view entire Product Range
Products :

Zebra Writing Instruments Like Gel Ink Pens, Ball Point Pens, Pencils, Liquid Ink Roller Ball Pen, Scented Inks, Highlighters, Marker Pens, Refills, Correction Pens And Many Multifunctional Pens.

Contact Person :
Mr. Mahendra K. Choraria
Company Profile :

H.m.international With Its Branded Product Of Zebra India Has Been Manufacturing Pens Or Various Writing Instruments With Soft And High Performance And Adjustable Binder Clip.

Send :
On-Line Trade Inquiry
Click here to view entire Product Range
Products :

Office Stationery Like Clear Books, Ring Binders, Clip Files, Clear Holders, Polypropylene Clear Files, Envelope Bags, Card Holders, Pen Cases, Zipper Bags, Conference Bags, Expanding Files And Even Shopping Bags, Packaging Boxes & Photo Album

Contact Person :
Mr. Rajesh K. Satra
Company Profile :

Manufacturers Of A Wide Range Of Stationery Products Like P.p Files, Folders, Display Books, Conference Folders, Portfolios Bags, Etc.

Send :
On-Line Trade Inquiry
Click here to view entire Product Range
Products :

Duplicating Ink, Stamp Pad, Fountain Pen Ink, Carbon Paper, Adhesive Gums, Synthetic Gum, Adhesive Paste And Many More Products.

Contact Person :
Tejas
Company Profile :

Manufacturer, Suppliers, Exporters And Wholesaler Of Variety Of Office And School Stationery Product Like Duplicating Ink, Stamp Pad, Fountain Pen Ink, Carbon Paper, Adhesive Gums, Synthetic Gum, Adhesive Paste And Many More Products.

Send :
On-Line Trade Inquiry
Click here to view entire Product Range
Products :

Ring Binders, Display Books, Clip Files, Box Files, Combination Files, Conference Folders, Business Card Holders, L-folders, Expansion Cases, Document Cases, Utility Boxes, Envelopes, Pen Stands, Acrylic Writing Boards,etc.

Contact Person :
Mr. Ram Kumar Garg
Company Profile :

Bharat Plasticware Has Been Manufacturing Plastic Ware Or Things With The Specialisation. Its Filling System Products Are Designed To Suit The Variety Of Purpose, People & Places.

Send :
On-Line Trade Inquiry
Click here to view entire Product Range
Products :

Key Chain, Bags, Table Clocks, Leather Boxes,pen And Pencil Stand Etc.

Contact Person :
Boby Chawla
Company Profile :

Ajuni Products Inc. Is The Manufacturers, Supliers, Exporters & Wholesaler Of Corporate Gift & Novelties And Decorative Items Such As

Send :
On-Line Trade Inquiry
Click here to view entire Product Range