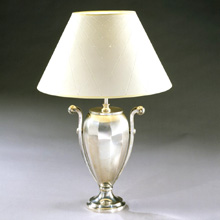 Table lamps - light with style.
table lamp serves as an important lighting accessory to crate an elegant look to the décor of the house. Table lamps are the center attraction of the house in the indian style. These table lamps are used as exclusive table lighting in both traditional and contemporary settings, the table lamps are placed in the decor for a dash of style which enhances the entire look and beauty thus rises through it with the use of various colors. The skilled indian artisans select color combinations that are intentionally chosen for the light and dark contrasts that form an important choice which would not only look classy but goes well with the interior as well. Using simple patterns, often combining metal and wood with art glass, they create table lamp that provide lighting in perfect coordination with the exquisite home furnishings and decorative table lamps are designed in a variety of shapes and sizes.
The perfect finishing is required for these table lamps to give a touch to a room to light a dark corner or to provide some reading light, wrought iron table lamps surely make a place in everyone's house. These lamps are handmade with care by talented artisans which are safe to use. The visual strength and beauty of these rustic wrought iron lamps makes them the perfect room accent for every kind of décor which thus enhance the décor of the room. These table lamps create a unique style and allure in office and home with these beautiful pieces which are used gifting tool in the corporate sector.
Nowadays, many table lamps are being designed and crafted in fascinating shapes, sizes, and styles to fit and enhance the décor which attracts most of the people. It is easy to find sleek contemporary table lamps and more traditional table lamps with fabric shades that match other décor especially in indian style and culture where people are quite accustom to use these table lamps. These table lamps are made of glass, metal, ceramic and wood. It is not very easy to find the perfect table lamp to satisfy the decorating standards but according to the person's choice and preference they can be designed according to selection of the people. The appearance of these table lamps may be good but such should not be the only factor to consider as other factors like quality, durability too is to be considered.
Featured products of Table Lamps
This table lamp is designed with doomed/ umbrella type. The upper crest of this table has offered with a blend of dark red colour. This is an eye catching gift item offered by unique laser in different colours. ...

Company Name : UNIQUE FORMS Click here to view entire product range
Products :

Diamond Crystal Glassware (30 % Lead Handcrafted), Dinner Sets, Glass, Clocks, Vases, Export Quality Tables, Decanters, Lamps, Bar Accessories

Contact Person :
K.b.jalnawalla
Company Profile :

Diamond Crystal Pvt. Ltd. Are Manufacturers Of A Wide Range Of Diamond Crystal Glassware (30 % Lead Handcrafted), Dinner Sets, Glass, Clocks, Vases, Export Quality Tables, Decanters, Lamps, Bar Accessories Etc. In Awe Inspiring Finish.

Send :
On-Line Trade Inquiry
Click here to view entire Product Range
Products :

Wallets, Pen Sets, Table Tops, Tele Index, Table Calenders, Pouches, Diaries, Pen Stands, Tea Coasters, Table Lamps, Unique Torches, Quartz Clock (wall /table), Ash Trays, Paper Weights, Bottle Opener/ Fancy Keychain (metal / Leather / Pvc / Rubber), File Cases / Conference Bags

Contact Person :
Mr Nuruddin Roshan
Company Profile :

Trade & Supplier Engaged In Offering A Wide Assortment Of Corporate Gifts & Promotional Items Such As

Send :
On-Line Trade Inquiry
Products :

Keychains, Clocks, Torches, Bags, Pouches, Wallets, Table Lamps & Pharma Giveaways, Stationery Item, Ball Pens, Pensands, Table Top Items, Telephone Diaries, Date Diaries

Contact Person :
Mr. Manohar B. Narang
Company Profile :

Manufacturers And Supplier Of Corporate And Promotional Gifts

Send :
On-Line Trade Inquiry
Products :

Decorative Table Lamps, Metal Desk Lamps, Tall Floor Lamps, Mounted Wall Lamps, Hanging Ceiling Lamps, Decorative Lamp Shades, Metal Chandeliers, Silver Hollowwares, Flatware Serving Pieces, Nautical Sets, Metal Hardware Fittings, Decorative Gift Items

Contact Person :
Mr. Zeeshan Adil
Company Profile :

Manufacturing And Exporting Of Decorative Indoor Lighting Products. Along With This We Also Manufacture Builder Hardware & Giftware. Our Classy Products Are Sure To Brighten And Create Magic In Any Setting.

Send :
On-Line Trade Inquiry
Products :

Corporate Gifts, T Shirts, Promo Gifts, Table Tops, Pens, Pen Sets, Pen Stands, Jaipur Wood Handicrafts, Purse, Bags, Mobile Holders, Rajasthan Handicrafts, Lamps, House Hold Items, Gift Sets

Contact Person :
Mr. Jayaraman Geetha
Company Profile :

Supplier Of All Types Of Corporate Gifts, T Shirts, Promo Gifts, Table Tops, Pens, Pen Sets, Pen Stands, Jaipur Wood Handicrafts, Purse, Bags, Mobile Holders, Rajasthan Handicrafts, Lamps, House Hold Items And Gift Sets Etc.

Email is not available
Products :

Decorative Wall Mural, Handmade Wall Mural,handmade Pottery, Decorative Mirrors,decorative Lamps,corporate Gifts,console Tables,wall Mounted Drawer,mirror Soles Tea Tables,glass Center Tables,counter Tables,

Contact Person :
Mr. Uday. K. B / Mrs. Madhu Ch
Company Profile :

Earthen Symphony Is Specialised In Designing Artifacts

Send :
On-Line Trade Inquiry
Products :

Leather Bags,• Leather Coaster Set,leather File Folders, Leather Golf Ball Holders,leather Key Rings, Leather Laptop Bags, Leather Note Pads, Leather Office Bags, Leather Office Folders, Leather Photo Frames, Leather Portfolio Bags, Leather Portfolios, Leather Round Tray, Leather Table Lamps, Leather Wallets,

Contact Person :
Mr. Nalin Gupta
Company Profile :

Manufacturer And Exporter Of Leather Photo Frames, Leather Table Lamps, Leather Coaster Set, Ladies Wallets, Leather Office Folders, Leather Note Pads, Leather Bags, Ladies Purse And Leather Key Rings And Leather Key Pouches

Email is not available
Products :

Furniture - Colonial, Furniture-decorative, Furniture-metal / Iron, Furniture Rattan/bamboo, Furniture-wooden, Garden Furniture, Leather Goods, Marble-alabaster & Crafted Stones, Marbles-glass, Reproduction Fine Arts, Colonial, Anglo-indian And Indo-portuguese-like Cabinets, Writing Tables, Chests Of Drawers, Cupboards, Dining Tables, Chairs, Chests, Hanging Lamps / Chandeliers, Marine / Scientific Instruments, Clocks / Gramophones And Many Other Products.

Contact Person :
Mr. Deepak Shah
Company Profile :

Supplies Of A Wide Range Of European And Oriental Works Of Art, Engravings, Architecture, Furniture Of Both Colonial And Ethnic, Reproduction Furniture And Many More.

Send :
On-Line Trade Inquiry
Click here to view entire Product Range
| Corporate Gifts Home | Corporate Gifts Directory | Corporate Gifts Products |
table lamps, contemporary table lamps, decorative table lamps, traditional table lamps, corporate gift , promotional tool, manufacturers, suppliers, exporters, indian

--------------------------------------------------------------------------------
Website Development and Search Engine Optimization by : Aditya Infotech
Copyright © 2013 Netlink Solutions (India) Ltd. All rights reserved, including the right to reproduce the contents of this website in whole or in part without prior written permission