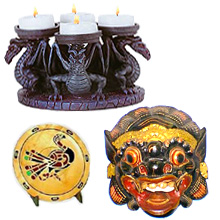 Decorative products- an unforgettable impression.
Decorative products not only attract people but also are cynosure to eyes. Decorative products which suit the home décor are the best ones to use for the home. By using decorative products in the office the ambiance and the aroma created thus is very much soothing and enhance the décor of the office. These decorative products are to be showcased and are to be exhibited as apiece to be treasured. As the term 'decorative product' is very much in a simplified way so is the beauty of these products. Decorative items of different design, style, shape and color which is manufactured to cater the aesthetic needs of the people. There are different kinds of decorative products and those are bracelets, picture frames, and christmas lights etc which are for home décor and also can be used for home accessory. The hammered range of stainless steel decorative items is now available in the market to adorn the office décor, homes and hotels.
The other decorative products are decorative boxes, decorative wall hangings, decorative metal sculpture and decorative wooden handicraft. Decorative boxes are not only used to keep belongings inside but also can be kept a s showpiece as because the outer cover of the box is also decorative and can be made into a fascinating item which would enhance its appeal. These decorative boxes are available in many shapes and sizes. Wooden decorative boxes look beautiful and are exquisite which attracts the attention of the people as well as available in natural colors in the shades of bright and catchy color form. Decorative marble boxes are handmade and look lovely as the feel of polished marble and the inlay work of decorative motifs thus add the glory to these boxes and with various designs and patterns it comes up with shiny and a glaze on it.
Decorative wall hangings are made from high quality fabrics and from other raw materials. These beautiful wall hangings are breathtakingly attractive thus portray the ultimate sophisticated embroidery which is carved out marvelously on these wall hangings. Decorative metal sculpture is characterized by exquisite designs and unmatched finish. These metal sculptures come in variety of shapes, sizes and designs.
Featured products of Decorative Products
Royale create value added promotionals, souvenirs, leather artifacts, writing instruments and all brand development accessories. ...

Company Name : ROYALE COLLECTIONS
A three-dimensional creation of any human, animal, bird or godly figure is an idol or sculpture. These idols and sculptures vary in shapes and sizes and can be customized as per specifications desired by the customer. Stone sculptures have been aroun ...

Company Name : B. R. B. Art and Crafts Click here to view entire product range
Painting is the practice of applying paint, pigment, color or other medium to a surface. The application of the medium is commonly applied to the base with a brush but other objects may be used. In art the term describes both the act and the result w ...

Company Name : WILMAR CREATIONS Click here to view entire product range
Products :

Coasters, Photoframes, Decorative Products, Wall Hangings

Contact Person :
Geeta Curumsey
Company Profile :

Manufacturers/ Suppliers Of Handicrafts And Gifts

Send :
On-Line Trade Inquiry
Products :

Eminent Quality Fancy Decorative Handmade Paper Products, An Inexhausitible Variety Of Beautiful Art Papers, Creative Stationery & Luxury Gift Items.

Contact Person :
Umesh Singh
Company Profile :

Manufacturers & Exporters Of Eminent Quality Fancy Decorative Handmade Paper Products, Art Papers, Creative Stationery & Luxury Gift Items.

Send :
On-Line Trade Inquiry
Products :

Religious Alarms, Religious Clocks, Promotional Pharma Products, Promotional Clocks, Corporate Chip On Board , Chip Bonding Job Work, Calculators And Digital Diaries, Clock & Alarm Movements, Voice Greeting Card Modules, Musical Modules For Gift Boxes, Musical Modules For Carpets, Musical Modules - Raakhis Musical Modules - Customized Titan Watches, Indian Watches, Decorative Gift Articles

Contact Person :
A.k.jain
Company Profile :

Manufacturers, Wholesaler Of Different Kinds Of Watches For Corporate Gifting

Send :
On-Line Trade Inquiry
Products :

Marble And Stone Handicrafts, Wooden Sculptures, Handicraft Furniture, Decorative Gemstone Painting, Handmade Paper Products, Emboss Painting Animal, Gemstone Items, Jaipur Dolls, Marble Handicrafts, Handmade Collections, Sandalwood Items, Semiprecious Stone Figures, Velvet Hanging Items, White Metal Work, Wooden Handicraft Items Etc.

Contact Person :
Mr. Prince Agarwal
Company Profile :

Established In The Year 1990, Maruti Sandal Arts Is Counted Among Established Companies Engaged In Manufacturing And Exporting Of A Comprehensive Gamut Of Handicrafts Items.

Send :
On-Line Trade Inquiry
Products :

Wooden Products Such As Wooden Accessories, Almirahs, Benches, Book Shelves, Boxes, Cabinets, Candle Stands, Chairs, Frame Screens, Side Boards, Tables, Bottle Stands; Iron Products Such As Bed Frames, Benches, Bottle Stands, Candle Stands, Chairs, Figures, Miscellaneous, Racks, Screens, Tables; Painted Products; Textile Products; Decorative Products

Company Profile :

Manufacturers And Exporters Of Decorative Products.

Send :
On-Line Trade Inquiry
Products :

Fashion Jewellery, Hi Fashion Readymade Garments & Madeups And Handmade Decorative Items.hand Bags, Round Handed Bags, Footwears, Home Furnishing Products, Decorative Items.

Contact Person :
Mrs. Rinku Baheti
Company Profile :

Established In The Year 2003, "bani Thani" Has Etched A Resounding Name For Itself In The Domain Of Manufacturing, Supplying And Exporting Varied Kinds Of

Send :
On-Line Trade Inquiry
Products :

Toys, Party Decorative, Sports Items, Stationery Products And Musical Items.

Contact Person :
Mr. Puneet Jain
Company Profile :

Established In 1990, We Raghav Marketing Company Are One Of The Prominent Importers And Suppliers Of A Wide Range Of

Send :
On-Line Trade Inquiry
Products :

Furniture - Colonial, Furniture-decorative, Furniture-metal / Iron, Furniture Rattan/bamboo, Furniture-wooden, Garden Furniture, Leather Goods, Marble-alabaster & Crafted Stones, Marbles-glass, Reproduction Fine Arts, Colonial, Anglo-indian And Indo-portuguese-like Cabinets, Writing Tables, Chests Of Drawers, Cupboards, Dining Tables, Chairs, Chests, Hanging Lamps / Chandeliers, Marine / Scientific Instruments, Clocks / Gramophones And Many Other Products.

Contact Person :
Mr. Deepak Shah
Company Profile :

Supplies Of A Wide Range Of European And Oriental Works Of Art, Engravings, Architecture, Furniture Of Both Colonial And Ethnic, Reproduction Furniture And Many More.

Send :
On-Line Trade Inquiry
Click here to view entire Product Range
Products :

Finest Handmade Paper And Its Products,unique Decorative Paper Machie Products,etc.

Contact Person :
Mr. Anirudh Sachdeva
Company Profile :

The Company Is One Of The Leading Manufacturers And Suppliers Of Wide Gamut Of Handmade Paper & Paper Crafts, Paper Box, Paper Mache Box, Paper Mache Crafts And Spacious Gift Items Etc.

Send :
On-Line Trade Inquiry
Click here to view entire Product Range
Products :

Christmas Star, Christmas Tassels, Christmas Decorative Items, Christmas Stockings, Christmas Tree,skirts, Costume Bracelets, Fashion Jewelry, Beaded Key Rings, Jewelry Box, Fashion Beaded Bags, Leather Products, Decoration Accessories

Contact Person :
Ms. Yogita Seth / Mr. Vijay
Company Profile :

Manufacturer & Exporter Of An Exquisite Collection Of Christmas Decorative Item, Decorative Accessories And Home Furnishing. Our Range Is Appreciated Globally, As A True Reflection Of The Rich Indian Art And Culture.

Send :
On-Line Trade Inquiry