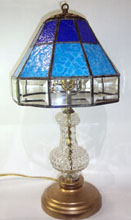 Canopy showering splendid beauty!
Lamp shades are perfect and ideal for house décor. The lamp shades not only light our rooms but also give a unique touch to it with the smooth color combination. The lamp shades enhance the décor of the room, parties, and romantic dates. It also boosts up the ambiance of the entire décor. Lamp shades are the integral part of any kind of lamp and thus give it a decorative unique look and grandeur. Lamp shade designs vary extremely traditional and ornate it to the simple and trendy ones. Lamp shades complement lamps and fascinate homeowners. Lamp shades can be of various sizes, shapes depending on the size of lamps which enhance the beauty of lamp shades whenever they are in use. The change in time and fashion has brought varieties of lamp shades in the market which reflects the personal choice of the people.
Lamp shades are experimented with edge effects, colors, blend modes, shadows etc. Lamp shades are the perfect ones to create an ambience which is soothing that people are often compelled to purchase this product. These lamp shades are beautifully embroidered and embellished with mirrors which ideally suit the décor of the room. The quality and range of these lamp shades ensures durability, tensile strength and the ability to withstand types of climatic conditions around it. There are varieties of lamp shades available and one of them is antique lampshades which are handmade and are usually made out of bright and vibrant colors of blue, red, yellow which very much enhance the room. The other one is coconut wood lamp shades which are made of coconut shells and are very much attractive and look pretty. Crochet lampshades are delicately beautiful or charming and are attractive. Most popular and innovative ones are glass lampshades which are made of stain glass. There are various types of designs, shapes available for these lamp shades.
To furnish the lamp's exquisiteness they are ornate with dangling beads or fringes and these lamp shades are also made out of wood, fabric, paper etc. Lamp shades are used for gifting purpose like weddings, anniversaries and also for the promotions and corporate celebrations.
Products :

Beaded Photo Frames, Jewellery Box, Beaded Fashion Bags, Lamp Shades, X-mas Hangings & Ornaments, Gifts & Home Furnishing Items Like Cushions & Table Runners, Curtains Tie Backs, Tassels, Beads, Beaded Belts, Beaded Notebooks & Albums And Many Such Items.

Contact Person :
Mr. Nitin Nagpal
Company Profile :

Manufacturer, Supplier And Exporter Of Spacious Handicraft Items Such As Photo Frames, Costume Fashion Jewelry, Fashion Bags, Lamp Shades, T-lite Holders, X-mas Ornaments, Christmas Decoration Items, Wooden Boxes, Gifts & Home Furnishing Items Like Cushions & Table Runners.

Send :
On-Line Trade Inquiry
Click here to view entire Product Range
Products :

Gift Items, Stationery, Lampshades, Glass Photo Frames, Pen Stand, Glass Clock, Decorative Trays,

Contact Person :
Mr. Ankur Dhandharia
Company Profile :

Ankur Exports Is A Reputed Name In The Handmade Paper Industry. Our Wide Range Of Handmade Paper Products Has Consistently Benchmarked Quality And Innovation Standards In The Industry. With Our Production Excellence And Product Innovation, We Have Earned A Loyal And Satisfied Client?e` Around The World. Our Products Are Not Only At The Cutting Edge Of Innovation; They Are Also Exquisite Examples Of Unique Designs That Express Creativity With Flair And Style.

Send :
On-Line Trade Inquiry
Click here to view entire Product Range
Products :

Handmade Paper Stationery, Handmade Paper Lampshades, Handmade Paper Photo Albums, Journals, Velve Paper, Screen Printed Paper

Contact Person :
Mr Manager
Company Profile :

A.l. Paper House Was Established More Than 400 Years Ago. Our Ancestors Were Also Awarded By Emperors, Kings During That Period.

Send :
On-Line Trade Inquiry
Click here to view entire Product Range
Products :

Decorative Bowl, Candle Stand, Tables, Lamp Shades, Iron Basket, Iron Vases Etc.

Contact Person :
Mrs. Vandana Arora
Company Profile :

Presenting An Extensive Collection Of Metal Handicrafts We Have Made A Significant Place In The Industry, Known For Our Superior Quality Decorative Metal Handicrafts And Ability To Customize Our Products As Per The Client`s Requirements. We At Shubh Craft, Have Been Catering To A Large Client Base Across India. Empowered With Our Manufacturing Facilities And Experience, We Have Marched Ahead Of Our Competitors In The Industry.

Send :
On-Line Trade Inquiry
Products :

Lamps, Lamp Shades Etc.

Contact Person :
Mr. T. Chandrasekar
Company Profile :

Shree Associates Was Established In 1991 And Was Originally Named Soft Link Home Appliances. In 2009 We Re-introduced Ourselves With A New Name But Our Policies And Zeal To Serve Our Clients To Achieve Their Complete Satisfaction Continues. We Are One Of The Traders Of A Wide Variety Of Mixier Grinder, Emergency Lamp, Excel Mixer Grinder, Led Emergency Lamp, Induction & Gas Stove, Induction Cooker, Emergency Lamp, Steel Utensils And Corporate Gifts

Send :
On-Line Trade Inquiry
Products :

Handmade Candle Stands, Lampshades Stand & Shades, Gift Articles, Wrought Iron Furnitures, Corporate Gifts, Wrought Iron Furniture

Company Profile :

Mfrs. Of Handmade Candle Stands (more Than 650 Designs), Lampshades Stand & Shades, Gift Articles, Wrought Iron Furnitures, Corporate Gifts, Wrought Iron Furniture.

Email is not available
Products :

Tea Pots, Tableware, Cake Stands, Pillar Candle Holders, Decorative Items, Flower Vases, Household Trays, Lamp Shades,

Contact Person :
Mr. Arbab Shamsi
Company Profile :

Paramount Home Collections A Daughter Concern Of Paramount Trading Corporation, A Company Established Over 50 Years Ago By Late Haji Mohammad Ahsan Shamsi.

Send :
On-Line Trade Inquiry
Products :

Home Furnishing Items Like Bed Linen, Table Linen, Cushion Covers, Curtains And Other Soft Furnishing Products & Handicrafts Items Which Includes Hangings, Lace Items, Bags And Pouches, Cushion & Stocking, Lamp Shades, Photo Frame & And A Variety Of Other Handicrafts.

Contact Person :
Mukesh Chandak
Company Profile :

A Company Manufacturing And Exporting Home Furnishing Items Like Bed Linen, Table Linen, Cushion Covers, Curtains And Other Soft Furnishing Products & Handicrafts Items Which Includes Hangings, Lace Items, Bags And Pouches, Cushion & Stocking, Lamp Shades, Photo Frame & And A Variety Of Other Handicrafts.

Send :
On-Line Trade Inquiry
Products :

Desktop Stationary, Corporate Gifts, File Covers, Document Holders, Wine Bags, Designer Gift Bags, Gift Items, Lamp Shades, Photo Frames, Paper Mesh Tray, Paper Shopping Bags, Gift Boxes And Jute Wine Bags.

Contact Person :
Mr. Manoj Kumar Basak
Company Profile :

Manufacturer And Exporter Of

Send :
On-Line Trade Inquiry
Products :

Exclusive Banana Papers, Natural Banana, Colour Bannana, Block Printed Banana, Bananan Duedrops, Mottled Banana, Curl Laminated Banana, Silk Papers, Mulbery Papers, Mottled Papers, Batik Papers, Flower Petals, Leatherettes, Dew Drops, Embossed, Metallic, Paper Bags, Lamp Shades, Letterheads, Envelopes, Diaries, Address Books, Photo Albums & Greeting Cards.

Contact Person :
M. Suresh Kumar
Company Profile :

Manufacturer Of Handmade Paper

Send :
On-Line Trade Inquiry