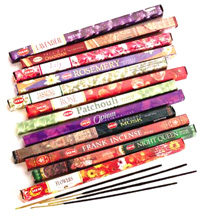 Let a whiff of aroma be the souvenir.
incense sticks fills your environment with fragrance and boost up your spirit. These incense sticks are used to treat yourself with aromatic peaceful moments. These incense sticks have a blend of various fragrances which include fruit, floral and spices. These incense sticks make use of high quality material used for manufacturing these sticks. The use of herbal, floral content thus gives soothing fragrance and offer durability. While making use of these incense sticks the person feels relaxed and further van concentrate on his work. The kind of meditative surrounding is created in the house when these incense sticks are used. These incense sticks can also be used for religious purposes for devoting or for adorning the idol.
Incense sticks come in different varieties which are sandalwood, mysore wood incense sticks and handmade sticks. Sandalwood sticks are made from naturally occurred sandalwood and is considered to be with spiritual and pure aroma. Also the herbal incense sticks are made using natural ingredients like essential oils and rare herbs which tend to flourish the fragrance in the house and thus enhance it more beautifully in a very subtle way. The honey incense sticks has a mild fragrance of honey and herbal spices which helps in relaxing or at the time of peace and calm atmosphere.
Indian incense sticks are different as compared to others. These incense sticks are made by using wood powder, oil and water. These incense sticks traditionally use resins, woods and herbs. These also make use of unique items like musk and are usually known as 'agarbatti' an indian name are usually handmade and are spiritually used as medicine. To get the proper balance these sticks generally use hand pick ingredients. The unique varieties of incense sticks are pouch incense sticks which are always packed in a packet so that the fragrance is intact in the packet and when removed out it is durable and lasts long. These incense sticks are environment friendly and are used to spread the aroma around. It is very much appreciated for its fragrance when it is burnt.
Featured products of Incense Stick
Fruit are one of the greatest natural flavors, it`s wisdom is relevant today as it has been through the centuries. The fragrance of its divine power, the sublime glory of its verses, carry the universal and eternal message of hope, love and joy of li ...

Company Name : Raj Fragrance Click here to view entire product range
Raj fragrance is a renowned company for all types of incense sticks. It has come out with new range of product called krishna incense sticks. These sticks symbolize the eternal relationship between people and god and it provides your access to divine ...

Company Name : Raj Fragrance Click here to view entire product range
A wide variety of life incense sticks are offered by raj fragrance a company known to supply qualitative and reliable incense products. The life series of aroma sticks is a tribute from raj fragrance to that magical force that throbs in each one of u ...

Company Name : Raj Fragrance Click here to view entire product range
Raj fragrance offers the real fresh fragrance lovely six incense sticks. In this any 6 fragrance of your choice from nature magic & fruit punch hexagons can be packed to make an ideal gift or for personal use. These are bound to bring a peaceful atm ...

Company Name : Raj Fragrance Click here to view entire product range
Raj frangrance a renowned name in incense sticks industry supplies a variety of traditional incense sticks which are available in herbs, woods, smaran, sapth sugandh, sandal mist, sandal magic, garden rose, jasmine indian, impulse, chand and rose tri ...

Company Name : Raj Fragrance Click here to view entire product range
Products :

Incense Sticks In Fruit,floral, Fruit Cosmetic And In Other Exotic Flavours

Contact Person :
Sridhar
Company Profile :

Raj Fragrance, Incorporated Since 1993 Offers A Variety Of Fragmented Incense Sticks In Different Flavours Like Traditional, Floral, Fruit Cosmetic And In Other Exotic Fragrances. The Company Is Known To Provide Qualitative.

Send :
On-Line Trade Inquiry
Click here to view entire Product Range
Products :

Incense Sticks, Amber Glass Bottles, Band Bags, Bar Glasses, Bone, Bracelets, Candle, Caps, Card Holder

Contact Person :
Mr Ankit Gupta
Company Profile :

Mfr, Importer, Exporter Of A Wide Range Of Products Such As

Email is not available
Products :

Incense Sticks, Agarbattis In Various Ranges Like Precious Range, Aura Range, Floral Range, Noble Range, Cosmic Range, Fruity Range & Masala Range.

Contact Person :
Mr. Uday Shah
Company Profile :

Manufacturer And Exporters Of Sandal Fragrance And A Very Special Range Of Incense Sticks - Agarbattis.

Send :
On-Line Trade Inquiry
| Corporate Gifts Home | Corporate Gifts Directory | Corporate Gifts Products |
incense stick, hand rolled incenses, incense, fragrance sticks, corporate gifts, incense, sticks manufacturers, suppliers, exporters, indian

--------------------------------------------------------------------------------
Website Development and Search Engine Optimization by : Aditya Infotech
Copyright © 2013 Netlink Solutions (India) Ltd. All rights reserved, including the right to reproduce the contents of this website in whole or in part without prior written permission