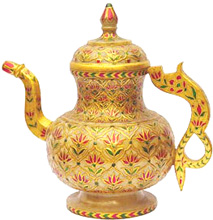 A renown for brilliance!
Marble has always been an elegant and beautiful piece which thus gives a fresh, shining and glossy look that attracts people and makes them buy this product. The immaculate marble décor which ahs a range of stylish interior decoration creates smooth and charming look which is very marvelous. Marble decoratives are beautiful art pieces made up of marble that are generally used as decoration articles at home which thus enhances the beauty of the house and gives a fresh feeling of its simplicity. In fact, most often these artifacts especially marble serve one or the other purpose, besides being just decoratives and it can also be used for the purpose of flooring. Marble decoratives come handy too for various purposes and is used a gifting tool for corporate sector the concept of gifting a marble décor is regarded as unique concept.
The marble décor has been characterized as an artistic finesse. These decorative marble items are carved out using high quality marble and are very much appreciated for its exceptional designs. These marble decors are available in different types of colors, shapes and sizes. Today marbles are carved out beautifully with an exemplary design or patterns and thus have a shinning finish which is used to decorate beautiful corners of the homes which adds a unique touch of classy look. The marble decor has the blend of glossiness and smooth texture which is appropriate for bungalows and duplex homes.
There are various marble decoratives available out of which one of them is marble candle holders that gracefully compliment the décor of an interior of the house. The other is marble photo frames that elegantly encase the pictures and act as a beautiful wall décor. The other type is marble chess set which is reliable and unique one which have smooth surface and looks interesting with the color combination of black and white. Marble jewelry box which has smooth white finish and are carefully crafted which have unique designs and patterns carved on it.
Featured products of Marble Decor
Marble remains an elegant choice for floors, fireplaces and even more. Immaculate marble decor in a range of stylish interior decoration, creates a smooth look and charms. Marble decor continues to be considered as the most elegant and historically p ...

Company Name : AJUNI PRODUCTS INC. Click here to view entire product range
Products :

Marble And Stone Handicrafts, Wooden Sculptures, Handicraft Furniture, Decorative Gemstone Painting, Handmade Paper Products, Emboss Painting Animal, Gemstone Items, Jaipur Dolls, Marble Handicrafts, Handmade Collections, Sandalwood Items, Semiprecious Stone Figures, Velvet Hanging Items, White Metal Work, Wooden Handicraft Items Etc.

Contact Person :
Mr. Prince Agarwal
Company Profile :

Established In The Year 1990, Maruti Sandal Arts Is Counted Among Established Companies Engaged In Manufacturing And Exporting Of A Comprehensive Gamut Of Handicrafts Items.

Send :
On-Line Trade Inquiry
Products :

Wooden Handicrafts,wooden Statue, Wooden Sculprue, Wooden Animal, Wooden Birds, Wooden Key Chain, Wooden Elephant, Wooden Ambari, Tea Coaster,marble Handicraft, Marble Painting, Marble Decorative Painting, Marble Lady Painting, Marble Pot, Gemstone Painting Box, Gemstone Paintng Tea Coaster, Gemstone Painting, Hand Made Paper Product, Corporate Gift, Lac Item..

Contact Person :
Mr. Kamal Kumawat
Company Profile :

Established In The Year 2005, We, Indian Crafts, Have Established A Strong Foothold In The Market By Manufacturing, Supplying, Trading And Exporting A Broad Spectrum Of

Send :
On-Line Trade Inquiry
Products :

Furniture - Colonial, Furniture-decorative, Furniture-metal / Iron, Furniture Rattan/bamboo, Furniture-wooden, Garden Furniture, Leather Goods, Marble-alabaster & Crafted Stones, Marbles-glass, Reproduction Fine Arts, Colonial, Anglo-indian And Indo-portuguese-like Cabinets, Writing Tables, Chests Of Drawers, Cupboards, Dining Tables, Chairs, Chests, Hanging Lamps / Chandeliers, Marine / Scientific Instruments, Clocks / Gramophones And Many Other Products.

Contact Person :
Mr. Deepak Shah
Company Profile :

Supplies Of A Wide Range Of European And Oriental Works Of Art, Engravings, Architecture, Furniture Of Both Colonial And Ethnic, Reproduction Furniture And Many More.

Send :
On-Line Trade Inquiry
Click here to view entire Product Range
Products :

Decorative:, Flowery, Silken, Laminated, Leatheroid, Mottled, Marbled, Bathik, Agro, Granite, Coated, Banana, Mulbery

Contact Person :
G. Ramchander Rao
Company Profile :

We Are Gandhi Papers – Crafts, An "organization" On A Mission To Serve The Aesthetic Needs Of "friends Of Nature" By Making Universally Available The Best Of Handmade Papers And Enduring Items Of Utility Crafted In A Form Of Beauty And Attraction. We Have Enabled Ourselves To Meet The Challenges Of The Present Day Demands Of Quality At An Affordable Cost.

Send :
On-Line Trade Inquiry
Products :

Marble Handicrafts, Statues, Flower Vases, Decorative Items Etc.

Contact Person :
Mr. Vivek Totla / Gaurav Totla
Company Profile :

Trident Handicrafts Holds Expertise In Manufacturing, Supplying And Exporting An Exemplary Range Of Marble And Stone Based Handicraft Items. Since Its Incorporation In The Year 2002, Our Organization Has Gained Expertise In Offering An Enticing Collection Of Marble Artifacts, Pots, Decorative Items, Vases, Gift Items And Paintings. In Addition, We Also Offer Marble Statues, Handicrafts, Animals & Bird Figures, Inlays, Fountains And Furniture.

Send :
On-Line Trade Inquiry
Products :

Marble Decors, Taj Mahal Replicas, Soap Stone Items, Photo Frames, Religious Statues

Contact Person :
Mr. S . C . Khanna
Company Profile :

Stone Craft Manufactures And Exporters A Variety Of Decorative Products Like Marble Decors, Soap Stone Items, Marble Table Top Items, Photo Frames Etc.

Send :
On-Line Trade Inquiry
Products :

Marble Idols And Statues, Garden Decoratives, Home Decoratives, Architectural Products, Marble Inlay Table Tops, Natural Stones And A Host Of Customized Products. Every Product Of Ours Hold Unmatched Quality, Durability, Finish & Aesthetics.

Contact Person :
Mr. Abhishek Dixit / Mr. Ashvinee Dixit
Company Profile :

Established In The Year 1945, We - Prabhat Exports, Are A Recognized Manufacturer & Exporter Of

Send :
On-Line Trade Inquiry
Products :

Textiles(table Mats,wall Hangings), Decorative Furniture, Carpets, Handicrafts (wood Crafts, Marble Crafts, Brass Crafts), Paintings ( Silk Paintings, Embroidered Paintings).

Contact Person :
Mr. Haresh
Company Profile :

Artisans, One Of The Manufacturer In The Field Of Textiles /garments / Handicrafts / Jewellery Of Indian Origin Exporting For India And Abroad.

Send :
On-Line Trade Inquiry
Click here to view entire Product Range