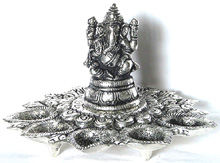 Metal decor - exuding exuberance.
The era of metal products exudes and alluring and charming effect to the décor with an unmatched styles which looks very graceful with beautiful designs. These metal décor are crafted with a perfect finish as it creates an ethnic touch to it and the embellishment of precious and semi precious stones magnify the beauty of intricate designs on these metal products. Metal wall décor are designed for adding life to the walls. The metal walls are decorated with the specific themes and are decorated with mirrors and metal chips.
The other varieties of metal décor include metal wall art sculptures which improves the style of home with any of these metal wall art sculptures. There are beautiful decorative pieces of art for these metal wall art sculptures which have the ability to add interest to a space in such a simple way and change the effect by placing in a different room, or hanging at a different angle. These art sculptures are available in large or small; each iron scroll wall art piece is so diverse that it can easily create the exact look which the person wants. These metal wall art sculptures use simplicity to achieve elegance.
The other type includes metal decoration coating which is highly reliable and safe for use. It is waterproof and resistant to chemical and can be mixed with various acids like vinegar or sulfuric acid to obtain the desired colors. The other ones are metal decorative vases or planters which are designed to give a pleasant and artistic look to lush the greenery planted in the interiors as to hold decorative plants. These metal decorative vases compliment the right hue and color shades which give these plants an edge and these vases are available in the market. The following metal decoratives are used a gifting tool for corporate sector either to compliment or appreciate the work of the person and can also be used a promotional tool for the company associates, employees and clients.
Products :

Corporate Gifts And Awards, Decorative Banisters, Designer Brassware, Hand Crafted Metal Works Etc.

Contact Person :
Mr. Sampathappasamy
Company Profile :

We Have Been Gaining Experience From Last More Then 21 Years As To Provide Complete Range Of Excellent Quality Metal And Brass Handicrafts, Handicraft Items And Project Services Throughout The Globe. These Are Widely Demanded Due To Style Art Such As Contemporary, Post Modern, Modern, Ethnic, Classical And Eclectic.

Send :
On-Line Trade Inquiry
Click here to view entire Product Range
Products :

Furniture - Colonial, Furniture-decorative, Furniture-metal / Iron, Furniture Rattan/bamboo, Furniture-wooden, Garden Furniture, Leather Goods, Marble-alabaster & Crafted Stones, Marbles-glass, Reproduction Fine Arts, Colonial, Anglo-indian And Indo-portuguese-like Cabinets, Writing Tables, Chests Of Drawers, Cupboards, Dining Tables, Chairs, Chests, Hanging Lamps / Chandeliers, Marine / Scientific Instruments, Clocks / Gramophones And Many Other Products.

Contact Person :
Mr. Deepak Shah
Company Profile :

Supplies Of A Wide Range Of European And Oriental Works Of Art, Engravings, Architecture, Furniture Of Both Colonial And Ethnic, Reproduction Furniture And Many More.

Send :
On-Line Trade Inquiry
Click here to view entire Product Range
Products :

Articrafts, Ball Point Pens, Bottle, Bowls, Cuff Links,decorative Clocks,desk And Bar Accessories, Dinner Sets, Glasses, Key Chains, Metal Trophies, Momentoes, Openers, Pens,roller Pens,trophies,vases, Wrist Watches,

Contact Person :
Mr. Varun Monga
Company Profile :

Manufacturer And Exporter Of Handicrafts And Gifting Items

Send :
On-Line Trade Inquiry
Products :

Boxes-decorative & Jewellery, Frames-mirror/picture/photo, Furniture-decorative, Furniture-metal/iron, Iron Crafts, Wine Racks, Gift & Home Accessories, Wrought Iron & Wooden Furniture, Decorative Wooden & Antique Reproduction Items.

Contact Person :
Mr. Sunil Sancheti
Company Profile :

Manufacturers And Exporters Of Indian Handicrafts Like Gift And Home Accessories, Wrought Iron & Wooden Furniture, Decorative Wooden And Antique Reproduction Items.

Send :
On-Line Trade Inquiry
Products :

Marble And Stone Handicrafts, Wooden Sculptures, Handicraft Furniture, Decorative Gemstone Painting, Handmade Paper Products, Emboss Painting Animal, Gemstone Items, Jaipur Dolls, Marble Handicrafts, Handmade Collections, Sandalwood Items, Semiprecious Stone Figures, Velvet Hanging Items, White Metal Work, Wooden Handicraft Items Etc.

Contact Person :
Mr. Prince Agarwal
Company Profile :

Established In The Year 1990, Maruti Sandal Arts Is Counted Among Established Companies Engaged In Manufacturing And Exporting Of A Comprehensive Gamut Of Handicrafts Items.

Send :
On-Line Trade Inquiry
Products :

3d Mementos, Mementos, Acrylic Awards, Premium Corporate Awards, Key Chains & Photo Frames, Exclusive Gifts Sets, Plastic Pens, Shields, Wooden Awards, Wooden Ball Pens, Decorating & Useful Items, Metal Pens, Trophies And Many Other Gift Items.

Contact Person :
Mr. Rajeev Behl
Company Profile :

Britex Novelties Private Limited Was Incorporated Way Back In 1967 As The Leading Manufacturer, Wholesaler, Exporter And Trader Of Corporate Gifts, Novelties, Trophies, Mementos And Various Other Products.

Send :
On-Line Trade Inquiry
Click here to view entire Product Range
Products :

Metal Mirror, Wall Mirror, Decorative Statue, Metal Decorative, Garden And Outdoor Planter, Metal Planter, Wall Scone, Wall Candle Holders, Candle Holders, Metal Wine Bottle Stand, Cocktail Shaker, Wine Holder And Bar Accessories.

Contact Person :
Mr. Adnan Tanvir
Company Profile :

Our Company Is A Well Known Manufacturer, Exporter And Supplier Of High Quality

Send :
On-Line Trade Inquiry
Products :

Everyda Gifts, /seasonal Gifts, Decorative Jars, Christmas Decoratives, Candle Stands, Decorative Candle Stand, Napkin Rings, Metal Glass Jar, Decorative Glass, Musical Statues

Contact Person :
Mr. Ajay Mago
Company Profile :

We Provide Simplified Solutions To Your Sourcing Needs. As Reputed Indian Buying Agents, We Can Offer You A Remarkable Range Of Products, All At One Place. Appoint Teamwork Inc As Your Buying Agency In India And Relax

Send :
On-Line Trade Inquiry
Products :

Corporate Gift Items,business Gift Items,company Gift Items,office Gift Items, Decorative Table Clocks, Decorative Key Chains, Antique Table Clocks, Customized Key Chains, Paper Cutter, Metal Trophy, Desktop Items, Miniature Clocks, Decorative Clocks, Devotional Clocks, Gift Sets, Mobile Stands, Mobile Phone Stands, Designer Mobile Stands And Visiting Card Holders Etc.

Contact Person :
Mr. Nirav Madnani Ceo / Thakorbhai
Company Profile :

Incepted In The Year 1975, We Pooja Gift Corporation Are Involved In Manufacturing And Supplying Comprehensive Range Of Corporate Gift Items Like

Send :
On-Line Trade Inquiry