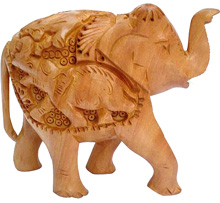 Masterpiece!
India has been culturally and traditionally rich in highlighting various facts and features of the indian history. Both these aspects are diversified and rich in heritage. In ancient india wooden decoratives were essentially seen as an adjunct to architecture like any palace or haveli was bound to have intricately wood carved doors, windows and lattice work and wooden artifacts which draw back our attention to that era or period. Now days, wooden decoratives form a quintessential part of home decoration which has now become very popular. The heritage of handcrafted wooden decoratives in india is so rich that you would want to decorate your home with these beautiful wooden decoratives.
These charming wooden decoratives are bound to woo you and attracts you the most as because it is very unique with design, pattern etc. A common idea suggests that beauty of the house exists in the appearance of things and hence the interior beauty of the room presents a standard of comparison, and it can cause resentment and dissatisfaction when not achieved. To decorate your home is an art and wooden decoratives serve an esthetic rather than a useful purpose in home decoration which looks elegant and enhances the beauty of room décor. Wooden decoratives comprise a variety of an artifact that truly compliment the decor and imparts an elegant look with its intricate carvings.
Wooden décor are one of the excellent handcrafted items ever made. These wooden decoratives are well known for their traditional and decent look. These wooden decoratives are used as a gifting tool for main events for corporate gift items. Wooden décor renders a stylish and rich traditional look which is attractive, pretty and eye catchy. There are various types of wooden décor which is wooden accessory, wooden bowls, wooden trays and wooden jewelry like bracelets, earrings etc.
Products :

Antique Reproduction, Boxes-decorative & Jewellery, Decorative Objects, Wooden Masks, Idols, Birds, Master Pieces, Animals, Figurines, Wall Panels, Woodcrafts, Bed Side Tables, Chairs, Dining Tables, Occasional Tables, Armoires, Beds, Console Tables, Divans And Many More Accessories.

Contact Person :
Thiagarajan
Company Profile :

Manufacturers & Exporters Of Wood Based Handicrafts Like Antique Reproduction, Boxes-decorative & Jewellery, Decorative Objects, Wooden Masks, Idols, Birds, Master Pieces, Animals, Figurines, Wall Panels, Woodcrafts, Bed Side Tables, Chairs, Dining Tables, Occasional Tables, Armoires, Beds, Console Tables

Send :
On-Line Trade Inquiry
Click here to view entire Product Range
Products :

Wooden Products Such As Wooden Accessories, Almirahs, Benches, Book Shelves, Boxes, Cabinets, Candle Stands, Chairs, Frame Screens, Side Boards, Tables, Bottle Stands; Iron Products Such As Bed Frames, Benches, Bottle Stands, Candle Stands, Chairs, Figures, Miscellaneous, Racks, Screens, Tables; Painted Products; Textile Products; Decorative Products

Company Profile :

Manufacturers And Exporters Of Decorative Products.

Send :
On-Line Trade Inquiry
Products :

Bags - Handmade Paper, Paintings, Bags (paper), Boxes - Decorative & Jewellery, Corporate Gifts, Photo Frame, Picture Frames,wooden Table Top Items, Stationery - Gifts Made From Handmade Paper And Promotional Gifts In Handmade Paper.

Contact Person :
Mr. Parag Ladiwala
Company Profile :

Anushka Is The Manufacturers, Supliers, Exporters & Wholesaler Of Corporate Gift & Novelties Items Such As

Send :
On-Line Trade Inquiry
Click here to view entire Product Range
Products :

Wooden Gifts, Wooden Decor

Contact Person :
Ms. Soma Sinha
Company Profile :

A Company Specialized In Designing And Producing Various Gift Items And Art Works, Is Situated In Kolkata, Westbengal .we Produce And Market Various Value Added Promotional And Other Creative Items Made By Women Below The Poverty Line And People With Special Challenges. Presently, We Are Looking Forward To Expand Our Domain Of Business Activities Globally.

Email is not available
Products :

Gift & Decorative Items, Wrought Iron Furniture And Decoratives, Wooden, Colonial And Period Furniture, Antique Reproduction Furniture & Many More Like Iron Handicrafts, Fire Place Accessories, Photo Frames, Garden Accessories, Wooden Handicrafts, Etc.

Contact Person :
P.k.bhandari
Company Profile :

Manufacturers & Exporters Of Gifts & Furniture.

Send :
On-Line Trade Inquiry
Click here to view entire Product Range
Products :

Leather Gifts, Desktop Gifts Wooden Desktops, Card Holders, Mobile Holders, Decorative Gifts

Contact Person :
Mr Mehul Goswami
Company Profile :

Motion International Is A Team Of Dedicated Professionals Looking To Expedite To You The Best Products At The Best Price, The Best Quality And At The Right Time. We Are A Team Of Qualified Professionals

Send :
On-Line Trade Inquiry
Products :

Frames - Mirror/picture/photo, Furniture - Colonial, Furniture - Decorative, Furniture - Wooden, Garden Umbrellas, Home Accessories, Household Products - Decorative, Reproduction Fine Arts, Wood Carvings, Woodcrafts

Contact Person :
Mr. Jeetendra
Company Profile :

Manufacturer Of A Wide Gamut Of Wooden Furniture Collections. Our Exhaustive Range Of Furniture Range To Wooden Furniture, Reproduction Furniture, Antiques, Tribal Items, Unusual Gifts, Textiles And Home Accessories.

Send :
On-Line Trade Inquiry
Products :

Wooden Jewellery Boxes, Wooden Home Decorations, Wooden Decorative Toys, Wooden Photo Frames Etc

Contact Person :
Mr. Shahed
Company Profile :

Established In The Year 2006, We, "shahana International", Are One Of The Leading Manufacturers, Exporters, Wholesalers And Suppliers Of An Elegant Range Of Wooden Handicrafts Including Wooden Bangles.

Send :
On-Line Trade Inquiry
Products :

Antique Nautical Items, Marine Gifts, Telescopes, Diving Helmets, Telegraph, Anchor, Handicraft Items, Brass Art Ware And Decorative Nautical Antiques, Key Chains, Marine Clocks, Wooden Box, Sheilds Etc.

Contact Person :
Mr. Sajid Rasool
Company Profile :

We Are The Distinguished Manufacturers And Exporters Of

Send :
On-Line Trade Inquiry