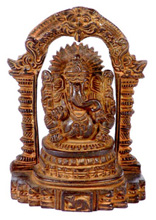 Idols and sculptures are defined as a material object representing a deity to which a religious worship is addressed by people on special or on auspicious occasion, or the thing regarded with blind admiration, adoration or devotion. A three dimensional art work produced by giving shape or by combining hard materials like stone, marble or clay. Clay idols reflect the work of true craftsmanship and thus has a perfect finish as they are carved out using high quality material and is very much appreciated for the beauty and the color shades used. The mesmerizing range of religious idols of various deities gives an ethereal appeal and is available in wide spectrum of colors and designs. These idols feature realism, emotions, charm and peace. These idols are ethnically designed using natural colored flower and tree bark dyes.
These idols add a spiritual bliss to the décor which surrounds them. Similarly wooden idols have a unique beauty that captures the attraction towards these idols as these are very enchanting and look stunning. Wooden idols depict the artistic excellence of indian artist who craft such marvelous and mesmerizing idols. Wooden idols come in various color patterns and are known for excellent carvings and finishing work which adorns them more. Indian sculptures are known their beauty and their elegant look. There are varieties of sculptures found and those are bronze sculpture, brass figurine, laughing happy buddha etc. The other one artistic sculpture has a blend of simplicity, unique colors and amazing look which appeals most of the people. These sculptures enhance the décor of the house when placed in the right area.
The unique ones are wooden sculptures which play an important role in our lives. The style of carving out these wooden sculptures is different and is marked with distinct type of carving. These wooden sculptures are strongly influenced by local traditions. Today most of the wooden sculptures have innovative patterns, designs and figurines. Wooden sculptures have become the trends in the contemporary art of wooden culture.
Products :

Trophies & Awards , Mementos, Plaques, Salvards, Cups, Crystal / Glass And Granite Premiums, Wooden Items, Fibre Glass Items, Acrylic Products, Laser Engravings, Liquor / Pharmaceutical Giveaways, Promotional & Merchandising Items, 3 Dimensional Logos & Miniatures, Desktop Clocks, Personal Accessories, Ganeshas & Other Idols, Fengshui Items, Candle Stands & Wrought Iron Items, Handicrafts & And Digital Printing On Any Substance.

Contact Person :
Mr. Prashant V. Kalbag
Company Profile :

Creative Awards & Rewards Is The Manufacturers, Supliers, Exporters & Wholesaler Of Corporate Gift & Novelties

Send :
On-Line Trade Inquiry
Click here to view entire Product Range
Products :

Antique Reproduction, Boxes-decorative & Jewellery, Decorative Objects, Wooden Masks, Idols, Birds, Master Pieces, Animals, Figurines, Wall Panels, Woodcrafts, Bed Side Tables, Chairs, Dining Tables, Occasional Tables, Armoires, Beds, Console Tables, Divans And Many More Accessories.

Contact Person :
Thiagarajan
Company Profile :

Manufacturers & Exporters Of Wood Based Handicrafts Like Antique Reproduction, Boxes-decorative & Jewellery, Decorative Objects, Wooden Masks, Idols, Birds, Master Pieces, Animals, Figurines, Wall Panels, Woodcrafts, Bed Side Tables, Chairs, Dining Tables, Occasional Tables, Armoires, Beds, Console Tables

Send :
On-Line Trade Inquiry
Click here to view entire Product Range
Products :

Marble Idols And Statues, Garden Decoratives, Home Decoratives, Architectural Products, Marble Inlay Table Tops, Natural Stones And A Host Of Customized Products. Every Product Of Ours Hold Unmatched Quality, Durability, Finish & Aesthetics.

Contact Person :
Mr. Abhishek Dixit / Mr. Ashvinee Dixit
Company Profile :

Established In The Year 1945, We - Prabhat Exports, Are A Recognized Manufacturer & Exporter Of

Send :
On-Line Trade Inquiry
Products :

Marble Idols And Statues (god Statues, Religious Statues, Figures And Plaques).

Contact Person :
Mr. Abhishek Dixit / Mr. Ashvi
Company Profile :

Manufacturer And Exporter Of Arts And Crafts

Send :
On-Line Trade Inquiry
Products :

Corporate Gifts, Gift Items, Idols, Sandle,wood Animals, Sandle Wood Articles, Sandle Wood Figures, Wodden Idols, Wooden Figures,wooden Handicrafts,

Contact Person :
Mr. Ashok Agrawal
Company Profile :

Manufacturer And Supplier Gifting Novelties

Send :
On-Line Trade Inquiry
Products :

Gift Items, Decorative Clock,lamp & Lantern, Leather Items, Kitchenware,pen Stands, Wall Hangers,god Idols, Wall Paintings, Jewellery, Diyas Etc.

Contact Person :
Ms Nidhi Kapoor
Company Profile :

Leading Mfrs, Wholesalers, Retailers Of Corporate Gift Items. Distributors For International Brands Like Victorinox (swiss Knives & Watches), Maglite(u.s.) Torches And Design Go(u.k.) Travel Accessories.

Send :
On-Line Trade Inquiry
Click here to view entire Product Range