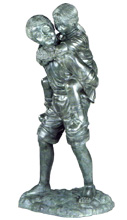 Art is where the heart is. A fine art creates fine lives. A sculpture and a statue is a three dimensional artwork created by shaping or combining hard materials typically stone such as marble, metal, glass, or wood. Soft materials such as clay, textiles, plastics, polymers can also be used to create a sculpture and a statue. Sculpture has been described as one of the plastic arts because it involves the use of materials that can be molded or modulated. A sculpture and a statue are the essence of a museum. No matter wherever they are preserved their presence always creates a unique atmosphere of realism. Every sculpture has its own values. The well - known sculpture and statue is the "nataraj" the symbol of classical dance. Goddess "laxmi" symbolizes success and wealth. Lord "ganesha" is the symbol for deity and contentment. These classy sculptures are so famous since the early times. A sculpture is an important form of public art.
Making of a statue and sculpture in metal, bronze and diamond is actually an art which represents a large variety of human task. It is way to communicate the feelings. Different types of sculptures, statues are used for giving requirements which illustrate the phrases of the person whenever introduced on some situation. A sculpture and statue enlightens the home decoration, lawn, and locations. Bronze sculptures give an artistic look to the graphic. It signifies the life of the individuals. Bronze statue is in need as because of their increasing acceptance gives the beauty, styles and shapes which attract the individuals. From the historical indian point of view, bronze sculptures are still in demand because it signifies the era of leaders and their reigns. Different types of sculptures, statues are used for gifting purposes which depict the expressions of the person whenever presented on some occasion. The artistic work represents the culture of the people. The work and the theme of the sculpture differ from artist to artist. The magadha kingdom and mughals kingdom has always set its mark to give away the prosperous sculpted image. Stone statue is an art that takes years to learn for the sculptors. The thoughtful process demands a real inspired knowledge and lots of endurance. It needs to be very properly done. Stone lawn statues are usually used as these are more immune to conditions than the other products. Garden statues are more eye-catching and can be a good decoration for the lawn. A wooden statue inspires the quality in woodworks. The wooden statues contain common styles that are created on wood which gives a loaded effect. Statues are also made of sandalwood, rosewood and off white.
On rare occasions, statues themselves become historic and inspire their own historic events. In 1986, the statue of liberty marked her one-hundredth anniversary; a three-day centennial celebration in her honor attracted 12 million people. Even on different occasions like gandhi jayanti, children's day, statues are honored with a lot of celebrations. Statues are among the wonders of the world. Sculptures are also in different types such as sound sculpture, light sculpture, kinetic sculpture, architectural sculpture etc., sound sculpture is related to sound art and a sound installation, is an inter-media and time based art form in which the sculpture produces sound. Most often sound sculpture artists are primarily either visual arts or composers, not having started out directly making sound sculpture. Cyma tics and kinetic art has influenced sound sculpture. Sound sculpture is sometimes site specific. Light sculpture is a form of visual art where main media expression is light. Light has been used for architectural aesthetical effects throughout human history. However, the modern concept of light art emerged with the development of artificial light sources and experimenting modern art. A kinetic sculpture contains moving parts depending on the motion for its effect. Kinetic art encompasses a wide variety of overlapping techniques and styles. Architectural sculpture is in the design of a building, bridge, and museum etc., a sculpture is usually integrated with the structure, but freestanding works that are parts of the original design are also considered architectural sculpture.
A sculpture and a statue are a true value in history. It signifies the old memories.
Featured products of Sculpture And Statues
Lord ganesha has an infinite number of devotees around the world, hence it is obvious that every home or office of these devotees would have a lord ganesha statues. Pratham ideas is renowned for manufacturing a host of beautiful ganesha statues in va ...

Company Name : Pratham Ideas Click here to view entire product range
Statues like the joker, pissa hand, jaali apsara, assam couple, etc that are manufactured by pratham ideas are works of excellent craftsmanship. Mostly made of metal or clay, these statues come in a variety of shapes sizes and colours. Because of it ...

Company Name : Pratham Ideas Click here to view entire product range
Products :

Paintings, Marble Paintings, Silk Piantings, Sculpture And Statues

Contact Person :
Manoj H.sharma
Company Profile :

Pushpam Arts Specialize In Traditional Indian Miniature Paintings On Silk,paper, Marble & Pichwai Paintings.

Send :
On-Line Trade Inquiry
Click here to view entire Product Range
Products :

Painted Pottery Products, Glass Lamps, Brass Hukkas, Bone Accessories, Brass Sculptures, Brass Products, Camping Equipment, Glass Items, Copper Items, Key Chains And Many More.

Contact Person :
Mr. Vikas Saini
Company Profile :

Shrinath Art Gallery, A Manufacturer, Exporter And Supplier Of Uniquely Crafted Handicrafts. Our Range Includes

Send :
On-Line Trade Inquiry
Products :

Marble And Stone Handicrafts, Wooden Sculptures, Handicraft Furniture, Decorative Gemstone Painting, Handmade Paper Products, Emboss Painting Animal, Gemstone Items, Jaipur Dolls, Marble Handicrafts, Handmade Collections, Sandalwood Items, Semiprecious Stone Figures, Velvet Hanging Items, White Metal Work, Wooden Handicraft Items Etc.

Contact Person :
Mr. Prince Agarwal
Company Profile :

Established In The Year 1990, Maruti Sandal Arts Is Counted Among Established Companies Engaged In Manufacturing And Exporting Of A Comprehensive Gamut Of Handicrafts Items.

Send :
On-Line Trade Inquiry
Products :

Fashion Accessories, Christmas Decorative, Corporate Gifts And Souvenirs, Feng Shui Articles, Handcrafted Furniture, Home Ative Items, Home Furnishing Items, Indian Jewelry, Indian Sculptures, Tibetan Crafts, Toys And Dolls, Traditional Games

Contact Person :
Mr. Manoj Aggarwal
Company Profile :

Jindal Crafts Is The Manufacturer Of Corporate Gifts

Send :
On-Line Trade Inquiry
Products :

Sculptures And Aesthetics Figures, Designer Figures Etc.

Company Profile :

Established In The Year 2000, We, "mantis Exports", Are Counted As One Of The Leading Manufacturers, Exporters And Wholesalers Of Sculptures And Aesthetics. These Are Manufactured Using Superior Quality Brass, Wood And Stones And Are Offered At Highly Competitive Prices. Our Whole Array Of Sculptures And Aesthetics Is Supplied In Enticing Designs And Perfect Finish.

Send :
On-Line Trade Inquiry
Products :

Indian Handicrafts, Paper Sculptures, Fancy Boxes,fancy Gift Baskets, Customized Gifts,corporate Gifts, Wedding Packing,trousseau Packing,

Contact Person :
Ms. Shimona Bhansali
Company Profile :

Handicraft Company That Nurtures Creativity With A Distinctive Understanding Of Art. We Deal Into Trousseau Packing, Wedding Packing, Corporate Gifts, Greeting Cards, Customized Gifting, Paper Sculpturing, Etc...

Send :
On-Line Trade Inquiry
Products :

Kitchen Accessories, Corporate Gifts, Candle Holders, Gift Box, Gift Items, Statues, Sculpture Etc.

Contact Person :
Mr Rahil Tyagi
Company Profile :

Creative Crafts Of India Is Broadly Engaged In Exporting, Supplying And Manufacturing Kitchen Accessories, Corporate Aroma Diffuser And Gift. Our Range Of Products Gives An Appealing Look To The Interior And Also An Elegant Design. We Also Offer Special Range On Gifts For Different Occasions.

Send :
On-Line Trade Inquiry