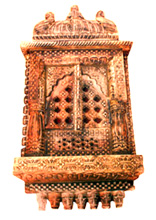 Art is a part of life
Artistically designed accessories attract attention. Smart art and craft articles generally include wall hangings, designer bags, figurines, statues, and these are known to enhance home and office décor. Elegantly designed arts and crafts vary in type, size, shape, color, etc., to suit personal preferences.
Wide selections of arts and crafts are available to match office décors. These produce have been found to augment work environments, and make splendid gifts for all types of occasions as well.
Artistically designed crafts are complete corporate promotions and choicest corporate gifts.
Arts and craft form an integral part of cultural india. It brings out the true essence of our country. The creative aspect is involved here. Arts and crafts boost up the person's skill as it pretends to be the host of activities and hobbies .It can be further divided as traditional crafts and handicrafts. Traditional crafts as the word suggests it's the unique but simple patterns, designs, colors which are manifested in handicrafts for that particular region. The useful and decorative items made exclusively by hands are known as handicraft items. Arts and crafts include artistic value and designed accessories which attract the attention. This artistic approach thus completes the corporate promotions and corporate gifts. It does enhance the house and office décor. The following are the items which are included in this part hangings, statues figurine, idols, paintings etc.
Arts and crafts are entirely human creation as they need passion and love for doing so. Art and craft vary accordingly in their nature and quality. The real superheros are artisans and crafts men who make sculptors, idols look beautiful and thus are very elegant. Contemporary arts and crafts have passion to design and create images. The most prominent element is the tribal arts and crafts of india that has caught the international attention. Tribal arts and crafts are one of the most fascinating tribal cultures in india. It includes warli painting made by the warli tribe that inhabits the state of maharashtra .The treasure of tribal arts and crafts of india is immense and has an astounding range, diversity and beauty. The terracotta articrafts are the symbol of arts and crafts in india. It is made by the combination of earth and water. From the smallest articraft to the gigantic creations the indian artisans have mesmerized every art connoisseur across the world.
The skills of artisans can be seen in caskets, vases , and trays. Thus to satisfy the modern taste and meet the international demands it has been given new look to these traditional crafts.
Featured products of Arts And Crafts
Painting is a mode of expression and forms are numerous. Drawing, composition or abstraction and other aesthetic may serve to manifest the expression of the practitioner, but paintings are always natural and represent the photographic narrative conte ...

Company Name : Prabhat Exports
A figurines is a beautifully molded small sculpture or statuette. Collectible figurines that depict history and antiquity. A portrayal of the lives of people. ...

Company Name : Rayman Exports
Products :

Corporate Gifts Include Clocks, Arts And Crafts, Table Tops, Feng Shui, Copper Products; Home Décor, Paintings, Murals, Bells, Abstracts, Rustic Figures, Ganeshas, Jharokhas, Statuettes, Wow Series, Pots-poetry

Contact Person :
R. K. Goel
Company Profile :

Manufacturers Of Promotional Gifts Like Clocks, Table Tops, Arts And Crafts, Feng Shui, Copper Products; Home Décor Items Include Paintings, Murals, Bells, Abstracts, Rustic Figures, Ganeshas, Jharokhas, Statuettes, Wow Series, Pots-poetry And Many Other Products.

Send :
On-Line Trade Inquiry
Click here to view entire Product Range
Products :

Wooden Handicrafts, Brass Items, Key Chain, Bracelets, Leather Wooden Bull Carts, Glass Items Etc.

Contact Person :
Mr. Sunil Kumar Saini
Company Profile :

Established In The Year, 1950, At Jaipur, Rajasthan, India, We " Surya Handicrafts Rajasthan" Are One Of The Trusted Manufacturers And Exporters Of A Mesmerizing Range Of Wooden Works, Brass Works, Gemstone Pictures, Wooden Statue And Antique Furniture.

Send :
On-Line Trade Inquiry
Products :

Textiles & Home Furnishings, Home Décor, Fashion Accessories, Home Ware, Arts And Crafts And Many More Products.

Contact Person :
Mr. Raj Bagaria
Company Profile :

Sharing Indian Made Lifestyle Products With The World By Manufacturing Products Which Includes:textiles & Home, Home Décor, Gift Options, Fashion Accessories, Home Ware, And Art On Products.

Send :
On-Line Trade Inquiry
Products :

Arts And Crafts

Company Profile :

F. A Creations Manufactures And Imports Wooden And Metal Artifacts, Contemporary Art, Sculptures, Antiques, Vases, Urns, Centre Pieces, Candles, Curious, Wall Art And Candle Stands For Various Gifting Requirements. Their Range Of Metal Vases Are Indeed Unique And Contemporary And Meant To Gift Elite Segments. These Are Ideal For Corporate And Personal Gifting During Festivals Like Diwali And Christmas. Also They Manufacture And Supply Exclusive Range Candles In Abstract Polished Wooden Containers Starting From Rs.750/- To Rs.12000/-. They Have A Unique Contemporary Range Of Artifacts, Sculptures, Vases All Designed In The Us. All These Products Can Be Customised As Per The Buyers Choice And Preference.

Send :
On-Line Trade Inquiry
Products :

Paintings, Handicrafts, Arts And Crafts

Contact Person :
Mr. Avinash Dupa
Company Profile :

Kreation Art N Crafts Are The Manufacturer And Exporter Of Handicafts

Send :
On-Line Trade Inquiry
| Corporate Gifts Home | Corporate Gifts Directory | Corporate Gifts Products |
arts and crafts, woodcrafts, craft items, statue, figurines, painting, antique, jharoka, arts, crafts

--------------------------------------------------------------------------------
Website Development and Search Engine Optimization by : Aditya Infotech
Copyright © 2013 Netlink Solutions (India) Ltd. All rights reserved, including the right to reproduce the contents of this website in whole or in part without prior written permission