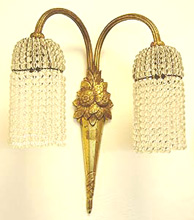 Wall sconces- live in style.
Wall sconces create a stylistic and decorative ambiance which thus adorns the calm and quite ambiance of shopping malls or of any décor. These wall sconces have different designs and styles and make it a perfect show piece. It also gives a pleasant and bright look to the calm and quite ambiance which thus creates a mood of a bit relaxation. These wall sconces enhance the feel and the look of the entire room. These light complement the wall sconce design and create an ambiance of comfort which attracts the people and which make them buy such products. The crystal shades used in wall sconce may be hand cut which generally gives a graceful look to these wall hangings.
Wall sconces are designed for hanging purposes on any wall surface and are typically direct wired into an electrical box recessed into the wall as they are perfect pieces of art to create poetic lighting in narrow spaces. These wall hangings are to enhance any wall, and can be used with a variety of decors making a tasteful and unique addition to any setting which would beautify its image. Wall sconces add beauty and extreme elegance to the interiors and are made of unique designs and shapes, by skilled indian artisans who use functional decoratives. Wall sconces are aesthetically designed and have become popular items among the buyers which make them buy this product. They are often decorated with intricate carvings to make them artistic gift items and these wall sconces are used a gifting tool for corporate sector as well as promotional tool to reward company associates and employees. These wall sconces are designed to any shape and polished to give multi surfaced look with traditional works in a variety of patterns with different color shades and combinations.
Wall sconces are a great way of decorating home as they not only are an item for wall décor but are also capable of changing the whole personality of any home décor which enhances the beauty of home decor. The wrought iron wall sconces have no comparison as these are functional as well as decorative. Use of wall sconces as any normal light fixture would add great emphasis on its designs and colo pattern. Using this style of decorating wall sconces on the wall near dining table would have a great idea for romantic dinner. The wall sconces that are positioned too lower can get in the way and if they are too high they won't give away the appropriate amount of light so these wall sconces are to be adjusted very properly.
Products :

Brass Flower Vases, Hanging Candle Holder, Decorative Candle Holders, Brass Wall Lighting Fixtures, Brass Napkin Rings, Brass Embossed Wall Lighting Fixtures, Candle Pillar, Candle Wall Sconces, Iron Planter, Aluminum Mirror, Aluminum Tray, Bathroom Corner Rack, Hanging Soap Dish, Iron Planter, Conical & Bone Jewellery, Votive Candle And Glass Candle Stand.

Contact Person :
Mr. Mohammad Zubair
Company Profile :

We At Ahmad Brass International, Take Immense Pleasure In Introducing Ourselves As One Of The Trusted Manufacturers And Exporters Of A Wide Range Of Ethnic Metal Handicraft Items.

Send :
On-Line Trade Inquiry
Click here to view entire Product Range
Products :

Candle Sconces, Wall Sconces, Christmas Decorations, Incense Burners, Hurricane Lamps, Napkin Rings, Nautical Accessories Etc.

Contact Person :
Mr. Mahmood Ali
Company Profile :

Shahzade Ali & Sons Is Manufacturer And Exporter Of Gifting Novelties

Send :
On-Line Trade Inquiry