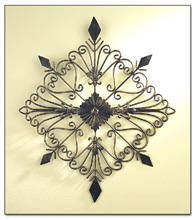 Wall hangings - a virtual illustration of beauty within you.
Wall hangings are stunning way of artworks that beautify the walls of the interiors. These quilted wall hangings represent or are the symbol of welcome and hospitality. Wall hanging décor includes several items that can change the way your walls look which can thus bring a change and can add meaning to it. These wall hangings are very innovative to home décor accessory that gives a stunning effect to the room. Wall art is a relatively old home accessory and there is a variety ranging from barn wood framed western tin prints to beautiful vignettes and ranching icons which simplifies its beauty and elegant look. There are varieties of wall hangings which are clocks, wall candle holders which are unique, beautiful and classy.
The use of vibrant and artistically delightful indian wall hangings accent the walls have the treasures from indian arts and crafts. It brings finesses of rare beauty and meticulous craftsmanship the indian artworks which embellish the walls with a touch of tradition that india has long practiced during the centuries and now these wall hangings thus symbolize the tradition through unique design, patterns and color combinations. These classic pieces of art the wall hangings of india share a good marketing potential with which the visual portrayal of the life and culture of ancient and medieval india is captivated in the wall hangings through the aesthetic creativity. The sublime charm and ethnicity thus talks about these beautiful wall hangings.
Indian wall hangings represent indian art and artistry in the form of embroidery, hand weaving, embossing, enameling, painting, sculpting, carving and more which has been a practiced since from ancient era. These wall hangings have stunning artworks which are carved out in fine pieces of clay, cane, glass, jute, coir, textile, paper, metal and wood. These are then bedecked with multicolored threads, called as 'zaris', beads, mirrors, sequins, semi precious stones and various other decorative elements which thus enhance its beauty more explicitly.
Featured products of Wall Hangings
Wall hanging décor includes several items that can change the way your walls look. And is a very innovative home décor accessory that gives a stunning effect to your otherwise dull and mundane wall and your room. Wall art is a relatively old home acc ...

Company Name : ADVENT GIFTS Click here to view entire product range
Products :

Coasters, Photoframes, Decorative Products, Wall Hangings

Contact Person :
Geeta Curumsey
Company Profile :

Manufacturers/ Suppliers Of Handicrafts And Gifts

Send :
On-Line Trade Inquiry
Products :

Candle Stand, Flower Vases, Wall Hangings, Photo Frames, Ashtrays, Cutlery

Contact Person :
M.shakir & Zafar Hussain
Company Profile :

Manufacturer And Exporter Of Corporate Gifts Such As Candle Stand, Flower Vases Etc.

Send :
On-Line Trade Inquiry
Products :

Wooden Wine Rack, Wooden Screen, Wooden Clock, Wooden & Brass Handicrafts, Antique Furniture, Household Items, Wall Hangings, Gift Items, Accessories Etc.

Contact Person :
Mrs. Priya Chaturvedi
Company Profile :

Established In The Year 2010, And Based At Noida, Uttar Pradesh, India, We The "design & Craft", Are A Distinguished And Respectable Name In The Discipline Of Craft Items. We Supply A Range Of Elegantly Designed Craft Products That Are Widely Required By Individuals As Well As Different Professionals Like Wedding Planners And Interior Decorators.

Send :
On-Line Trade Inquiry
Products :

Hand Bags, Handicrafts Items, Double Bedsheets, Single Bedsheets, Cushion-covers, Dewan Sets, Quilts, Jewellery, Kurtis, Night Wears, Sarees, Skirts, Wall Hangings, Wallets And Leather Belts.

Contact Person :
Mr. Sanjay Gupta
Company Profile :

Since The Inception In The Year 2005 As A Sole Proprietorship Firm, Little India 18.com Has Emerged As The Known Name In The Manufacturering And Wholeselling Of Home Furnishing Items, Handicrafts, Fashion Jewellery, Women Wear And Many More. The Comprehensive And Unbeatable Range Of Products That We Offer Includes

Send :
On-Line Trade Inquiry
Products :

Attractive Wholesale Bed Linens, Handmade Ladies Bags, Wholesale Table Linens, Embroidered Indian Cushion Covers, Tapestry Wall Hangings, Beaded Window Curtains, Cheap Door Curtains, Handmade Quilts And Many More Items.

Contact Person :
Mr. Kailash Karwa
Company Profile :

Priva International Is Engaged In Manufacturing, Supplying And Exporting Of Diversified Range Of Handmade Home Furnishing Textile Made-up Items.

Send :
On-Line Trade Inquiry
Products :

Textiles(table Mats,wall Hangings), Decorative Furniture, Carpets, Handicrafts (wood Crafts, Marble Crafts, Brass Crafts), Paintings ( Silk Paintings, Embroidered Paintings).

Contact Person :
Mr. Haresh
Company Profile :

Artisans, One Of The Manufacturer In The Field Of Textiles /garments / Handicrafts / Jewellery Of Indian Origin Exporting For India And Abroad.

Send :
On-Line Trade Inquiry
Click here to view entire Product Range
Products :

Advertising Display Items, Advertising Gifts Aways, Conference Gifts, Corporate Gifts, Counter Tops, Dispensing Unit,display Material, Heavy Machinery , Models, Hoardings And Panels, Launch Gifts, Miniature Models, Models Of Vehicles, Models Of Tractors, Pop Displays, Plastic Component, Retail Displays, Sales Promotion Gifts, Wall Hangings

Contact Person :
Mr. Himanshu Bhagi
Company Profile :

Manufacturer And Exporter Of Display Units, Labels, Self Adhesives, Posters, Hoardings, Counter Tops, Panels, Wall Hangings, Dispensing Units For Retail Display, Trade Show Display And Advertising Display.

Email is not available
Products :

Key Chain, Plastic Pen, Leather Business Organizers, Shopping Bags, Antique Metal Religious Wall Hangings, Year Diaries And Hand Made Sheets.

Contact Person :
Mr. Bhupendra Paliwal
Company Profile :

Established In The Year 1998, "keneo Marketing And Services", Is A Renowned Name In The Domain Of Trading And Supplying A Wide Range Of Stationary Items. Our Wide Range Of Products Comprises

Send :
On-Line Trade Inquiry
Products :

Gifts & Promotional Items Like Metal, Wooden & Plastic Key Chains, Household Products, Wall Hangings, Leather Articles & Luggage, Table Top Products.

Contact Person :
D. Moulick
Company Profile :

Suppliers Of Wooden, Plastic Key Chains For Corporate Gifting.

Send :
On-Line Trade Inquiry
Products :

Garments And Apparels, Home Furnishing Items, Wall Hangings, Models & Statues, Hand Made Carpets, Artificial Flower, Bamboo And Cane Furniture, Arts And Crafts And Many More Products.

Contact Person :
Debendra Nath Kunti
Company Profile :

Manufacturers & Suppliers Of Garments For Promotion.

Send :
On-Line Trade Inquiry