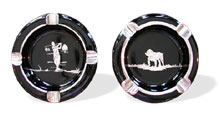 Cigarettes!
Ashtrays are considered to be a great sign of hospitality. Ashtrays were seen as a utility factor but now they have become objects of art for modern interior. Beautifully hand crafted ashtrays are very much unique and carry outstanding color combinations. An ashtray is a receptacle for ash and cigarettes. The common ones are designed with shallow cylinder supported by a flat base to rest on a table. White metal ashtrays throw away or exude an alluring and charming effect to décor with unmatched styles and beautiful design which attracts most of the people because of its shiny and classy design. These white metal ashtrays are hand crafted with a perfect finish to give an ethnic touch to the entire office table or home décor. The embellishments of semi precious stones magnify the beauty of excellent carvings carved on these metal ashtrays. There are varieties of metal ashtrays which are crafted ashtrays, designer ashtrays and copper ashtrays.
An aesthetic ashtray which is oxidized and is decked with round glass beads. It has been carved out intricately with fine quality craftsmen ship. These ashtrays add distinguished look to the spaces. These metal ashtrays are designed keeping in mind their beauty and elegance and also the décor are splendid. Some of the ashtrays are even beautifully crafted on stone. The 'matka' shaped copper ashtrays are a combination of traditional design and ethnic carving. Ashtrays come in different styles, shapes, designs and patterns etc. Outdoor ashtrays are used as promotional gifting tool personalized with imprinted logo of the company. Ashtrays are durable and ashtrays with tested steel does not loose its finish neither its polish even after prolonged exposure to ash and smoke.
Stainless steel ashtrays are also available in various sizes, shapes with unique styles. These ashtrays are designed using superior quality of grade stainless steel ensuring the durability and the corrosion resistance of the products. It is regarded as one of the finest stainless steel ever manufactured for making ashtrays. Also ashtrays are available in wood, glass and metal. Wooden ashtrays are made using high quality wood and thus are available in attractive designs. Colored glass ashtrays are very much popular as the shiny and smooth texture of glass makes it more enchant able. These glass ashtrays were painted or decorated with scenes of flower or landscape.
Featured products of Ashtrays
On many occasions because of their unique designs ashtrays are often collected as collectors items as many. Pooja gift corporation takes great pride in manufacturing and supplying such elegantly designed ashtrays. Made of 100% solid brass and platted ...

Company Name : POOJA GIFT CORPORATION Click here to view entire product range
Ashtrays, which were primarily used for flicking cigarette ash, are soon turning into designer decorative items. Shiva enterprises have gone to great extents to import exquisite silverware ashtrays, all the way from italy. These silverware ashtrays a ...

Company Name : Shiv Enterprises Click here to view entire product range
Products :

Table Clocks, Pen Holder Clocks, Gold Plated Trophies, Table Top Wares, Key Chains, Visiting Card Holders, Paper Cutters, Pen Holders, Desktop Jewellery, Ashtrays,etc.

Contact Person :
Thakur Madnani
Company Profile :

Pooja Gift Corporation Is The Manufacturers, Supliers, Exporters & Wholesaler Of Corporate Gift & Novelties Items Such As Table Clocks, Pen Holder Clocks

Send :
On-Line Trade Inquiry
Click here to view entire Product Range
Products :

Garments, Bags, Calender, Clock, Wall Hanging, Penstand, Keychains, Ashtrays

Contact Person :
Mr. Antonyraj Jaikumar
Company Profile :

Manufacturer And Exporter Of Corporate Gifts Such As Garment, Bags, Calenders.

Send :
On-Line Trade Inquiry
Products :

Candle Stand, Flower Vases, Wall Hangings, Photo Frames, Ashtrays, Cutlery

Contact Person :
M.shakir & Zafar Hussain
Company Profile :

Manufacturer And Exporter Of Corporate Gifts Such As Candle Stand, Flower Vases Etc.

Send :
On-Line Trade Inquiry